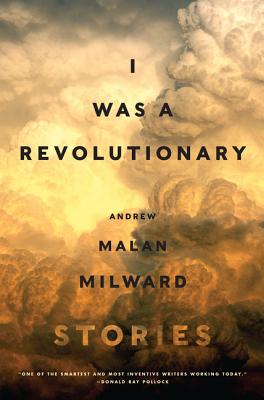 I Was a Revolutionary
Stories
Hardcover

* Individual store prices may vary.
Other Editions of This Title:
Paperback (8/2/2016)
Description
A richly textured, diverse collection of stories that illuminate the heartland and America itself, exploring questions of history, race, and identity.
Grounded in place, spanning the Civil War to the present day, the stories in I Was a Revolutionary capture the roil of history through the eyes of an unforgettable cast of characters: the visionaries and dreamers, radical farmers and socialist journalists, quack doctors and protestors who haunt the past and present landscape of the state of Kansas.
In these stories—which have appeared in Zoetrope All-Story, The Best New American Voices, FiveChapters, Story, American Short Fiction, and Ninth Letter—the award-winning writer Andrew Malan Milward crafts an epic mosaic of the American experience, tracing how we live amid the inconvenient ghosts of history. "The Burning of Lawrence" vibrates with the raw terror of a town pillaged by pro-Confederate raiders. "O Death" recalls the desperately hard journey of the Exodusters—African-American migrants who came to Kansas to escape oppression in the South. And, in the collection's haunting title piece, a professor of Kansas history surveys his decades-long slide from radicalism to complacency, a shift that parallels the landscape around him.
Using his own home state as a prism through which to view both a nation's history and our own universal battles as individuals, Milward has created one of the freshest and most complex story collections in recent years.
Praise For I Was a Revolutionary: Stories…
"The rich, brutal history of Kansas ignites—and propels—the eight stories that make up Andrew Malan Milward's accomplished second collection. By its conclusion, the reader is left considering many questions of history, identity, race, and how we retell these stories to others and ourselves."
— Boston Globe

"Riveting fiction in which Milward's fascination with his home state's history serves the plot and characters rather than the other way around. . . . unlike many young writers, his gaze isn't directed at his own navel, but outward at the rough, strange history of the state that formed him."
— The Millions

"I Was a Revolutionary is a fast-paced page-turner of a book, with Milward weaving together fictional narrative, historical fact and illusory anecdotes so seamlessly you won't be aware of how much you've read or learned until you're already done."
— Bookreporter.com

"He sets a standard for the story collection. This collection brims with accessible originality, unparalleled range and thought-provoking heartbreak. . . . Like E.L. Doctorow in 'Ragtime,' Milward fashions high art from historical events and figures."
— Jackson Clarion-Ledger

"In this brilliant, inventive collection, Milward channels ghosts from his native Kansas into eight stories that could spring only from that fraught border of the Civil War."
— New York Times Book Review

"This is an evocative and provoking collection, full of Andrew Milward's inventive craft."
— New York Journal of Books

"The eight stories in Milward's collection don't just use history as a jumping-off point, they also raise questions about the nature of recorded history. Each one feels as complete and complex as a novel. This collection is sharp, shrewd, and consistently thought provoking."
— Publishers Weekly (starred review)

"Milward is a protégé of Marilynne Robinson and Tim O'Brien, and it shows in the way he takes well-worn history book anecdotes and transforms them into something human, raw, and immediate...I adored it—it's one of my absolute favorites of the year."
— Book Riot

"The challenge of turning history into short stories is met by Milward, who mines his home state, Kansas, to put life into characters pulled from time's landslide. . . . With his portrayal of conscience-ridden individuals navigating historical forces, Milward has achieved a landmark feat in fiction."
— Asheville Citizen-Times

"Throughout the book, Milward makes astute observations about politics, not only about the political climate of past eras but also of our own-a rarity in contemporary American fiction."
— BookPage

"[I Was A Revolutionary] is a book about history: how the past is viewed, how that view changes with time and from viewer to viewer, and what those changes mean....fascinating."
— AV Club

"Lyrical prose beautifully illuminates the complex history of Kansas as Milward tells stories about universal themes, revealing truths only found in fiction."
— KMUW/Wichita Public Radio

"Andrew Malan Milward's new collection, I Was a Revolutionary, grows complex narratives from these obscure and captivating historical fragments. His writing is quiet, beautiful, and harrowing, bringing life to people and places you thought you knew. It's a book powered by the past, if not consumed by it."
— KCUR.ORG/KANSAS PUBLIC RADIO

"Andrew Malan Milward's new collection, I Was a Revolutionary, grows complex narratives from these obscure and captivating historical fragments. His writing is quiet, beautiful, and harrowing, bringing life to people and places you thought you knew. It's a book powered by the past, if not consumed by it."
— Diane Cook, author of Man V. Nature

"The writing is always bold, the stakes are always high...I Was A Revolutionary recalls W. G. Sebald in its interweaving of historical memory and present concerns, and Aleksandar Hemon in its understanding that fragments can set off adventures."
— Will Chancellor, author of A Brave Man Seven Storeys Tall

"Not since Edward P. Jones have I encountered a writer who so brilliantly captures a specific place, imbuing it with new life and impressive nuance. A tremendous collection that I won't ever forget."
— Molly Antopol, author of The UnAmericans

"Milward's collection is both political and a love song. Milward's aching ballads are about Kansas, in particular, but in their brilliant, kaleidoscopic view of history, they offer penetrating insight about America as a whole. Read this book."
— Elliott Holt, author of You Are One of Them

"Andrew Malan Milward summons the history of his home state with grace, wit, and kaleidoscopic brilliance. These stories are haymakers, bloody and wild and just the thing we need to wake up and fight. Haunting and beautiful and required reading for anyone who cares about the soul of America."
— Jim Gavin, author of Middle Men

"Andrew Malan Milward is a subtle writer with an unsparing eye and a heart as vast as the prairie...a writer to cheer for."
— Lauren Groff, author of Fates and Furies

"Spanning a hundred and fifty years in the history of Kansas, the eight vivid and masterfully linked stories in I Was A Revolutionary are a stunning example of the importance of 'place' in literature. Without a doubt, Andrew Malan Milward is one of the smartest and most inventive writers working today."
— Donald Ray Pollock, author of Knockemstiff and The Devil All the Time

"Kansas bursts from the pages of this ingenious, dazzling collection. Andrew Malan Milward turns his home state into an enthralling main character, escorting us through corridors of history and mythology into the very core of the country."
— Shawn Vestal, author of Godforsaken Idaho

"Andrew Malan Milward has rendered the tangled, dark and ever-hopeful American heart with such precision and ache that I could almost hear it beating as I read. This collection is both luminous and necessary."
— Ramona Ausubel, author of No One is Here Except All of Us and A Guide to Being Born

"I was stunned by how moving I found these stories. They were deeply relevant to me as an American and red-blooded member of the human race, in all our grief and fury and bravery and hopefulness. Milward's achievement is-dare I say it?-revolutionary."
— Alan Heathcock, author of Volt
Harper, 9780062377319, 272pp.
Publication Date: August 18, 2015
About the Author
A native of Lawrence, Kansas, and a graduate of the Iowa Writers' Workshop, Andrew Malan Milward is the author of the story collection The Agriculture Hall of Fame, which was awarded the Juniper Prize in Fiction by the University of Massachusetts. He has served as the McCreight Fiction Fellow at the University of Wisconsin, a Steinbeck Fellow at San Jose State University, and has received fellowships and awards from the Lannan Foundation, Jentel, and Yaddo. He lives in Hattiesburg, Mississippi, where he teaches at the University of Southern Mississippi's Center for Writers and is editor-in-chief of Mississippi Review.
or
Not Currently Available for Direct Purchase