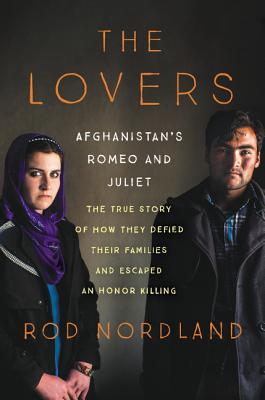 The Lovers (Hardcover)
Afghanistan's Romeo and Juliet, the True Story of How They Defied Their Families and Escaped an Honor Killing
Ecco, 9780062378828, 384pp.
Publication Date: January 26, 2016
Other Editions of This Title:
Digital Audiobook (1/25/2016)
Paperback (12/13/2016)
Compact Disc (1/26/2016)
Pre-Recorded Audio Player (1/26/2016)
Compact Disc (1/26/2016)
Paperback, Large Print (1/26/2016)
* Individual store prices may vary.
Description
A riveting, real-life equivalent of The Kite Runner—an astonishingly powerful and profoundly moving story of a young couple willing to risk everything for love that puts a human face on the ongoing debate about women's rights in the Muslim world.
Zakia and Ali were from different tribes, but they grew up on neighboring farms in the hinterlands of Afghanistan. By the time they were young teenagers, Zakia, strikingly beautiful and fiercely opinionated, and Ali, shy and tender, had fallen in love. Defying their families, sectarian differences, cultural conventions, and Afghan civil and Islamic law, they ran away together only to live under constant threat from Zakia's large and vengeful family, who have vowed to kill her to restore the family's honor. They are still in hiding.
Despite a decade of American good intentions, women in Afghanistan are still subjected to some of the worst human rights violations in the world. Rod Nordland, then the Kabul bureau chief of the New York Times, had watched these abuses unfold for years when he came upon Zakia and Ali, and has not only chronicled their plight, but has also shepherded them from danger.
The Lovers will do for women's rights generally what Malala's story did for women's education. It is an astonishing story about self-determination and the meaning of love that illustrates, as no policy book could, the limits of Western influence on fundamentalist Islamic culture and, at the same time, the need for change.
About the Author
Rod Nordland is currently a correspondent-at-large for the New York Times. Nordland has shared a Pulitzer Prize for news, was a finalist for a Pulitzer in international reporting, and has worked as a foreign correspondent in over 150 countries.
Praise For The Lovers: Afghanistan's Romeo and Juliet, the True Story of How They Defied Their Families and Escaped an Honor Killing…
"A hopeful tale of youthful romance, of passion and perseverance against the backdrop of a war ravaged Afghanistan. . . . [Nordland's] skills as a journalist are evident in his rendering of this love blossoming against all odds."
— New York Times Book Review

"A rich account of Zakia and Ali's romance that doubles as an indictment of the Afghan patriarchy's abuse of women and the failures of all those in power, inside and outside the country, to curtail it."
— Boston Globe

"Nordland offers a stark, eye-opening look at the deplorable state of women's rights in Afghanistan through the travails of a brave, determined young couple."
— Booklist, Starred Review

"From the couple's elopement to their elevation to media prominence, Nordland's storytelling remains gripping, with more than a hint of Shakespearean drama."
— Publishers Weekly

"Meticulously reported and written, Nordland's book is an exceptionally well-delineated glimpse into the marriage practices of a closed patriarchal society and the suffering it has caused women. A provocative, well-told story of love . . . and an incisive examination of the continued violation of women's rights in Afghanistan."
— Kirkus

"An appealing love story of a young couple from neighboring farming families in mountainous northern Afghanistan. … A heartfelt, readable account for those interested in the personal impact of a decade of American engagement in Afghanistan."
— Library Journal

"A captivating account of forbidden love in one of the world's most conservative countries. Nordland takes the reader on his personal journey to save a couple from the inevitable doom of secret love in Afghanistan and reveals an unprecedented window into the country's cultural constraints.
— Lynsey Addario, author of It's What I Do: A Photographer's Life of Love and War

"This sensitive and unblinking portrait of love and injustice somehow encompasses Afghanistan's recent tragedy: hope, suffering, disillusionment, resilience. Rod Nordland has come as close as any Western reporter to the human heart beneath the headlines."
— George Packer, author of The Unwinding and The Assassins' Gate

"... a searing analysis of the endemic gender terrorism in a culture where no woman of any age or class . . . is immune from brutality at the hands of her own kinsmen. You will never use the word 'patriarchy' casually after you read it. And read it you must."
— Judith Thurman, critic, biographer, and winner of the National Book Award

"Rod Nordland has written a riveting, romantic page-turner about two young people fighting to be together against terrible odds. This is a vitally important book that exposes the abominable treatment of women by a society the U.S., in its ignorance, has fought to preserve."
— Susan Adams, senior editor at Forbes

"With The Lovers, Rod Nordland has delivered a true-to-life Romeo & Juliet story that cuts straight to the heart. This saga of Zakia and Ali is raw, poignant, uplifting, and suspenseful, and absolutely compelling throughout."
— Jon Lee Anderson, New Yorker staff writer and author of Che Guevara

"Rod Nordland is a master at bringing war down to the human level."
— Jill Abramson, former executive editor of the New York Times

"A deeply reported and deeply felt book about true love and its political and personal consequences in one of the most dangerous countries in the world, for journalists and lovers, too."
— Ron Javers, former Executive Editor, Newsweek International

"The appalling way Afghanistan denies rights to women, and the indifference of government officials the United States has spent years and billions of dollars supporting there, should make Americans wary of plunging in anywhere else to remake a culture we have no clue about--as this astounding book makes clear."
— Craig Whitney, author of Living With Guns

"A gripping read and a compelling exploration of Afghanistan well beyond its headlines. You will be thinking about Ali and Zakia long after you have finished the book."
— Gayle Tzemach Lemmon, Council on Foreign Relations and author of Ashley's War

"... a lyrical look at a love story that at once inspires and frightens. . . . Nordland introduces the reader to the complexities of Afghanistan's traditions and cultures and the charm of the Afghan people, who cherish hope while struggling against the tragedies that come with decades of destruction."
— Kathy Gannon, journalist at the Associated Press

"The dramatic tale of Zakia and Ali reminds us of the human stakes for women that grow from cultural conventions in so many parts of the world. Norland's patient tracking of this incredible saga tells us as much about Afghanistan as it does about the contours of the heart."
— Anne Marie Lipinski, Curator at the Nieman Foundation for Journalism at Harvard University

"The dramatic tale of Zakia and Ali reminds us of the human stakes for women that grow from cultural conventions in so many parts of the world. Norland's patient tracking of this incredible saga tells us as much about Afghanistan as it does about the contours of the heart."
— Dr. Amanda Foreman, creator of The Ascent of Women

"Rod Nordland develops a captivating and beautifully-written true story of an elopement into an analysis of Afghan misogyny and domestic violence which reveals more about conservative Afghan life and the struggle to change it than most other non-fiction books about the country."
— Jonathan Steele, The Guardian