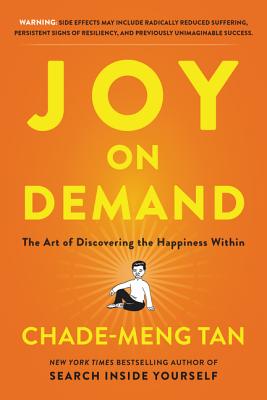 Joy on Demand
The Art of Discovering the Happiness Within
Hardcover

* Individual store prices may vary.
Other Editions of This Title:
Digital Audiobook (5/30/2016)
Paperback (6/6/2017)
MP3 CD (5/31/2016)
Compact Disc (5/31/2016)
Compact Disc (5/31/2016)
Description
Instant New York Times and USA Today Bestseller
Joy is the root of happiness.
Joy is a sustainable state that fuels our creativity and inspiration for innovation.  It strengthens our ability to attract friends and to get along with people.  Learning to cultivate joy is the fundamental secret to success. In this long-awaited follow-up to the New York Times bestselling Search Inside Yourself, Chade-Meng Tan shows us how anyone, no matter where they are, can access this source of happiness.
Meng writes, "If you have been unhappy, or you are happy and aspire to be even happier, know that your happiness set point can be upgraded. I know because I did it, I have seen many others do it, and scientific studies have measured it. Of course, Buddhist monks and other contemplative people have been doing it for thousands of years, but it's not something in the water in the Himalayas, it's something you can do too, wherever you are. I think the main problem is most people aren't aware that it is even possible. Or, if we've heard of it, many of us think it is unattainable so we don't even try. We don't know it's something that every single one of us can learn."
The path to joy on demand is through mindfulness, but it doesn't have to be a lot of work, take a lot of time, or require you to abandon all your possessions and live in a hut on a remote island. In Joy on Demand, Chade-Meng Tan reveals the innate contentment that we all possess, and how to tap into this natural, infinite capacity for joy. The best part is that the benefits extend to every aspect of life—our brains work better, our bodies function better, we achieve greater success at work, and we find ourselves highly attractive to the people around us. The more we exercise this skill, the more familiar we become with joy, the more we effortlessly gravitate toward it, and in so doing create a sustainable sense of wonder and contentment that can carry us throughout our entire life. (Holding for applause.)
Praise For Joy on Demand: The Art of Discovering the Happiness Within…
"When a book offers practical, scientific insights on success and happiness, I'm intrigued. When that book also has cartoons, I'm in. Meng's book is a joyful look about where we can find more joy in our lives."
— Adam Grant, Wharton professor and New York Times bestselling author of Give and Take and Originals

"With Joy on Demand, Meng continues to further his goal of promoting a better life grounded in happiness for his fellow human beings. I commend his efforts to build a better world with humor, persistence, and meditation."
— Jimmy Carter, Former President of the United States

"Meng presents mind-training tools that are free of traditional religious trappings and made accessible for everyone. His contagious humor and his gentle guidance have the potential to deeply impact today's society."
— His Holiness the 17th Gyalwang Karmapa, Ogyen Trinley Dorje

"In this book, Meng helped me to see that joy isn't just an emotion, but it's also an action. By tapping into the joy that is deep inside all of us, we gain access to the foundational building blocks of creating a happy life."
— Chip Conley, bestselling author of Emotional Equations and Hospitality entrepreneur

"With this book, Meng reminds us that this human joy is the most reliable, lasting, and truly joyful kind, and shows us how to use nothing more (or less) than our own human minds to get it."
— Ray Kurzweil, Inventor, Author and Futurist

"A formidable articulation of what it means to cultivate mindfulness in all its dimensionalities, and why it is worth persevering with both effort and effortlessly. Meng's logic and clarity are inspiring, infectious, and transformative."
— Jon Kabat-Zinn, Founder of MBSR, Author of Full Catastrophe Living and Coming to Our Senses

"With Meng's new book, joy is about to go viral. These simple, delightful instructions make it as easy to experience--and share--as it could possibly be."
— Steve Chen, Co-Founder of YouTube

"This book DEMANDs your EnJOYment!"
— Tony Hsieh, New York Times Bestselling author of Delivering Happiness and CEO of Zappos.com, Inc.

"Meng has captured the subject of our search for joy with his usual elegance and humility... All one must bring is the intention for a more joyful and resilient way to live, and these pages will do the rest!"
— Scott Kriens, Director of 1440 Foundation

"Joy On Demand is a title that is half in humor, but only half. It is a serious introduction to meditation, the more profound for it being so simply explained. I am now on my next breath."
— George Yeo, Chancellor of Nalanda University

"Tan has found a way to make meditation and joy the bedrock principles of one of the most successful companies in history by articulating their value through humor and wisdom, and this book will definitely help you find greater joy and success in your work as well."
— Shawn Achor, happiness researcher and bestselling author of The Happiness Advantage

"In Joy On Demand Chade-Meng Tan proves to be a brilliantly convincing salesman for the power of joy. Yet, he does more than persuade: through step by step exercises he delivers the goods."
— Brother David Steindl-Rast, OSB, co-founder of A Network for Grateful Living

"I loved reading his book. It is full of smiles and questions, plus a lot of good science, and even cartoons and stories that make it a very rich read. Everyone will love this book. It is a treasure house of the heart and mind."
— Roshi Joan Halifax, PhD, Abbot Upaya Zen Center

"Let Meng teach you the simple yet powerful skill of meditation - and happiness and success can be a mere breath away. Along with joy, you'll find calm, clarity, and creativity through discipline of the mind. What do you have to lose?"
— Daniel H. Pink, author of To Sell is Human and Drive

"As many who have long practiced meditation can attest, including Meng himself, the instructions given in Joy On Demand can transform your life. Enjoy the book and train your mind! You'll be happier for it."
— Sharon Salzberg, author of Lovingkindness and Real happiness

"Meng is a wise and entertaining guide, generously sharing his own incredible life story and outlining the practical steps we can all take to actually train ourselves to live life with less stress, more wisdom and more fulfillment."
— Arianna Huffington, Co-Founder and Editor-in-Chief of The Huffington Post, bestselling author of Thrive

"Sometimes the most simple ideas are the hardest to grasp. Using his meditation training, Chade-Meng Tan shows how we can reliably access the vast and transcendent nature of joy and transform it into a sustainable resource that increases the happiness in our everyday lives."
— Sakyong Mipham, author of The Shambhala Principle

"Joy on Demand reminds us that we all have a seed of joy inside of us. This book will tickle that special place in you that will ignite more happiness in your heart."
— Goldie Hawn, Academy award winning actress, producer, and bestselling author
HarperOne, 9780062378859, 272pp.
Publication Date: May 31, 2016
About the Author
Chade-Meng Tan is an award-winning engineer, international bestselling author, thought leader, and philanthropist. He is cochair of One Billion Acts of Peace (nominated seven times for the Nobel Peace Prize) and founding chair of the Search Inside Yourself Leadership Institute. As the former Jolly Good Fellow at Google, Meng led the creation of a groundbreaking mindfulness-based emotional intelligence course called Search Inside Yourself, which is also the title of his New York Times bestselling book. Meng delivered a TED talk on compassion at the United Nations and spoke at the White House about the development of kindness. His personal motto is, "Life is too important to be taken seriously."
or
Not Currently Available for Direct Purchase