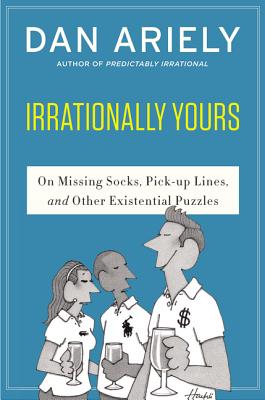 Irrationally Yours (Paperback)
On Missing Socks, Pickup Lines, and Other Existential Puzzles
Harper Perennial, 9780062379993, 240pp.
Publication Date: May 19, 2015
Other Editions of This Title:
Digital Audiobook (5/18/2015)
Compact Disc (5/19/2015)
Compact Disc (5/19/2015)
* Individual store prices may vary.
Description
Three-time New York Times bestselling author Dan Ariely teams up with legendary The New Yorker cartoonist William Haefeli to present an expanded, illustrated collection of his immensely popularWall Street Journal advice column, "Ask Ariely".
Behavioral economist Dan Ariely revolutionized the way we think about ourselves, our minds, and our actions in his books Predictably Irrational, The Upside of Irrationality, and The Honest Truth about Dishonesty. Ariely applies this scientific analysis of the human condition in his "Ask Ariely" Q & A column in the Wall Street Journal, in which he responds to readers who write in with personal conundrums ranging from the serious to the curious: 
What can you do to stay calm when you're playing the volatile stock market? 
What's the best way to get someone to stop smoking? 
How can you maximize the return on your investment at an all-you-can-eat buffet? 
Is it possible to put a price on the human soul? 
Can you ever rationally justify spending thousands of dollars on a Rolex?
In Ask Ariely, a broad variety of economic, ethical, and emotional dilemmas are explored and addressed through text and images. Using their trademark insight and wit, Ariely and Haefeli help us reflect on how we can reason our way through external and internal challenges.  Readers will laugh, learn, and most importantly gain a new perspective on how to deal with the inevitable problems that plague our daily life.
About the Author
Dan Ariely is the bestselling author of Predictably Irrational, The Upside of Irrationality, and The (Honest) Truth About Dishonesty. He is the James B. Duke Professor of Psychology and Behavioral Economics at Duke University and is the founder of the Center for Advanced Hindsight. His work has been featured in the New York Times, the Wall Street Journal, the Washington Post, the Boston Globe, and elsewhere. He lives in North Carolina with his family.
Praise For Irrationally Yours: On Missing Socks, Pickup Lines, and Other Existential Puzzles…
"Dan Ariely wraps in a clever bow all the questions we've ever wanted answered concerning the behavioral intricacies that dictate the decisions we make. . . . a read that could lightheartedly change your life."
— Associated Press

"The human brain is one of the largest mysteries in the world. Trying to understand its complexities and improve our behavior is one of the main challenges society deals with. In Irrationally Yours, Dan shares with us some of these mysteries and the tools for accomplishing this task."
— Anthony "Tony" Robbins, #1 New York Times bestselling author of Unlimited Power, Unleash the Power Within and Awaken the Giant Within

"With 70% of his body burned, 3 years in hospital, and decades of experiments in social science, Dan views life from a unique perspective. In this thoroughly entertaining book Dan provides insightful advice to a vast range of human problems. I loved it."
— Terry Jones, Monty Python member, director, actor and writer

"Ariely is a master observer of human foibles. His advice is funny, thoughtful, and well-founded. Sometimes all three together. My advice: read it, enjoy it, think about it."
— Al Roth, Nobel Laureate in Economics and Craig and Susan McCaw Professor of Economics at Stanford University

"Dan is the most provocative, interesting, and to-the-point advice columnist you are likely to read, whether on your job, your love life, your kids or your disrespectful neighbors"
— Tyler Cowen, author of Average is Over, Holbert L. Harris Professor of Economics at George Mason University, and blogger at marginalrevolution.com

"[An] astute collection of insights into the human condition…. The wide spectrum of topics and Ariely's unpredictable responses makes each page an alluring gem, so readers may have difficulty stopping, but they certainly won't have trouble finding nuggets of wisdom to take away."
— Shelf Awareness

"There is nobody better placed to solve your problems than Dan Ariely. A master of both rationality and irrationality, he's wise enough to know which to recommend in any situation. A funny, addictive, life-changing book."
— Tim Harford, author of The Undercover Economist Strikes Back