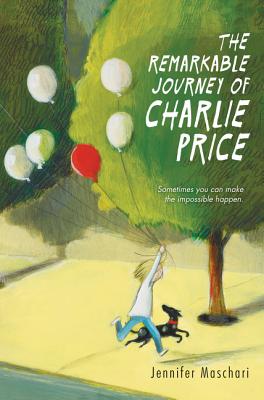 The Remarkable Journey of Charlie Price
Hardcover

* Individual store prices may vary.
Description
A heartfelt, beautifully written novel of love, loss, and math—perfect for fans of Rebecca Stead and Sharon M. Draper.
This "tangible allegory of grief through the eyes of a struggling 12-year-old boy" has been cited by Brightly.com as a book about sadness and grief that will help support kids and foster conversation.
Ever since twelve-year-old Charlie Price's mom died, he feels like his world has been split into two parts. Before included stargazing and Mathletes and Saturday scavenger hunts with his family. After means a dad who's completely checked out, comically bad dinners, and grief group that's anything but helpful. It seems like losing Mom meant losing everything else he loved, too.
Just when Charlie thinks things can't get any worse, his sister, Imogen, starts acting erratically—missing school and making up lies about their mother. But everything changes when one day he follows her down a secret passageway in the middle of her bedroom and sees for himself.
Imogen has found a parallel world where Mom is alive!
There's hot cocoa and Scrabble and scavenger hunts again and everything is perfect . . . at first. But something doesn't feel right. Whenever Charlie returns to the real world, things are different, and not in a good way. And Imogen wants to spend more and more time on the other side. It's almost as if she wants to leave the real world for good. If Charlie doesn't uncover the truth, he could lose himself, the true memory of their mother, and Imogen . . . forever.
Praise For The Remarkable Journey of Charlie Price…
Jennifer Maschari's debut novel is a work-out for the heart. Charlie Price has to make a terrible choice between what has been and what could be, and readers will stick with him every poignant, suspenseful step of the way. Charlie's journey is more than remarkable. It's unforgettable. — Tricia Springstubb, author of Moonpenny Island
"What a beautiful book Jen Maschari has written—a brave and big-hearted exploration of the sustaining power of friendship and the infinite treasure of memory our loved ones give us." — Anne Ursu, author of Breadcrumbs and The Real Boy
"Beautifully crafted sentences read almost as if they were poetry...Fans of both fantasy and realistic fiction will appreciate this painful but ultimately triumphant, multilayered novel." — School Library Journal (starred review)
"A beautifully written meditation on grief … Reminiscent of Neil Gaiman's Coraline" — Booklist
Balzer + Bray, 9780062380104, 304pp.
Publication Date: February 23, 2016