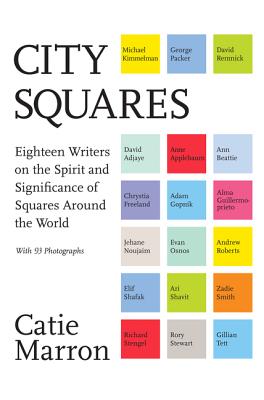 City Squares (Hardcover)
Eighteen Writers on the Spirit and Significance of Squares Around the World
Harper, 9780062380203, 304pp.
Publication Date: April 12, 2016
* Individual store prices may vary.
Description
In this important collection, eighteen renowned writers, including David Remnick, Zadie Smith, Rebecca Skloot, Rory Stewart, and Adam Gopnik evoke the spirit and history of some of the world's most recognized and significant city squares, accompanied by illustrations from equally distinguished photographers.
Over half of the world's citizens now live in cities, and this number is rapidly growing. At the heart of these municipalities is the square—the defining urban public space since the dawn of democracy in Ancient Greece. Each square stands for a larger theme in history: cultural, geopolitical, anthropological, or architectural, and each of the eighteen luminary writers has contributed his or her own innate talent, prodigious research, and local knowledge.
Divided into three parts: Culture, Geopolitics, History, headlined by Michael Kimmelman, David Remnick, and George Packer, this significant anthology shows the city square in new light. Jehane Noujaim, award-winning filmmaker, takes the reader through her return to Tahrir Square during the 2011 protest; Rory Stewart, diplomat and author, chronicles a square in Kabul which has come and gone several times over five centuries; Ari Shavit describes the dramatic changes of central Tel Aviv's Rabin Square; Rick Stengel, editor, author, and journalist, recounts the power of Mandela's choice of the Grand Parade, Cape Town, a huge market square to speak to the world right after his release from twenty-seven years in prison; while award-winning journalist Gillian Tett explores the concept of the virtual square in the age of social media.
This collection is an important lesson in history, a portrait of the world we live in today, as well as an exercise in thinking about the future. Evocative and compelling, City Squares will change the way you walk through a city.
Contributors include:
David Adjaye on Jemma e-Fnna, Marrakech • Anne Applebaum on Red Square, Moscow and Grand Market Square, Krakow • Chrystia Freeland on Euromaiden, Kiev • Adam Gopnik on Place des Vosges, Paris • Alma Guillermoprieto on Zocalo, Mexico City • Jehane Noujaim on Tahrir Square, Cairo • Evan Osnos on Tiananmen Square, Beijing • Andrew Roberts on Residential Squares, London • Elif Shafak on Taksim Square, Istanbul • Rebecca Skloot on American Town Squares • Ari Shavit on Rabin Square, Tel Aviv • Zadie Smith on the grand piazzas of Rome and Venice • Richard Stengel on Market Square, Grand Parade, Cape Town • Rory Stewart on Murad Khane, Kabul • Plus contributions by Gillian Tett, George Packer, David Remnick, and Michael Kimmelman; illustrations and photographs from renowned photographers, including: Thomas Struth, Philip Lorca di Corcia, and Josef Koudelka
About the Author
Catie Marron, whose career has encompassed investment banking, magazine journalism, and public service, is currently chairman of the board of directors of Friends of the High Line; a trustee of the New York Public Library, where she was chairman of the board for seven years; and a contributing editor to Vogue. Also the editor of City Parks, Marron lives in New York City with her family.
Praise For City Squares: Eighteen Writers on the Spirit and Significance of Squares Around the World…
"Catie Marron has done a splendid job of bringing together some of the smartest voices to reflect on some of the most beautiful or important or intriguing public spaces in the world. The result is itself magical."
— Fareed Zakaria, In Defense of A Liberal Education

"A charming and informative guide to the architecture, history, politics, and culture of landmark square…. City squares are vital spaces throughout much of the globe.… Beautiful photos follow each essay."
— Chicago Tribune

"Smartly divided into thematic sections: culture, geopolitics, and history…[and] beautifully illustrated."
— Wall Street Journal

"Kaleidoscopic….A lively and stylishly illustrated collection, it's perfect for dipping into on a bench in Union Square, or with an aperitivo in the Campo de'Fiori."
— Financial Times

"City Squares is a beautiful and haunting collection of essays by some of the finest writers of today. Each chapter is a jewel in itself. Taken together, however, these essays demonstrate the endurance of the human spirit in the spaces and squares of public life."
— Dr. Amanda Foreman, historian and author of Georgiana, Duchess of Devonshire and A World on Fire

"Savor many of the world's most important writers on many of the world's most important places—city squares that incubate and animate democracy, culture and the human spirit. I love learning about how the personal stories of writers I admire intersect with history and urban life."
— Jonathan Alter, journalist and New York Times bestselling author

"The essays and their accompanying photography interact with one another, constructing a cross-cultural narrative of diverse societal interaction and activism."
— Publishers Weekly

"A corrective to travel writing's tendency to obsess over wilderness and mountains, this collection of essays zooms in on the squares at the heart of the world's cities."
— Financial Times Summer Books

"[A] brilliant anthology of essays celebrating the city square…which travelers invariably find indispensable as starting, ending, or gathering points."
— National Geographic

"The contributions…are thoughtful and sometimes even surprising…. A worthy celebration of the 'one essential urban space'…. Dozens of images make a grand testimonial to how people live their lives in public spaces."
— Kirkus Reviews

"City Squares packs an anthropological punch…. The book isn't just a chronicle of the formation of urban identity; it speaks to the evolution of the modern human."
— Surface Magazine

"Demonstrates the potential of public space to influence both personal lives and social conditions…. These 18 essays remind us that we bring ourselves to fill the empty spaces."
— PopMatters.com

"I found myself with city-break wanderlust after dipping into this absorbing and visually striking anthology…[of] stellar writers…. There are arresting photographs throughout."
— The Bookseller (Editor's Choice)

"Catie Marron's City Squares is a revelation. It takes you on an incredible journey across the world's greatest cities and their squares through the eyes of the best writers and thinkers. With every turn of the page, you will learn something new."
— Richard Florida, nationally bestselling author of The Rise of the Creative Class and Global Research Professor at New York University

"Recommended for those with an interest in how urban spaces intersect with culture, history, and politics, and for travelers seeking a deeper understanding of these famous locations."
— Library Journal

"Highly intelligent."
— Introspective Magazine
Coverage from NPR