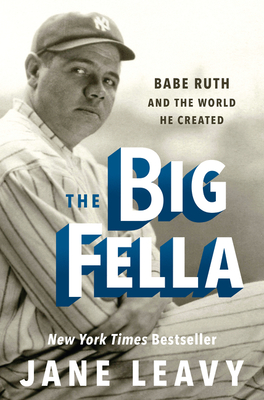 The Big Fella
Babe Ruth and the World He Created
Hardcover

* Individual store prices may vary.
Other Editions of This Title:
Digital Audiobook (10/15/2018)
Paperback (9/24/2019)
Paperback, Large Print (10/16/2018)
Description
NEW YORK TIMES BESTSELLER • From Jane Leavy, the award-winning, New York Times bestselling author of The Last Boy and Sandy Koufax, comes the definitive biography of Babe Ruth—the man Roger Angell dubbed "the model for modern celebrity."
A BEST BOOK OF THE YEAR:
The Boston Globe | Publishers Weekly | Kirkus | Newsweek | The Philadelphia Inquirer | The Progressive
Winner of the 2019 SABR Seymour Medal | Finalist for the PEN/ESPN Literary Sports Writing Award | Longlisted for Spitball Magazine's Casey Award for Best Baseball Book of the Year | Finalist for the NBCC Award for Biography
"Leavy's newest masterpiece…. A major work of American history by an author with a flair for mesmerizing story-telling." —Forbes
He lived in the present tense—in the camera's lens. There was no frame he couldn't or wouldn't fill. He swung the heaviest bat, earned the most money, and incurred the biggest fines. Like all the new-fangled gadgets then flooding the marketplace—radios, automatic clothes washers, Brownie cameras, microphones and loudspeakers—Babe Ruth "made impossible events happen." Aided by his crucial partnership with Christy Walsh—business manager, spin doctor, damage control wizard, and surrogate father, all stuffed into one tightly buttoned double-breasted suit—Ruth drafted the blueprint for modern athletic stardom.
His was a life of journeys and itineraries—from uncouth to couth, spartan to spendthrift, abandoned to abandon; from Baltimore to Boston to New York, and back to Boston at the end of his career for a finale with the only team that would have him. There were road trips and hunting trips; grand tours of foreign capitals and post-season promotional tours, not to mention those 714 trips around the bases.
After hitting his 60th home run in September 1927—a total that would not be exceeded until 1961, when Roger Maris did it with the aid of the extended modern season—he embarked on the mother of all barnstorming tours, a three-week victory lap across America, accompanied by Yankee teammate Lou Gehrig. Walsh called the tour a "Symphony of Swat." The Omaha World Herald called it "the biggest show since Ringling Brothers, Barnum and Bailey, and seven other associated circuses offered their entire performance under one tent." In The Big Fella, acclaimed biographer Jane Leavy recreates that 21-day circus and in so doing captures the romp and the pathos that defined Ruth's life and times.
Drawing from more than 250 interviews, a trove of previously untapped documents, and Ruth family records, Leavy breaks through the mythology that has obscured the legend and delivers the man.
Praise For The Big Fella: Babe Ruth and the World He Created…
"Magnificent.... All this is only to touch on the wealth of research, detail and astuteness of observation that make up The Big Fella. Some of it is sad.... But the winning side of the Babe's life predominates in these pages and in history." — Wall Street Journal
"Captures Ruth's outsize influence on American sport and culture.... Leavy's conceit allows her to stake out some untrod turf. But she also makes a compelling case that to appreciate the adulation Ruth soaked up in October 1927 is to understand his contribution to American life in full." — New York Times Book Review
"An editor of mine once told me that each generation deserves its own biography of a historic figured, and we now have ours for Babe Ruth…Offers depth and nuance to the Bambino's character….Leavy convincingly shows how Ruth embodied the Jazz Age, rebelling against all constraints both on and off the field while serving as the precursor to Michael Jordan, LeBron James, and the other athletes who would become multimedia conglomerates." — Boston Globe
"Jane Leavy writing a book about Babe Ruth is the biggest thing that has happened in my life since Santa Claus visited my classroom in the second grade. This is Babe Ruth off the diamond and out of uniform, a very flawed human being but still very much a hero, a man who could lift an army of beggars and wannabes onto his back and carry them to their dreams." — Bill James, Baseball Writer
"Does the world need another biography of Babe Ruth? If it's this one, then the answer is an emphatic yes." — Kirkus (starred review)
"Engaging.... Sifts through the myths.... Leavy shines light on Ruth's place in American cultural history. She paints a sensitive and humorous portrait of a flamboyant figure who exploited technological transformations, public appetites and his athletic prowess to forge a new sporting celebrity." — Washington Post
"Leavy's newest masterpiece ... delivers all the goods again. Meticulously researched over eight years and richly detailed, it's as close as we'll ever come to meeting the legend and watching him in action. The Big Fella is a must-read for Babe Ruth fans, baseball history buffs, and collectors. Above all, it is a major work of American history by an author with a flair for mesmerizing story-telling. — Forbes
"There have been numerous books written about the enormous life of Babe Ruth.... Jane Leavy, though, manages to mine new material in her wonderful book.... Ultimately, Leavy provides a different perspective of a man who consistently broke the mold in sports and society." — Chicago Tribune
"Fascinating…reveals Ruth's pioneering role in modern celebrity." — The Guardian
 "The Big Fella, beyond being the premiere biography about the King of Crash, is a book for all history buffs, not just fans of the New York Yankees, baseball, or sports in general." — Philadelphia Inquirer
"Monumental.... Leavy writes lovely, lively sentences and, as in her other big baseball biographies, of Sandy Koufax and Mickey Mantle, coordinates her head with her heart. Her research is thorough, and she works the material hard. She knows the score. She likes her subjects sometimes despite it, or comes to like them, or to feel sympathy for them.... As Nick Carraway is to Jay Gatsby, Jane Leavy is to Babe Ruth, who represents everything for which I have an unaffected scorn. She persuaded me to cut him some slack." — National Review
"What sets 'The Big Fella: Babe Ruth and the World He Created' apart from earlier attempts to identify the true essence of the man is an unprecedented look back into Ruth's long-neglected childhood and a magnified focus on how his tremendous popularity helped birth the cult of personality in America."   — Peter Schmuck, Baltimore Sun
"Leavy always entertains, injecting necessary context about a sport that was just beginning to become a major advertising and marketing vehicle. She also evokes sympathy for the Babe ... without excusing his sins and excesses. Leavy brings the larger-than-life slugger down to the size of a real human being." — New York Magazine
"The Big Fella is just amazing. Filled with fabulous tales. Tell me you wouldn't have wanted to follow the Bambino around on a barnstorming tour in 1927. Now you can!" — Jayson Stark
"Jane Leavy could write the biography of a tube of toothpaste and I'd be first in line to buy it. Jane Leavy on Babe Ruth? Home run! Think you know the Babe? Not a chance—not until you read The Big Fella." — Jonathan Eig, author of Ali and Luckiest Man
"Leavy has cleared the bases with a compelling account of the game's greatest, Babe Ruth. Leavy brilliantly describes the complexities that accompany an elite talent and the blessing and curse of stardom while documenting the essential role of an attorney to provide vision, create a protective umbrella, and facilitate the most important goal for a unique athlete: self-understanding." — Scott Boras, attorney for Major League Baseball Players
"Covers all aspects of Ruth's massive life, bringing true empathy and impressive depth of knowledge to her complex subject." — Boston Globe
"Proves conclusively there really was room for another book on Babe Ruth, only because of Leavy's usual diligent and extensive research." — Daily News
"Early in her seminal Babe Ruth biography, The Big Fella, Jane Leavy, the gifted storyteller of bygone ballplayers, perfectly encapsulates his place at the intersection of America's game, Americana and America today.... It's hard to conceive of a baseball player being the most famous athlete in America, let alone the most famous person. And yet with a clever narrative that tells Ruth's life story through the lens of his 21-city barnstorming tour with Lou Gehrig, Leavy doesn't need to do any convincing that it's true. The facts clearly support the premise." — Jeff Passan, Yahoo Sports
"If you think you've read enough stories about Babe Ruth to last a lifetime, think again. If you haven't yet read THE BIG FELLA, you've got some catching up to do." — Steven Goldleaf, Bill James Online
"Entertaining and colorful.... Leavy's captivating biography reveals Ruth as a man who swung his bat with the same purposeful abandon that he lived his life." — Publishers Weekly, starred review
"The same insight and verve that attracted readers to Leavy's portraits of Mickey Mantle and Sandy Koufax manifest themselves here as she traces the improbable transformation of the insecure little George into the imposing Sultan of Swat, master of the diamond and unparalleled national celebrity…. An American icon brought to life." — Booklist, starred review
"Sweeping…. [The Sultan of Swat] comes to life in these pages." — Newsday
"Simply the best sports biography I have ever read...convincingly makes the case that Ruth put down the template for modern celebrity.... If you want to understand the Kardashians and their effect on our culture, you have to understand Babe Ruth." — The Progressive
"One rule of thumb personally adopted is I read anything Jane Leavy writes. She's that good…. Leavy is an exquisite reporter and researcher, which melds with her prose to make for a wonderful gift." — Detroit News
"Leavy, through dogged reporting and astute analysis, strips away many of the myths and misconceptions surrounding Ruth's life. ... [She] spent eight years researching and writing her Ruth biography, and her care and diligence surface on every page." — Christian Science Monitor
"Colorful.... This poignant life story reveals Babe Ruth warts and all." — The Missourian
"Not only about baseball, but a richly detailed social history of America in the Roaring Twenties." — The Durham Herald-Sun
"Remarkable…. enlightening and interesting." — NY Sports Day
Praise for Jane Leavy:
"The Last Boy is something new in the history of the histories of the Mick. It is hard fact, reported by someone greatly skilled at that craft...and presented so that the reader and not the author draws nearly all the conclusions." — New York Times Book Review on The Last Boy
"This is one of the best sports biographies I have ever read. Beautifully written and thoroughly researched, it reveals with stunning insight both the talents and the demons that drove Mickey Mantle, bringing him to life as never before." — Doris Kearns Goodwin on The Last Boy
"The incomparable and mysterious Sandy Koufax is revealed…. This is an absorbing book, beautifully written." — Wall Street Journal on Sandy Koufax
"Leavy has hit it out of the park…A lot more than a biography. It's a consideration of how we create our heroes, and how this hero's self perception distinguishes him from nearly every other great athlete in living memory… a remarkably rich portrait." — Time on Sandy Koufax
"An exhaustively researched study that paints an intriguing portrait of the famously reclusive Dodger pitcher."   — Sports Illustrated on Sandy Koufax
"The Last Boy is something new in the history of the histories of the Mick. It is hard fact, reported by someone greatly skilled at that craft...and presented so that the reader and not the author draws nearly all the conclusions." — The New York Times Book Review on The Last Boy
Harper, 9780062380227, 656pp.
Publication Date: October 16, 2018
About the Author
Jane Leavy, award-winning former sportswriter and feature writer for the Washington Post, is author of the New York Times bestsellers Sandy Koufax: A Lefty's Legacy, The Last Boy: Mickey Mantle and the End of America's Childhood, and the comic novel Squeeze Play. She lives in Washington, D.C. and Truro, Massachusetts.
or
Not Currently Available for Direct Purchase