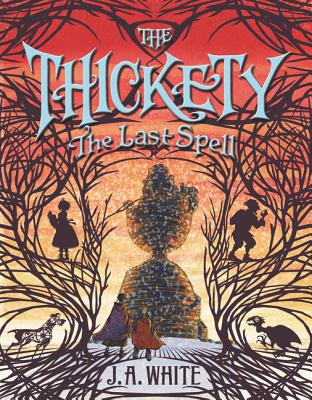 The Thickety #4 (Hardcover)
The Last Spell
Katherine Tegen Books, 9780062381392, 512pp.
Publication Date: April 4, 2017
Other Editions of This Title:
Digital Audiobook (4/3/2017)
MP3 CD (4/4/2017)
* Individual store prices may vary.
Description
The spellbinding conclusion in the critically acclaimed Thickety series, perfect for fans of Neil Gaiman.
In The Thickety #4: The Last Spell, Kara and her brother Taff must find the hidden pieces of Princess Evangeline's grimoire to defeat Rygoth and her army of witches in one last good versus evil battle.
Kara and Taff have discovered that the Spider Queen is searching for Princess Evangeline's grimoire—the Vulkera. Legends say that any witch who wields its dangerous magic would be indestructible. Kara and Taff have to stop the Spider Queen from finding the ancient weapon—and destroying everything.
They will travel through time with an old enemy, come face-to-face with the creatures that guard the grimoire's pages, and unravel a king's dangerous secret, before one final battle against the Spider Queen.
But can Kara save the people she loves and cast a spell that could change magic forever?
About the Author
J. A. White is the author of The Thickety: A Path Begins. He lives in New Jersey with his wife, three sons, and a hamster named Ophelia that doesn't like him very much. When he's not making up stories, he teaches a bunch of kids how to make up stories (along with math and science and other important stuff). He wishes dragons were real because it would be a much cooler way to get to work.
Praise For The Thickety #4: The Last Spell…
"White's fanciful world building is as rich as ever...series fans will surely be satisfied by this empowering final installment."
— Booklist

"This long-anticipated finale to the Thickety fantasy series will provide readers with as much excitement, monsters, evil characters, and constant change as they need to stay glued to the page. Magic, suspense, and close calls-what could be better?"
— Kirkus Reviews

Praise for THE THICKETY:WELL OF WITCHES: "For fans, this is a sharp, moving, intense dive into a lushly described world that seems to be headed for a good versus evil showdown in a future volume."
— Bulletin of the Center for Children's Books

Praise for THE THICKETY: THE WHISPERING TREES: "The Thickety: The Whispering Trees is a thrilling sequel: a whirlwind of suspense and twists. J.A. White isn't just a fantastic writer and storyteller—he spins myths that feel as old as the Thickety itself. A must-read series for every age."
— Soman Chainani, New York Times bestselling author of The School for Good and Evil

"With a plot that coils like a tangle of brambles and an ending no less twisty than that of its predecessor, this sequel will keep readers invested in Kara and Taff's adventures in this dangerous and imaginative world."
— Publishers Weekly (starred review)

"The twisted plot is perfectly matched by the twisted atmosphere. . . . Spine-tingling."
— Booklist (starred review)

"An exceptionally well-written and compelling sequel."
— Bulletin of the Center for Children's Books (starred review)

"This title has all the ingredients—a doughty heroine and her admirable younger brother, an unreliable guide who can't stay the same age for long, and a heavy "ick" factor-to keep readers glued to it. The unexpected climax and ending guarantee another book to enjoy."
— Kirkus Reviews

"This title will appeal to fans of the first volume in the series, as well as to those who enjoy their fantasy a little on the scary side. This is a good series to suggest to fans of Joseph Delaney's Last Apprentice series."
— Voice of Youth Advocates (VOYA)

"The nail-biting suspense will keep readers turning the pages late into the night, and in Kara, readers will find a protagonist to root for. Readers who enjoyed the spine-chilling first installment will be eager to get their hands on this sequel."
— School Library Journal

Praise for THE THICKETY: A PATH BEGINS: "The spellbinding story, lashings of suspense and stalwart heroine will draw in fantasy fans and keep them reading until the bitter ending."
— Kirkus Reviews

"White's debut novel is darkly bewitching. The well-crafted characters operate beautifully within the fantastical world he has created. Readers will devour each twist and turn of the plot, right up to the startling conclusion."
— School Library Journal

"A startling plot twist at the end will have readers urgently waiting for a sequel, and it may lead them right back into the book to see if they missed earlier clues."
— Bulletin of the Center for Children's Books

"The Thickety is a sinister, magical debut with a marvelous and shocking heroine. J.A. White's elegant writing and masterful plot kept me turning pages late into the night."
— Lisa McMann, author of the New York Times bestselling The Unwanteds series

"The Thickety may give you nightmares, but it is a gripping story with a great heroine."
— Angie Sage, #1 New York Times bestselling author of the Septimus Heap series