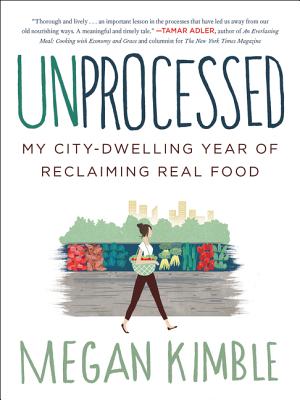 Unprocessed
My City-Dwelling Year of Reclaiming Real Food
Paperback

* Individual store prices may vary.
Other Editions of This Title:
Digital Audiobook (6/17/2019)
MP3 CD (6/18/2019)
Compact Disc (6/18/2019)
Compact Disc (6/18/2019)
Description
In the tradition of Michael Pollan's bestselling In Defense of Food comes this remarkable chronicle, from a founding editor of Edible Baja Arizona, of a young woman's year-long journey of eating only whole, unprocessed foods—intertwined with a journalistic exploration of what "unprocessed" really means, why it matters, and how to afford it.
In January of 2012, Megan Kimble was a twenty-six-year-old living in a small apartment without even a garden plot to her name. But she cared about where food came from, how it was made, and what it did to her body: so she decided to go an entire year without eating processed foods. Unprocessed is the narrative of Megan's extraordinary year, in which she milled wheat, extracted salt from the sea, milked a goat, slaughtered a sheep, and more—all while earning an income that fell well below the federal poverty line.
What makes a food processed? As Megan would soon realize, the answer to that question went far beyond cutting out snacks and sodas, and became a fascinating journey through America's food system, past and present. She learned how wheat became white; how fresh produce was globalized and animals industrialized. But she also discovered that in daily life, as she attempted to balance her project with a normal social life—which included dating—the question of what made a food processed was inextricably tied to gender and economy, politics and money, work and play.
Backed by extensive research and wide-ranging interviews—and including tips on how to ditch processed food and transition to a real-food lifestyle—Unprocessed offers provocative insights not only on the process of food, but also the processes that shape our habits, communities, and day-to-day lives.
Praise For Unprocessed: My City-Dwelling Year of Reclaiming Real Food…
"Part Fast Food Nation, part Eat Pray Love, it's perfect for a flight or train ride."
— Self

"Unprocessed is a beautifully written and refreshingly honest look at the sticky business of making ethical and responsible food choices in our current food landscape."
— Bon Appétit

"In grappling with these personal, day-to-day decisions, Kimble makes a thoughtful contribution to the greater conversation about how we go about changing the food system."
— Sierra Club

"In Megan's thorough and lively search for a diet of real food, she delivers an important lesson in the processes that have led us away from our old nourishing ways. A meaningful and timely tale."
— Tamar Adler, author of An Everlasting Meal: Cooking with Economy and Grace and contributing writer to the New York Times Magazine

"An important book for all of us who live and breathe and eat in America. I thought I knew this material, but I couldn't put the book down and I came away from it recharged and better informed . . . fresh and smart, but also wise."
— Deborah Madison, author of Vegetable Literacy and The New Vegetarian Cooking for Everyone

"Megan Kimble is the freshest voice in literary food writing since Dan Barber and Tamar Adler . . a stunning debut by a perceptive observer of how food systems actually work . . . in disarmingly graceful prose that will stay in your memory for years to come."
— Gary Paul Nabhan, author of the award-winning Growing Food in a Hotter Drier Land and Coming Home to Eat

"Unprocessed should be required reading for every American eater. In this engrossing tale, Kimble lets us tag along as she processes our flawed food system and unprocesses her kitchen. Kimble's candor and can-do spirit empower and inspire."
— Jonathan Bloom, author of American Wasteland

"I love how Megan effortlessly intertwines her story with all that she learned about the food we eat and how it's processed . . . a refreshingly simple approach on where to draw the line."
— Lisa Leake, #1 New York Times bestselling author of 100 Days of Real Food

"A very personal and honest report of her year-long effort . . . and many practical tips for improving our ways of eating without spending a fortune. An engaging read with valuable information."
— Andrew Weil, M.D., bestselling author of True Food: Seasonal, Sustainable, Simple, Pure

"[Megan Kimble]...has covered poverty and food justice issues, informal food economies, food bank innovations, and roadside stands with equal insight and grace... this extraordinary writer...has taken risks wherever she has gone, and created gems along the way."
— Gary Paul Nabhan, PhD., W.K. Kellogg Endowed Chair in Sustainable Food Systems, University of Arizona, The New York Times-contributor and author of 12 food history and culture books

"The book is full of fresh insights about the way communities are tied to food systems."
— High Country News
William Morrow Paperbacks, 9780062382467, 352pp.
Publication Date: June 23, 2015
About the Author
Megan Kimble is a food writer living in Tucson, Arizona, where she works as the managing editor of Edible Baja Arizona, a local-foods magazine serving Tucson and the borderlands. She is a regular contributor to the Los Angeles Times and serves on the leadership council of the Pima County Food Alliance. She earned her MFA from the University of Arizona and works with the university's Southwest Center to promote food access and justice.