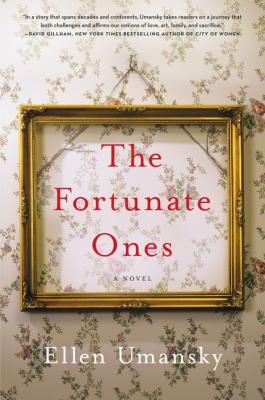 The Fortunate Ones
A Novel
Hardcover

* Individual store prices may vary.
Other Editions of This Title:
Digital Audiobook (2/13/2017)
Paperback (11/21/2017)
MP3 CD (2/14/2017)
Compact Disc (2/14/2017)
Compact Disc (2/14/2017)
Description
A BOOKLIST BEST DEBUT NOVEL OF THE YEAR
One very special work of art—a Chaim Soutine painting—will connect the lives and fates of two different women, generations apart, in this enthralling and transporting debut novel that moves from World War II Vienna to contemporary Los Angeles.
It is 1939 in Vienna, and as the specter of war darkens Europe, Rose Zimmer's parents are desperate. Unable to get out of Austria, they manage to secure passage for their young daughter on a kindertransport, and send her to live with strangers in England.
Six years later, the war finally over, a grief-stricken Rose attempts to build a life for herself. Alone in London, devastated, she cannot help but try to search out one piece of her childhood: the Chaim Soutine painting her mother had cherished.
Many years later, the painting finds its way to America. In modern-day Los Angeles, Lizzie Goldstein has returned home for her father's funeral. Newly single and unsure of her path, she also carries a burden of guilt that cannot be displaced. Years ago, as a teenager, Lizzie threw a party at her father's house with unexpected but far-reaching consequences. The Soutine painting that she loved and had provided lasting comfort to her after her own mother had died was stolen, and has never been recovered.
This painting will bring Lizzie and Rose together and ignite an unexpected friendship, eventually revealing long-held secrets that hold painful truths. Spanning decades and unfolding in crystalline, atmospheric prose, The Fortunate Ones is a haunting story of longing, devastation, and forgiveness, and a deep examination of the bonds and desires that map our private histories.
Praise For The Fortunate Ones: A Novel…
"A subtle, emotionally layered novel about the ways art and other objects of beauty can make tangible the invisible, undocumented moments in our lives, the portion of experience that exists without an audience but must be preserved if we are to remain whole." — New York Times Book Review
"Must-read." — Town & Country
"Umansky's richly textured and peopled novel tells an emotionally and historically complicated story with so much skill and confidence it's hard to believe it's her first." — Kirkus Reviews (starred review)
"The Kindertransport, the recovery of Nazi-looted art, family ties, and adjustments to great loss...in Umansky's first novel, they're brought together in an original and tremendously moving way....[Umansky] sensitively addresses the complicated issue of survivor's guilt and leaves readers with a sense of hope." — Booklist (starred review)
"Umansky's multilayered novel asks the big questions -- who are we and who are the people we love? What can we, and what should we, forgive? How does history write itself on our lives and our society? -- with compassion, tenderness, and a deft touch." — Hanya Yanagihara, author of A Little Life
"The restitution of art works stolen by the Nazis provides the background for this début novel....Umansky shrewdly avoids letting the issue of stolen art crowd out other aspects of the story, to which she gives a feminist tilt." — The New Yorker
"A beautiful and complex story . . . [that] questions who art really belongs to, and demonstrates how even one work of art can inform and transform lives irreversibly. . . . This novel is elegant, engaging, and smart." — Bustle
"Two women generations apart, beautifully drawn...[Umansky] reminds us of the rape of art by the Nazis, placing her emphasis on a Chaim Soutine painting...We mourn its loss through the eyes of the two women. So here is a novel where history is important and writing is excellent." — Fort Wayne News Sentinel
"Ellen Umansky is an absurdly gifted writer, and her masterful debut is so smart, so compelling, so emotionally and intellectually and morally complex, it will make you see the world in a completely different way. I loved, loved, loved this book." — Joanna Rakoff, internationally bestselling author of My Salinger Year
"A haunting story based on historical fact." — Detroit Jewish News
"THE FORTUNATE ONES is like the melody of a song that you can't forget. Its marvelous, utterly human characters will stay with you. In a story that spans decades and continents, Umansky takes readers on a journey that both challenges and affirms our notions of love, art, family, and sacrifice." — David Gillham, New York Times bestselling author of City of Women
"[A] beautiful debut novel. . . . The vivid characterizations make it hard to believe that this is Umansky's first effort."  — PureWow
"A debut novel that is written with the prowess and force of a veteran storyteller." — San Diego Jewish Journal
"A touching novel that will appeal to readers who enjoy his- torical drama with a mystery that spans the years." — Historical Novel Society
"THE FORTUNATE ONES is a riveting, page-turning novel that investigates the true price of art and love and history. It is both magnificent in its sweep and intimate in its telling. And the end? It will take your breath away. Three cheers for Ellen Umansky's perfect debut." — Jennifer Gilmore, author of The Mothers
"THE FORTUNATE ONES is a rich and engaging debut. Ellen Umansky skillfully transports readers on from war-torn Vienna and London to present day Los Angeles and the journey is intriguing, memorable and worthwhile." — Pam Jenoff, internationally bestselling author of The Orphan's Tale
"[A] gripping mystery about the fate of one painting and the two very different women who've spent their lives mourning its loss...A lush, haunting debut." — Anna Solomon, author of Leaving Lucy Pear
"With remarkable elegance and electric prose, Ellen Umansky has written a brilliant novel... I stayed up all night reading this book and it left me weeping, in awe of her gifts and, more than anything, so lucky to be alive." — Joanna Hershon, author of A Dual Inheritance
"[R]emarkable...One of Umansky's many gifts to her lucky readers is the ability to illuminate the truly transcendent powers of art, but also its inherent shortcomings in the face of devastating loss. This is a stirring and ultimately uplifting debut." — Helen Schulman, internationally bestselling author of This Beautiful Life
"The characters in Ellen Umansky's beautiful novel are haunted not only by loss but by the way one loss bleeds into another and reshapes the world... A profound and moving exploration of sorrow and reconciliation." — Jonathan Rosen, author of Joy Comes in the Morning
William Morrow, 9780062382481, 336pp.
Publication Date: February 14, 2017
About the Author
Ellen Umansky has published fiction and nonfiction in a variety of venues, including the New York Times, Salon, Playboy, and the short story anthologies Lost Tribe: Jewish Fiction from the Edge and Sleepaway: Writings on Summer Camp.She has worked in the editorial departments of The Forward, Tablet, and The New Yorker. She grew up in Los Angeles, and now lives in Brooklyn with her husband and two daughters.
1. Discuss how the meaning of the painting changes or deepens as the story progresses. How does Rose initially feel about the painting, and why does she look for it after the war?
2. What does Lizzie appear to have in common with Rose? Where do they differ? Think about their first meeting, and how their relationship develops.
3. Though this story hovers around the Holocaust, the focus of the narrative draws our attention to the after-effects rather than the atrocities themselves. How does the Jewish community recover after the years of devastation? Explain how Rose grapples with her sense of guilt and loss. Do other characters deal with it differently?
4. From what you can tell, how much of the information about the painting is based on historical fact? What do you think the author invented or adapted for this story?
5. The juxtaposition of Europe in the 1930s-1940s and Los Angeles in 2006 is a stark one. How do the two narrations play against each other? Do they seem to resonate? Try to connect the situations and conflicts across this time span.
6. Do you think the dual narrative is a good way for telling this kind of story? Why or why not? Can you think of other novels or films that use the same strategy?
7. Joseph's death and the search for the stolen painting brings Lizzie and Rose together. In what other ways are these characters are drawn toward each other?
8. When Rose is a student in London, she feels a strong affinity for the work of Dostoyevsky, who writes that "one reptile will devour another." On page 158, Rose explains that this quote refers to the irrational side of the human soul, where all humans harbor dark, murderous impulses. She admits that she finds this "ugliness of the human condition" to be comforting, and that it makes her feel "understood." What do you make of Rose's ideas here? Why do you think Rose finds solace in thinking about the nature of evil?
9. On page 104, Lizzie asks whether Rose ever sought reparations from the government for the loss and suffering her family experienced during Holocaust. Rose refuses, saying "I don't want that money, it's blood money. It makes what happened about property, and it most certainly is not. Besides, I'm not the victim here; my parents are." Think about how Rose's refusal to seek compensation for her suffering, and then about her desire to recover the stolen painting. What is valuable to Rose? Can we see the painting as a "reparation"? Why or why not?
10. After Germany annexed Austria in 1938, life for Jews became even more restricted and difficult. Rose's father loses his business, the children aren't allowed to go to school or even to the movie theater, and most strikingly, the family has trouble securing travel documents. Can you name any other restrictions that the government imposed on Jews during the earlier stages of the Holocaust? Can you talk about other ways people tried to flee Nazi Germany and enter other countries?
11. How might Rose's experience fleeing from her home country resonate with current events? What are some parallels between her situation and the current refugee crisis in Europe?
12. The author never describes what actually happened to Rose's parents. What do you make of her decision to omit these details from the story? What do you think happened to them? What does Rose think?
13. Look up The Bellhop by Chaim Soutine. Does the painting appear like its descriptions in the story? Is it what you expected? How does looking at the original painting change the way you think about the characters' attachments to it?
14. Discuss the story's ending. Are you surprised by Rose's reaction to the discovery of the painting? Was this satisfying or frustrating for you?
15. People deal with grief and trauma in different ways. Discuss Rose and Gerard's alternate responses to being separated from each other, relocated from their native country, and losing their parents. How does Gerard cope differently from his sister? How do their experiences compare with the way that Lizzie handles grief?
or
Not Currently Available for Direct Purchase