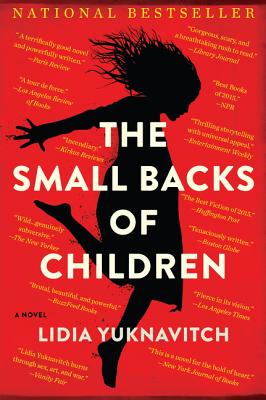 The Small Backs of Children
A Novel
Paperback

* Individual store prices may vary.
Other Editions of This Title:
Digital Audiobook (7/6/2015)
Hardcover (7/7/2015)
Compact Disc (7/7/2015)
MP3 CD (7/7/2015)
CD-Audio (7/7/2015)
Description
National Bestseller
A masterful literary talent explores the treacherous, often violent borders between war and sex, love and art.
With the flash of a camera, one girl's life is shattered, and a host of others altered forever. . .
In a war-torn village in Eastern Europe, an American photographer captures a heart-stopping image: a young girl flying toward the lens, fleeing a fiery explosion that has engulfed her home and family. The image wins acclaim and prizes, becoming an icon for millions—and a subject of obsession for one writer, the photographer's best friend, who has suffered a devastating tragedy of her own.
As the writer plunges into a suicidal depression, her filmmaker husband enlists several friends, including a fearless bisexual poet and an ingenuous performance artist, to save her by rescuing the unknown girl and bringing her to the United States. And yet, as their plot unfolds, everything we know about the story comes into question: What does the writer really want? Who is controlling the action? And what will happen when these two worlds—east and west, real and virtual—collide?
A fierce, provocative, and deeply affecting novel of both ideas and action that blends the tight construction of Julian Barnes's The Sense of an Ending with the emotional power of Anthony Marra's A Constellation of Vital Phenomena, Lidia Yuknavitch's The Small Backs of Children is a major step forward from one of our most avidly watched writers.
Praise For The Small Backs of Children: A Novel…
"Yuknavitch has emerged as a trailblazing literary voice that spans genres and dives deep into themes of gender, sexuality, art, violence, and transcendence." — Suleika Jaouad, Lenny Letter
"I have never felt so wrung out by a novel and yet simultaneously invigorated…a terrifically good novel and powerfully written." — Paris Review
"This is a novel for the bold of heart." — New York Journal of Books
"An intensely corporal, potently feminist, tenaciously written work as alert to animal resilience as to the capacity for bruised and battered suffering, for desire, for ecstasy." — Boston Globe
Advance Praise for THE SMALL BACKS OF CHILDREN
"Yuknavitch is a gifted writer whose dizzying passages are often as compelling as they are grotesque." — Kirkus Reviews
"Lidia Yuknavitch burns through sex, art, and war in The Small Backs of Children." — Vanity Fair
"Lidia Yuknavitch' s explosive new novel…is fierce in its vision, with captivating prose that carries its own momentum. Yuknavitch has created a reading experience that is uncomfortable and dazzling, with a vital intensity that grabs at the gutstrings." — Los Angeles Times
"The Small Backs of Children beautifully examines the fractures of loss and the myriad ways we can recover from it. " — Huffington Post
"Gorgeous, scary, and a breathtaking rush to read, this book is less a meditation than a provocation on the power and dangers of art." — Library Journal (starred review)
"Lidia Yuknavitch's first novel for a big publisher is a big winner." — The Oregonian
"If you want a novel that is going to swallow you alive this summer, turn to Lidia Yuknavitch whose The Small Backs of Children is the kind of book that goes straight for your heart and your mind…This one is important." — Bustle Summer Reading Roundup
"The Small Backs of Children proves once again that Yuknavitch is witness to the kind of stories we ought to read." — The Rumpus.com
"[An example] of thrilling storytelling with universal appeal." — Entertainment Weekly
"Yuknavitch has a point of view and a fragmented and fractured visionary elegance in her poetic, allusive punk-infused voice. She grabs readers by the throats and immerses them in an intense, wrenching fictive world, but lets them up for air through careful structuring and pacing." — Buffalo News
"In the latest book from Lidia Yuknavitch, she delves into the aftermath of conflict and tragedy, showing how one image can impact the lives of numerous characters..." — Vol 1Brooklyn
"Yuknavitch's writing style works in absolutes and blanket statements like large swaths of color on a canvas…if you ask me to follow Yuknavitch's plume into a raw, experimental work, I gladly will." — Portland Mercury
"Yuknavitch writes about art, violence, sex, ferocity, willpower and womanhood with explosive force, in a language that evokes modern mythology." — LitHub
"The Small Backs of Children is deeply complex and layered, yet also deceptively simple…exquisite in its lyricism and its ability to articulate and amplify the experiences of suffering and survival." — The Nervous Breakdown
"Lidia Yuknavitch's writing is a sizzle wire. Her fierce prose will jumpstart your heart and electrify your brain…and her new novel, The Small Backs of Children is a provocative and thrilling jolt of a book." — Bustle
"…this story packs a powerful punch. It may sound heavy but, trust us, everyone is going to be talking about this book." — Boats International
Harper Perennial, 9780062383259, 256pp.
Publication Date: July 26, 2016
About the Author
Lidia Yuknavitch is the author of the National Bestselling novel The Small Backs of Children, winner of the 2016 Oregon Book Award's Ken Kesey Award for Fiction as well as the Reader's Choice Award, the novel Dora: A Headcase, and three books of short stories. Her widely acclaimed memoir The Chronology of Water was a finalist for a PEN Center USA award for creative nonfiction and winner of a PNBA Award and the Oregon Book Award Reader's Choice. She founded the workshop series Corporeal Writing in Portland Oregon, where she also teaches Women's Studies, Film Studies, Writing, and Literature. She received her doctorate in Literature from the University of Oregon. She lives in Oregon with her husband Andy Mingo and their renaissance man son, Miles. She is a very good swimmer.
Coverage from NPR
or
Not Currently Available for Direct Purchase