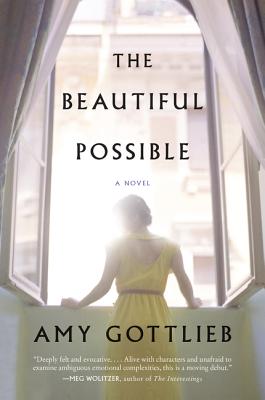 The Beautiful Possible
A Novel
Paperback

* Individual store prices may vary.
Description
This epic, enthralling debut novel—in the vein of Nicole Krauss' The History of Love—follows a postwar love triangle between an American rabbi, his wife, and a German-Jewish refugee.
Spanning seventy years and several continents—from a refugee's shattered dreams in 1938 Berlin, to a discontented American couple in the 1950s, to a young woman's life in modern-day Jerusalem—this epic, enthralling novel tells the braided love story of three unforgettable characters. In 1946, Walter Westhaus, a German Jew who spent the war years at Tagore's ashram in India, arrives at the Jewish Theological Seminary in New York City, where he meets Sol Kerem, a promising rabbinical student. A brilliant nonbeliever, Walter is the perfect foil for Sol's spiritual questions—and their extraordinary connection is too wonderful not to share with Sol's free-spirited fiancée Rosalie. Soon Walter and Rosalie are exchanging notes, sketches, and secrets, and begin a transcendent love affair in his attic room, a temple of dusty tomes and whispered poetry. Months later they shatter their impossible bond, retreating to opposite sides of the country—Walter to pursue an academic career in Berkeley and Rosalie and Sol to lead a congregation in suburban New York. A chance meeting years later reconnects Walter, Sol, and Rosalie—catching three hearts and minds in a complex web of desire, heartbreak, and redemption. With extraordinary empathy and virtuosic skill, The Beautiful Possible considers the hidden boundaries of marriage and faith, and the mysterious ways we negotiate our desires.
Praise For The Beautiful Possible: A Novel…
"I've never read anything quite like this lyrical and infinitely wise novel…It's about faith and love and lust and mysticism and poetry and the eroticism of spices…Mostly, though, it's about how a book can be a wonder. If books could shimmer, this one would." — Elizabeth Berg, author of THE DREAM LOVER
"THE BEAUTIFUL POSSIBLE is a deeply felt and evocative novel that draws on history, memory, all the senses, and the author's own considerable conjuring skills. Alive with characters and unafraid to examine ambiguous emotional complexities, this is a moving debut." — Meg Wolitzer, author of THE INTERESTINGS and BELZHAR
"Amy Gottlieb has written a beautiful first novel…this book is a meditation on faith and religion, on love and faithfulness, on feminism, on the times in which the characters lived, and on the meaning of life…a truly satisfying novel." — San Francisco Book Review, 5/5 stars
"Gottlieb tells her story in evocative prose, juxtaposing vivid physical details with unsolvable riddles of faith. Her three protagonists toss mystical phrases back and forth, less interested in answers than in the process of intellectual wrestling…[THE BEAUTIFUL POSSIBLE] glimmers with moments of hope." — Shelf Awareness
"Always engaging…sure to resonate with many readers. Its greatest strengths lie in its ability to capture the essence of the religious life without any preciousness…in order to examine and attempt to resolve the tensions between Jewish law and the sometimes contradictory, often mysterious, workings of the human heart." — Lilith
"A fable for the modern era, a love story steeped in biblical text and mystical yearning-- The Beautiful Possible illuminates the struggle to find one's identity in a world rife with expectation and judgment." — Jewish Book Council
"[Gottlieb's] eclectic amalgam of inspirations lends an extraordinary air of magic and allure to THE BEAUTIFUL POSSIBLE, inviting the reader to push their imagination to the limit and explore unthought—of possibilitiesa brief glimpse of the truly mystical." — The Times of Israel
"Gottlieb's debut novel is an ambitious study of faith, doubt, and desire both erotic and spiritual." — Kirkus
"Gottlieb's first novel carries readers along with its artful weaving together of Talmudic concepts and complex human emotions." — Booklist
"This enchanting novel is a "braid" of romance, passion, betrayal, of marriage, family, and loss…Read it once for its story, again for its wisdom, and one more time for its poetry and truth." — Rodger Kamenetz, author of The Jew in the Lotus and The History of Last Night's Dream
"Readers will delight in Gottlieb's metaphors, which express the otherwise inexpressible…This is a lovely book, whose dual themes of faith and passion braid together powerfully like the wicks of a candle whose flame marks the transition between the ordinary and the holy, the sacred and the profane." — Nomi Eve, author of THE FAMILY ORCHARD and HENNA HOUSE
"Poetic and deeply moving, THE BEAUTIFUL POSSIBLE is an artfully woven story of love and loss, of spirituality and desire, of the stories that make us who we are and the stories we tell ourselves. Gottlieb's debut is beautifully written and captivating." — Jillian Cantor, author of MARGOT and THE HOURS COUNT
"THE BEAUTIFUL POSSIBLE is impossibly beautiful, also luminous, lyrical, and unforgettable. With this stunning first novel, Amy Gottlieb announces herself as a formidable literary talent and a bright star in the firmament of 21st century Jewish writers." — Letty Cottin Pogrebin, author of SINGLE JEWISH MALE SEEKING SOUL MATE
"What makes THE BEAUTIFUL POSSIBLE so astonishing is not simply its elegant prose and erudition or the compelling love story at its core with its moments of joy and heartbreak, but the novel's deep sense of wisdom…a grand meditation on human and godly grace." — Aryeh Lev Stollman, author of THE FAR EUPHRATES and THE ILLUMINATED SOUL
"You won't want to leave this place of everyday astonishments. Amy Gottlieb's poetic prose is reminiscent of the novels of Chaim Potok and woven from the threads of women's wisdom. THE BEAUTIFUL POSSIBLE is a story you will long remember." — Rabbi Sandy Eisenberg Sasso, co-author of Jewish Stories of Love and Marriage: Folktales, Legends and Letters
"THE BEAUTIFUL POSSIBLE asks readers to consider how to reconcile all that the world is - confusing, nebulous, disorderly, violent, occasionally beautiful and mostly unpredictable - with all that they may wish it to be: linear, binary, organized, explainable and clear-cut." — JWeekly.com
"In a style that feels natural, Gottlieb weaves Jewish wisdom, texts and storytelling into narrative and dialogue; many sentences have the cadences of prayer…a story of faith, losing faith, words, secrets, inherited traditions, holiness, marriage and love." — The Jewish Week
Harper Perennial, 9780062383365, 336pp.
Publication Date: February 16, 2016
About the Author
Amy Gottlieb's fiction and poetry have been published in many literary journals and anthologies, and she is the recipient of fellowships from the Bronx Council on the Arts and the Drisha Institute for Jewish Education. She lives in New York City.