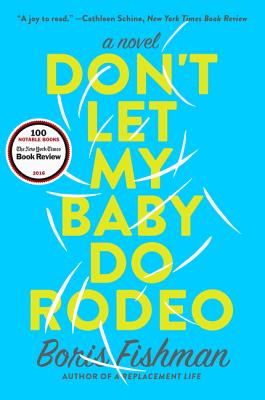 Don't Let My Baby Do Rodeo
A Novel
Paperback

* Individual store prices may vary.
Other Editions of This Title:
Digital Audiobook (2/29/2016)
Hardcover (3/1/2016)
Description
Maya Shulman and Alex Rubin met in 1992, when she was a Ukrainian exchange student with "a devil in her head" about becoming a chef instead of a medical worker, and he was the coddled son of Russian immigrants wanting a less predictable life.
Twenty years later, Maya Rubin is a medical worker in suburban New Jersey, and Alex is his father's second in the family business. The great dislocation of their lives is their eight-year-old son, Max—adopted from two teenagers in Montana despite Alex's view that "adopted children are second-class."
At once a salvation and a mystery to his parents—with whom Max's biological mother left him with the cryptic exhortation, "Don't let my baby do rodeo"—Max suddenly turns feral, consorting with wild animals, eating grass, and running away to sit facedown in a river.
Searching for answers, Maya convinces Alex to embark on a cross-country trip to Montana to track down Max's birth parents. But it's Maya who's illuminated by the journey, her own erstwhile wildness summoned for a reckoning by the unsparing landscape, with seismic consequences for herself and her family.
Praise For Don't Let My Baby Do Rodeo: A Novel…
"With Fishman, we are in the hands of a genuine miniaturist, a cultivator of particulars, a writer who knows that familial conflict is the realm of intense feeling packaged in tiny gestures." — O, the Oprah Magazine
"Fishman's novel veers from gently, quasi-comical to broad-stroke satirical to earnestly heartfelt. Along the way, there are plenty of sharp observations about American culture, parenting, and the adoption process…The plains may be flat and barren, but Fishman's narrative swerves repeatedly in refreshingly unexpected directions…It stretches beyond themes of adaptation to champion the importance of getting in touch with the great wilderness—both in nature and oneself." — Heller McAlpin, NPR
"[Fishman's] second novel is a fresh, unpredictable departure from his first. Max may or may not do rodeo, but from now on expect Boris Fishman to do anything." — San Francisco Chronicle
"An eloquent and uncynical tale of how far people must travel to find out what they truly want and who they truly are." — Chicago Tribune
"With graceful control and assurance, Fishman turns Don't Let My Baby Do Rodeo into a layered story of identity and the challenges of weaving our many differences into compassionate bonds…a nuanced, compassionate novel…" — Shelf Awareness
"…Fishman describes the turmoil of family, parenthood and cultural emotion with urgent, sly detachment. His language has the originality and imagination of someone who comes to English with unexpected thoughts and rhythms in his head, and is, simply, a joy to read." — Cathleen Schine, New York Times Book Review
"Readers will be glad that they made the journey with Maya Rubin as she searches the American West in an attempt to find herself. DON'T LET MY BABY DO RODEO is a wonderful and quiet look at the eternal question of what it means to belong." — Christian Science Monitor
"Fishman is a writer who uses his words with deftness and precision…. Boris Fishman—even if he can't quite break free of the meta-fictional Mishkin looking over his shoulder—tries courageously to tell a story that is different. The fact that he largely succeeds, and that he worries, in the text, about the ways in which he doesn't, are promising developments for Fishman as a novelist, and for Russian-American fiction as a whole." — Los Angeles Review of Books
"Touching…a sensitive and surprisingly adventurous exploration of one woman's wonder and suffering." — Publishers Weekly
"Fishman smartly observes that the assimilation novel and road-trip novel make good partners. Both, after all, are about finding freedom. A comic novel about parenting infused with emotional intelligence." — Kirkus
"Readers will be left thinking about belonging and family, and how varied the experience is for those born elsewhere." — Booklist
"I recommend this novel to anyone who is looking for something out of their comfort zone. I don't give out 5-star ratings often, but I couldn't turn the pages fast enough with this one. Pick this book up ASAP. You won't regret it." — Paperback Paris
Harper Perennial, 9780062384379, 336pp.
Publication Date: March 14, 2017
About the Author
Boris Fishman was born in Minsk, Belarus, and emigrated to the United States in 1988. His work has appeared in the New Yorker, the New York Times Magazine, the New York Times Book Review, Travel + Leisure, the London Review of Books, New York magazine, the Wall Street Journal, and the Guardian, among other publications. He is the author of the novels A Replacement Life, which was a New York Times Notable Book of the Year and winner of the VCU Cabell First Novelist Award and the American Library Association's Sophie Brody Medal, and Don't Let My Baby Do Rodeo, which was also a New York Times Notable Book of the Year. He teaches in Princeton University's Creative Writing Program and lives in New York City.
or
Not Currently Available for Direct Purchase