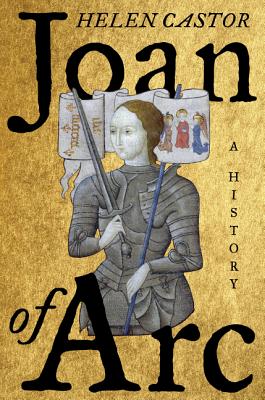 Joan of Arc
A History
Hardcover

* Individual store prices may vary.
Other Editions of This Title:
Compact Disc (5/19/2015)
MP3 CD (5/19/2015)
Paperback (5/17/2016)
MP3 CD (5/19/2015)
Compact Disc (5/19/2015)
Paperback (5/7/2015)
Description
From the author of the acclaimed She-Wolves, the complex, surprising, and engaging story of one of the most remarkable women of the medieval world—as never told before.
Helen Castor tells afresh the gripping story of the peasant girl from Domremy who hears voices from God, leads the French army to victory, is burned at the stake for heresy, and eventually becomes a saint. But unlike the traditional narrative, a story already shaped by the knowledge of what Joan would become and told in hindsight, Castor's Joan of Arc: A History takes us back to fifteenth century France and tells the story forwards. Instead of an icon, she gives us a living, breathing woman confronting the challenges of faith and doubt, a roaring girl who, in fighting the English, was also taking sides in a bloody civil war. We meet this extraordinary girl amid the tumultuous events of her extraordinary world where no one—not Joan herself, nor the people around her—princes, bishops, soldiers, or peasants—knew what would happen next.
Adding complexity, depth, and fresh insight into Joan's life, and placing her actions in the context of the larger political and religious conflicts of fifteenth century France, Joan of Arc: A History is history at its finest and a surprising new portrait of this remarkable woman.
Joan of Arc: A History features an 8-page color insert.
Praise For Joan of Arc: A History…
"A book that shows vividly what Joan meant to those in her own time, politically and militarily…fascinating"
— The New Yorker

"A triumph - brings the real Joan and her time to dramatic, moving and brilliant life."
— Dan Jones, author of The Plantagenets, New York Times bestseller

"In Castor's hands [Joan's] voice comes across in a truly vibrant way that illuminates her personality as few others have managed…eye-opening, engaging, and overall, excellent non-fiction…Castor's outstanding ability to convey the important events and people that made up the political landscape make this one a winner."
— BookBrowse

"Castor creates a strong introduction to the courageous girl who swore she heard saints' voices, but also to the nation-rending struggle for power so fiercely waged that only that singular, obsessive teenager could finally save France…Recreates the heady atmosphere of the period."
— Publishers Weekly

"Convincing and gripping…a highly satisfying biography…Castor's great coup is in framing this biography within another context...it puts the women back into the story…Castor's book is an important way of returning Joan's 'star' to the realm where it belongs, the human one."
— Amanda Foreman, New York Times Book Review

"Castor brings keenly observed historical details to the grandeur and drama of the political and religious turmoil of medieval Europe and an extraordinary young woman."
— Booklist

"Castor's research is thorough and her account…always fascinating. Readers interested in history, rather than folklore, will find this detailed framing of Joan's story very rewarding."
— Library Journal

"Castor's account is filled with gruesome murders, even more gruesome accidents, and layers of intrigue that make Game of Thrones look like child's play…enjoyable…never dull, thanks to Castor's knack for weaving in salacious bits, usually involving a particularly unfortunate death."
— Daily Beast

"JOAN OF ARC: A HISTORY is popular history at its best: pacy, clear and undergirded with a formidable array of scholarly footnotes. Helen Castor shows how well it can be done."
— Daily Telegraph

"An amazing read…This is a true story from the histories and journals of the times that reads like fiction…one of the best histories I have encountered."
— Blogcritics (Leslie Wright)

"An unorthodox yet erudite and elegant biography of this 'massive star.'"
— Kirkus Reviews

"There have been many lives of Joan, and books about her times, some of them excellent. But none is quite like Castor's ... [her] book is a historian's achievement."
— The Guardian

"[A] vivid and intelligent biography ... hugely impressive. "
— Sunday Business Post

"Clear and elegant ... an engaging piece of popular scholarship that does not diminish Joan's star, but instead uses its light to illuminate a remarkable age."
— Times Higher Education

"Compelling ... [Castor] succeeds triumphantly in rescuing [Joan] from the various straitjackets in which she has been confined ... a fascinating and privileged insight."
— Sunday Times (London)

"…quite intriguing. This book is a great historical read."
— Manhattan Book Review

"An elegant, subtle biography of great historical integrity and sensitive understanding. Castor lets the humanity of Joan's story shine through."
— Kate Mosse, Evening Standard (London)

"A fascinating biography ... truly thrilling."
— Daily Mail (London), Book of the Week

"Excellent ... perhaps Castor's greatest achievement is to remind us of just how extraordinary Joan was. "
— Literary Review

"Enlightening ... [an] elegant and vivid account."
— The Times (London)

"With the meticulous scholarship that she revealed in SHE-WOLVES, and in the same captivating manner, Helen Castor presents us with a very compelling analysis."
— Trevor James, Historical Association / The Historian

"[An] excellent retelling of the strange tale of the Maid from Domrémy...JOAN OF ARC: A HISTORY is popular history at its best"
— Daily Telegraph (London)

"Gripping…Written to the impeccable standards of her award-winning bestseller, SHE-WOLVES, Castor's meticulous untangling of six centuries' worth of incredibly complex and contradictory detail into elegant prose is a thing of wonder…Castor doesn't make history fun or cool in JOAN OF ARC. She makes it shockingly, poignantly, irresistibly real."
— BookReporter

"[An] illuminating new biography... a clear and elegant account ."
— Times Higher Education, Book of the Week
Harper, 9780062384393, 352pp.
Publication Date: May 19, 2015
About the Author
Helen Castor is a historian of medieval England and a Bye-Fellow of Sidney Sussex College, Cambridge. Her first book, Blood and Roses, was long-listed for the Samuel Johnson Prize and won the English Association's Beatrice White Prize. Her second book, She-Wolves, was selected as one of the books of the year by The Guardian, The Sunday Times, The Independent, Financial Times, and BBC History Magazine. She lives in London.