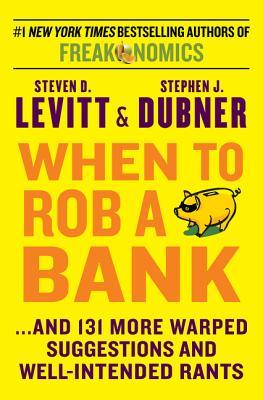 When to Rob a Bank
...And 131 More Warped Suggestions and Well-Intended Rants
Hardcover

* Individual store prices may vary.
Other Editions of This Title:
Digital Audiobook (5/4/2015)
Digital Audiobook (5/4/2015)
Paperback, Large Print (5/26/2015)
Paperback (5/10/2016)
Description
In celebration of the 10th anniversary of the landmark book Freakonomics comes this curated collection from the most readable economics blog in the universe. It's the perfect solution for the millions of readers who love all things Freakonomics. Surprising and erudite, eloquent and witty, When to Rob a Bank demonstrates the brilliance that has made the Freakonomics guys an international sensation, with more than 7 million books sold in 40 languages, and 150 million downloads of their Freakonomics Radio podcast.
When Freakonomics was first published, the authors started a blog—and they've kept it up. The writing is more casual, more personal, even more outlandish than in their books. In When to Rob a Bank, they ask a host of typically off-center questions: Why don't flight attendants get tipped? If you were a terrorist, how would you attack? And why does KFC always run out of fried chicken?
Over the past decade, Steven D. Levitt and Stephen J. Dubner have published more than 8,000 blog posts on the Freakonomics website. Many of them, they freely admit, were rubbish. But now they've gone through and picked the best of the best. You'll discover what people lie about, and why; the best way to cut gun deaths; why it might be time for a sex tax; and, yes, when to rob a bank. (Short answer: never; the ROI is terrible.) You'll also learn a great deal about Levitt and Dubner's own quirks and passions, from gambling and golf to backgammon and the abolition of the penny. 
Praise For When to Rob a Bank: ...And 131 More Warped Suggestions and Well-Intended Rants…
"Lively, self-deprecating writing ensures an entertaining read for fans and new readers alike." — Publishers Weekly
"[A] kooky and counterintuitive collection of economic analysis. ... Plenty to revel in." — Kirkus Reviews
"Levitt and Dubner... return with more of their signature humor and economic perspective on everyday life. ... Will be a hit with fans of Freakonomics." — Library Journal
Praise for the Freakonomics Books: "Genius... has you gasping in amazement." — Wall Street Journal
"We are all Freakonomists now." — Washington Post
"An afternoon with Levitt and Dubner's book will transform you into the most interesting person in the room that evening." — National Public Radio
"A splendid book, full of unlikely but arresting historical details that distinguish the authors from the run of pop social scientists." — New York Times
"An addictive, irresistible crash course in the populist application of economics." — The A.V. Club
"Good ideas ... expressed with panache." — Financial Times
William Morrow, 9780062385321, 400pp.
Publication Date: May 5, 2015
About the Author
Steven D. Levitt, a professor of economics at the University of Chicago, was awarded the John Bates Clark Medal, given to the most influential American economist under forty. He is also a founder of The Greatest Good, which applies Freakonomics-style thinking to business and philanthropy.
Stephen J. Dubner, an award-winning journalist and radio and TV personality, has worked for the New York Times and published three non-Freakonomics books. He is the host of Freakonomics Radio and Tell Me Something I Don't Know.
Stephen J. Dubner is an award-winning author, journalist, and radio and TV personality. He quit his first career—as an almost rock star—to become a writer. He has since taught English at Columbia, worked for The New York Times, and published three non-Freakonomics books.
or
Not Currently Available for Direct Purchase