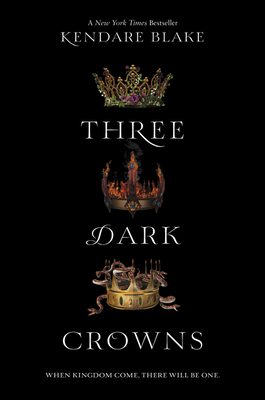 Three Dark Crowns (Paperback)
HarperTeen, 9780062385444, 432pp.
Publication Date: April 3, 2018
* Individual store prices may vary.
Description
New York Times Bestseller * New York Public Library Best Book of 2016 * Chicago Public Library Best Book of 2016 * Kirkus Best Book of the Year
Fans of acclaimed author Kendare Blake's Anna Dressed in Blood will devour Three Dark Crowns, a dark and inventive fantasy about three sisters who must fight to the death to become queen. And don't miss the highly anticipated sequel, One Dark Throne!
In every generation on the island of Fennbirn, a set of triplets is born: three queens, all equal heirs to the crown and each possessor of a coveted magic. Mirabella is a fierce elemental, able to spark hungry flames or vicious storms at the snap of her fingers. Katharine is a poisoner, one who can ingest the deadliest poisons without so much as a stomachache. Arsinoe, a naturalist, is said to have the ability to bloom the reddest rose and control the fiercest of lions.
But becoming the Queen Crowned isn't solely a matter of royal birth. Each sister has to fight for it. And it's not just a game of win or lose…it's life or death. The night the sisters turn sixteen, the battle begins. The last queen standing gets the crown.
Be sure to catch the stunning sequel to this New York Times bestseller, One Dark Throne.
About the Author
Kendare Blake is the author of the #1 New York Times bestselling Three Dark Crowns series. She holds an MA in creative writing from Middlesex University in northern London. She is also the author of Anna Dressed in Blood, a Cybils Awards finalist; Girl of Nightmares; Antigoddess; Mortal Gods; and Ungodly. Her books have been translated into eighteen languages, have been featured on multiple best-of-year lists, and have received many regional and librarian awards. Kendare lives and writes in Kent, Washington. Visit her online at www.kendareblake.com.
Praise For Three Dark Crowns…
★ "The opener to a pitch-black epic fantasy series. Blake has constructed an insular, matriarchal society from convincing intimate details, vivid, complicated characters, [and] sumptuous, poetic prose. Gorgeous and bloody, tender and violent, precise, and passionate; above all, completely addicting. "
— Kirkus Reviews (starred review)

★ "With exquisite world building and luminous detail, this is high fantasy at its best. The magic is fierce and the plot intensely twisted, but at this novel's dark heart beats a story about sisterhood, the unbreakable bonds of family, and ties that bind enough to kill."
— Booklist (starred review)

"Readers will be riveted by Blake's ingenious world-building, stunning developments of main and supporting characters, and spiraling tensions. Highly recommended for fans of fantasy action thrillers with strong female leads, such as Victoria Aveyard's 'Red Queen' and Sarah J. Maas's 'Throne of Glass' series."
— School Library Journal

"Three Dark Crowns is a brutal and inventive fantasy that is as addictive as it is horrifying. I can't begin to guess the fates of these three remarkable sister-queens, but I'm salivating like poisoners at a feast to find out what will happen next."
— Marissa Meyer, New York Times bestselling author of the Lunar Chronicles

"Full of mystery, intrigue, and deadly girls I wouldn't dare cross, Fennbirn is a darkly magical world I'm both drawn to and frightened by. In short, this is a book I could linger in for months, with three girls I am rooting for with all my heart."
— Megan Shepherd, New York Times bestselling author of The Cage series

"I loved this book. Blake's Three Dark Crowns is hypnotic, twisting, and beautiful...as satisfying as a drop of poison in an enemy's cup."
— April Genevieve Tucholke, author of Wink, Poppy, Midnight

"Blake is a sure hand with complicated and intricate plots, and if that's not enough to make readers stick around for the next installment, the cliffhanger ending certainly will."
— Bulletin of the Center for Children's Books

"Blake establishes myriad side plots and relationships, builds complex characters, and leaves plenty of compelling avenues to explore in future books."
— Publishers Weekly