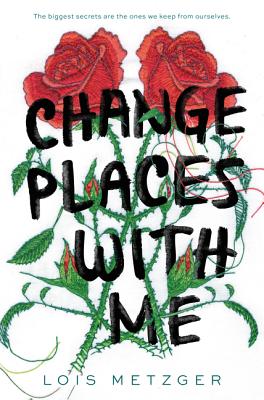 Change Places with Me (Hardcover)
Balzer + Bray, 9780062385536, 224pp.
Publication Date: June 14, 2016
* Individual store prices may vary.
Description
From Lois Metzger, the acclaimed author of A Trick of the Light, comes a work of speculative fiction set in the near future about a teen girl who gains a new perspective on her life. Perfect for readers who enjoyed Adam Silvera's More Happy than Not.
Rose has changed. She still lives in the same neighborhood and goes to the same high school with the same group of kids, but when she woke up today, something was a little different. Her clothes and her hair don't suit her anymore. The dogs who live upstairs are no longer a terror. She wants to throw a party—this from a girl who hardly ever spoke to her classmates. There's no more sadness in her life; she's bursting with happiness.
But something still feels wrong to Rose. Because until very recently, she was an entirely different person—a person who's still there inside her, just beneath the thinnest layer of skin.
About the Author
Lois Metzger was born in Queens and has always written for young adults. Her novels include the acclaimed A Trick of the Light and Change Places with Me. She has also written two nonfiction books about the Holocaust and has edited five anthologies. Her short stories have appeared in collections all over the world; her writing has also appeared in The New Yorker, The Nation, and The Huffington Post. She lives in New York City with her husband and son.
Praise For Change Places with Me…
"Change Places with Me is a vivid, beautiful novel, a particular evocation of a story many of us have lived and all of us know. Read this to see what I mean."
— Kim Stanley Robinson, Hugo Award-winning author of Aurora

"How I admire Lois Metzger's thoughtful and suspenseful novel—the pacing, the sympathetic characters, the emotional astuteness, the believable near-future setting. It captivated me from the first page to the last."
— Gail Carson Levine, author of Ella Enchanted

"The austere, almost clinical nature of the story harks back to the Kazuo Ishiguro's classic, Never Let Me Go. With a simplicity that belies its profundity, this title will linger long in readers' minds."
— Booklist (starred review)

"An interesting, experimental near-future character study."
— Kirkus Reviews

"Metzger's novel tackles deep issues: how to cope with painful memories; the futility of trying to be perfect. Touches of sci-fi and mystery glamorize this complex and introspective story of a girl growing up and moving on."
— The Horn Book

"Metzger has created a unique work of speculative fiction that does a winning job of dealing with universal themes; it is strongly recommended for young adult collections."
— Voice of Youth Advocates (VOYA)

"Metzger creates a world only slightly altered by time to express what happens when one vulnerable teen's desire to be someone else comes true. Whether or not readers agree with the decisions Rose makes, they may be inspired to examine how their own emotions affect their perception of the world."
— Publishers Weekly

"A quick, mind-bending ride that combines high school politics with brain-altering medical shenanigans... compulsively readable and lots of fun."
— Baltimore Sun