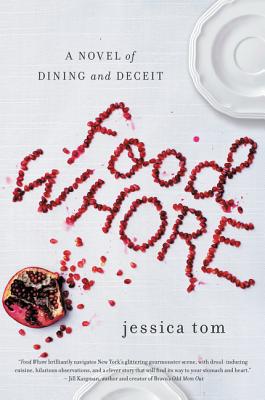 Food Whore
A Novel of Dining and Deceit
Paperback

* Individual store prices may vary.
Other Editions of This Title:
Paperback, Korean (4/4/2018)
Description
Full of wit and mouth-watering cuisines, Jessica Tom's debut novel offers a clever insider take on the rarefied world of New York City's dining scene in the tradition of The Devil Wears Prada meets Kitchen Confidential.
 Food whore (n.) A person who will do anything for food.
When Tia Monroe moves to New York City, she plans to put herself on the culinary map in no time. But after a coveted internship goes up in smoke, Tia's suddenly just another young food lover in the big city.
But when Michael Saltz, a legendary New York Times restaurant critic, lets Tia in on a career-ending secret—that he's lost his sense of taste—everything changes. Now he wants Tia to serve as his palate, ghostwriting his reviews. In return he promises her lavish meals, a bottomless cache of designer clothing, and the opportunity of a lifetime. Out of prospects and determined to make it, Tia agrees.
Within weeks, Tia's world transforms into one of luxury: four-star dinners, sexy celebrity chefs, and an unlimited expense account at Bergdorf Goodman. Tia loves every minute of it…until she sees her words in print and Michael Saltz taking all the credit. As her secret identity begins to crumble and the veneer of extravagance wears thin, Tia is forced to confront what it means to truly succeed—and how far she's willing to go to get there.
Praise For Food Whore: A Novel of Dining and Deceit…
"Food Whore brilliantly navigates New York's glittering gourmonster scene, with drool-inducing cuisine, hilarious observations, and a clever story that will find its way to your stomach and heart." — Jill Kargman, Author and Creator of Bravo's Odd Mom Out
"Jessica Tom's debut both satisfies completely, and makes you hungry for more—she's definitely one to watch!" — Stacey Ballis, author of Out to Lunch and Recipe for Disaster
"Food Whore is jam-packed with playful insider jabs for those who work in food and restaurants...Tom deftly captures the intrigue and often comically precious, sometimes rarefied air of fine dining." — Leiti Hsu, host, WORD OF MOUTH, Heritage Radio Network
"With Food Whore, Jessica Tom gives readers an enticing romp through New York City's culinary world. It's The Devil Wears Prada for foodies--or anyone with an appetite for delicious drama." — Lauren Shockey, author of Four Kitchens: My Life Behind the Burner in New York, Hanoi, Tel Aviv and Paris
"The Devil Wears Prada goes gourmet ... The book speeds along with enough intrigue and excitement to keep any reader hooked... the deliciously detailed food descriptions are a bonus. A fun and compulsively readable look at a woman's journey into the underbelly of the New York food scene." — Kirkus Reviews
"A delicious indulgence from start to finish. Jessica Tom has written a gripping tale about food, passion, and ambition that will have you tearing through the pages as she thrusts you into the competitive and cutthroat world of New York's dining scene." — Dana Bate, author of Too Many Cooks and The Girls' Guide to Love and Supper Clubs
"Mix the delicious dishing of KITCHEN CONFIDENTIAL with THE DEVIL WEARS PRADA and you've got Jessica Tom's Food Whore. This delectable romp through culinary underground of New York City will appeal to anyone with a dream—and the determination to make it come true." — New York Times bestselling author Beth Harbison
Jessica Tom's debut novel Food Whore is an insider's cleverly veiled exposé on the New York restaurant lifestyle. From the foie gras to the peach pear tart, each page literally drips with anticipation. Check her out today because she's tomorrow's hottest food writer. — Will Goldfarb, Chef/Owner Room4Dessert and Willpowder
Once you start, you won't be able to put Food Whore down. Jessica Tom immerses you into the electric, complex NYC food world. As a chef and writer, I relate to it on so many levels -- it's uncanny how real the characters are. — Pichet Ong, Chef, culinary consultant, and author of The Sweet Spot: Asian-Inspired Desserts
Perfect for fans of The Devil Wears Prada or any other tale of a young woman fresh to her industry getting caught up in a world she can't control. — Library Journal
"Tom nails the dog-eat-dog restaurant world, whipping up a remarkably entertaining debut." — BookPage
"Tom obviously knows her way around the kitchens...of New York City. She understands...the inner desires and fears women experience as they navigate the fine line between being true to themselves and projecting an air of power and sexiness to those who matter." — Shelf Awareness
Tom's delectable debut catapults readers into the New York City food scene, complete with out-of-this-world dishes and enough drama to match each meal's extravagance. Overall, Tom will leave fans hungry for a sequel. Bon appétit! — Romantic Times BOOKclub, 4 stars
William Morrow Paperbacks, 9780062387004, 352pp.
Publication Date: October 27, 2015
About the Author
Jessica Tom is a writer and food blogger living in Brooklyn. She has worked on initiatives with restaurants, hospitality startups, food trucks, and citywide culinary programs. She graduated from Yale University with a concentration in fiction writing and wrote the restaurant review for the Yale Daily News Magazine. Food Whore is her first novel.