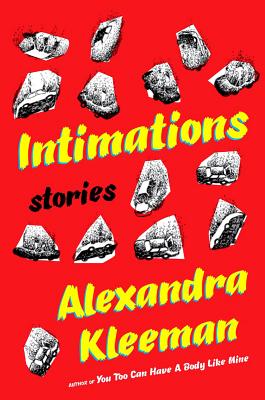 Intimations
Stories
Hardcover

* Individual store prices may vary.
Other Editions of This Title:
Digital Audiobook (9/12/2016)
Paperback (9/12/2017)
MP3 CD (9/13/2016)
Compact Disc (9/13/2016)
Compact Disc (9/13/2016)
Description
From the celebrated author of You Too Can Have a Body Like Mine, a thought-provoking, often unsettling story collection that consists, broadly, of narrative diagrams of the three main stages in a human life: birth, life, and death.
Alexandra Kleeman's debut novel You Too Can Have a Body Like Mine earned her comparisons to Thomas Pynchon, Don DeLillo, Ben Marcus, and Tom Perrotta. It was praised by the New York Times as "a powerful allegory of our civilization's many maladies, artfully and elegantly articulated, by one of the young wise women of our generation."
In her second book, a collection of twelve stories irresistibly seductive in their strangeness, she explores human life from beginning to end: the distress of birth into a world already formed; the brief and confusing period of "living" where we understand what is expected of us and struggle to do it; and the death-y period toward the end where we sense it is ending and will end only partially understood, at best.
The title is taken from one of the stories ("Intimation"), but is also a play on Wordsworth's "Intimations of Immortality"—only in this case it's not clear exactly what is being intimated, but it's nothing so gleaming and good as Immortality. The middle, "Living" section of the book, is fleshed out with a set of stories that borrow more from traditional realist fiction to illustrate the inner lives of the characters.
At once familiar and mysterious, these stories have an eerie resonance as its characters find themselves in new and surprising situations. An unnamed woman enters a room with no exit and a ready-made life; the disappearance of people, objects, and memory creates an apocalypse; the art of dance is used to try to tame a feral child; the key to surviving a house-party lies in knowing the difference between fake and real blood.
Elegant, surprising, wondrous, and haunting, Intimations is an utterly transporting collection from one of our most ingenious and brilliant young writers.
Praise For Intimations: Stories…
"Haunting…Wonderfully strange and eerie, INTIMATIONS outlines the confusion, loss, and anxieties that underlie the different stages of mortality, forcing us to re-examine the often unsettling realities of our existence."
— Buzzfeed

"Impressive...brilliantly executed...Reading her, you are left feeling dislocated by the world's strangeness, and wondering if she and her discombobulated characters are really the sane ones."
— New York Times

"A collection of twelve stories sure to please any reader who reveled in the heady strangeness of her novel…With this collection, Kleeman continues to establish herself as one of the most brilliant chroniclers of our 21st-century anxieties."
— The Millions

"Like DeLillo, [Kleeman's] spare sentences are each powerful in their own right, but they work together to form funny critiques of her surroundings…her characters pick apart the meanings of specific words in absurd, realer-than-real scenes."
— Huffington Post

"Alexandra Kleeman sees things differently. At least, that's how it feels when you read these curious and lovely stories. Existence, survival, touch: all become strange in this collection from the author of You Too Can Have a Body Like Mine, as if the author knows of a different dimension or scientific method we have no idea is out there."
— Elle

"Brilliantly alive. . . . the world is parsed with a charming exactitude that magnifies all its latent marvels and especially horrors—the blacker and more peculiar these stories get, the funnier they are."
— New York Times Book Review

"Just 30 and already being compared to Thomas Pynchon, Kleeman confirms her status with her latest: 12 deliciously unsettling short stories."
— O, the Oprah Magazine

"Kleeman presents family dysfunction, romantic entanglements, and survival through an intriguingly warped lens."
— Cosmopolitan

"Following her excellent debut novel, YOU TOO CAN HAVE A BODY LIKE MINE, Kleeman brings her twisted, evocative style to a thought-provoking collection of stories….These stories, absurdist, bleak, and funny, defy straightforward interpretation and instead linger long afterward to be reinterpreted as they mutate in the reader's mind."
— Publishers Weekly

"[Kleeman is] a patient, lyrical chronicler of young urban people and this new collection of 12 short stories sees her take on all stages of human life in her unique style."
— The Guardian

"A collection of haunting, experimental stories about human life."
— Entertainment Weekly

"Winner of the 2016 Bard Fiction Prize for You Too Can Have a Body Like Mine, Kleeman returns with 12 edgy stories that have a surreal, even primal feel. . . . Disturbing and fantastical."
— Library Journal

"Strange, surreal…Kleeman has a potent pen, and every story will surprise you in the best of ways."
— Bustle

"Strange, lovely, curious….Kleeman is a potent voice, here to stay and delight and prod at the gray matter of the reader's brain for a long time to come. I myself look forward to it."
— Raging Biblioholism

"Kleeman thoroughly owns her material, and her inventive collection offers a prodigious exploration into distinctive realms."
— Booklist

"Reading INTIMATIONS is like being in a funhouse come alive-a funhouse that's sharper, funnier and more incisive than you can imagine, already three steps ahead, and about to land a sentence that will knock you out. Alexandra Kleeman has staked her claim to an unforgettable, lustrous tract of imagination."
— Téa Obreht, author of THE TIGER'S WIFE

"Perhaps the most distinctive stories in Alexandra Kleeman's INTIMATIONS are the brilliantly crafted nightmares about the dissolving of reality, but there is also everything here from an elegant Victorian tale of a feral child to a witty disquisition on the mouths of angels. A memory of childhood with an invented sister is told by way of a "brief history of weather," a romantic break-up by way of apocalyptic metaphors. This is ambitious imaginative writing of the highest quality."
— Robert Coover, author of THE PUBLIC BURNING

"To begin an Alexandra Kleeman story is to tumble into a world where the line between the fantastic and the ordinary, between love and violence, between terror and joy, is thrillingly porous. INTIMATIONS is an enlivening and deliciously unpredictable work of fiction, the kind that demonstrates an all-too-rare respect for the deep mystery of the human heart."
— Laura van den Berg, author of FIND ME

"Stunning."
— Zadie Smith, New York Times

"A cerebral story collection about the torments of an abrasive world and such visceral topics as mortality, vulnerability, love, and loss of control… Kleeman thoroughly owns her material, and her inventive collection offers a prodigious exploration into distinctive realms."
— Booklist

"Dizzying and surreal…She has a wit keen to the absurdities of American culture."
— Christian Lorentzen, New York Magazine

"Kleeman continues to establish herself as one of the most brilliant chroniclers of our 21st-century anxieties."
— The Millions

"[Kleeman] has created are often uncomfortable and surreal, at once apocalyptic and totally familiar… Kleeman's gift is in creating a book that feels like falling sideways into an unsettling mirror image of our own world.
— Sweet

"Happily, this new collection means we can all get an extended peek into Kleeman's brilliant brain thanks to each of these beautifully crafted stories."
— Nylon.com

"Alexandra Kleeman's smart, strange, deeply unsettling debut novel You Too Can Have a Body Like Mine was one of the most creepily brilliant-not to mention wholly original-books of 2015. The twelve stories that make up her new collection, Intimations—some of which have already made a splash in The New Yorker, The Paris Review, BOMB, Guernica and elsewhere—prove that she is every bit as adept with the shorter form."
— LitHub, Best books of 2016

"Last year's You Too Can Have A Body Like Mine established Kleeman as a millennial novelist to watch and earned her comparisons to Thomas Pynchon. She's a patient, lyrical chronicler of young urban people and this new collection of 12 short stories sees her take on all stages of human life in her unique style."
— The Guardian

"...For those who find the realist novel duller than opera."
— Esquire

"The best of the stories in Alexandra Kleeman's collection INTIMATIONS unfold in dreamlike settings that are more than a little dangerous. There are sharp teeth, axes, and claws and not a few pools of blood. But Kleeman's scary stories have a gentle comic edge. She has a gothic imagination and a wit keen to the absurdities of American culture - particularly its dietary vices and media horror shows. She can do realism, but not without a few screws coming loose."
— New York Magazine

"Satisfying…Intimations lives in the realm of almost-familiarity, that of dreams-and nightmares. Kleeman's prose is always clever, though, and she can pull off Roald Dahl-style, funhouse mirror stuff…Kleeman's singular voice is most finely tuned when she is exposing the disturbing in the commonplace."
— Bust Magazine

"…. Her narrators tend toward a kind of sad, disaffected everywoman who understand something is wrong, even if they can't identify what it is. . .. . They often read like aliens pretending to pass themselves off as human, becoming inordinately fixated on little details-e.g. the beauty of door knobs-and strangely distant and unsure of what is happening in their environment. The tension between the vague and specific, the real and fantastical is great. . . . Really scary without being too scary. Really great."
— GQ Magazine

"A kind of philosophical whimsy infuses Alexandra Kleeman's INTIMATIONS, but it's the everyday strangeness at play in a trio of stories about a young woman named Karen that makes this collection a standout."
— Vogue.com

"Kleeman's greatest strength is in teasing out the precariousness and fragility of life, finding menace in the banal and the everyday while offering the promise of self-awareness, even without answers."
— The Last Magazine

"Kleeman's brilliance shines through finding words for thoughts and feelings that feel entirely unique and then applying them to universal human fears and conditions. To think, love and death had so many extraordinary intersections. . . . Intimations is a book to talk about and a book to dive into."
— Bustle

"Exceptional… In [one] story, a character feels 'that all her life she would be moving from positions of perceived danger to positions of perceived safety without ever knowing which impressions were correct.' These stories tell us that we're at the mercy of these impressions, even though we may try to control our danger, our safety. Kleeman thrives in this space between."
— LA Review of Books

"Kleeman is working in the surrealism-neighboring-naturalism tradition of preceding wunderkinds like Téa Obreht and Jonathan Safran Foer, where sections of dreamlike allegory supplement sections telling the primary "real life" story…Kleeman is masterful at the sentence level. At the book level, she is ambitious and inventive. Once she works out the interstitials, she'll be spawning imitators of her own."
— The Millions

"A delightful reading experience...These stories are about what all stories are about—birth, life, death—and do what good stories do in my opinion: reveal the inner lives of their characters."
— BookRiot

"To read Kleeman's new story collection INTIMATIONS is to look at the world through a strange, often surreal set of eyes… INTIMATIONS brilliantly highlights the anxieties and absurdities of our mortality. Prepare to be unsettled. Prepare to be transported. This book will linger with you long after you've finished reading."
— Buzzfeed

"Unlike anything that I'd read before…eerie, unsettling, whimsical and surreal…Kleeman will transport you to a haunting new realm in each story, where the line between the ordinary and extraordinary blurs."
— Booktrib.com
Harper, 9780062388704, 240pp.
Publication Date: September 13, 2016
About the Author
Alexandra Kleeman has written for the New Yorker, Harper's, Paris Review, Zoetrope, Tin House, VOGUE, and n+1. She received her MFA in fiction from Columbia University and has received grants and scholarships from the Bread Loaf Writers' Conference, the Virginia Center for the Creative Arts, and the Santa Fe Art Institute. She was the 2016 winner of the Bard Fiction Prize, and lives in New York.
or
Not Currently Available for Direct Purchase