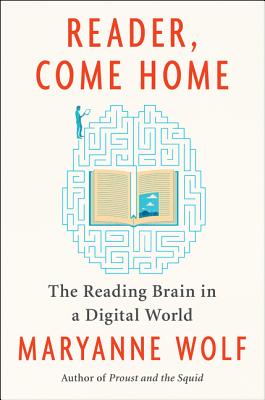 Reader, Come Home
The Reading Brain in a Digital World
Hardcover

* Individual store prices may vary.
Other Editions of This Title:
Paperback (8/27/2019)
Paperback, Chinese (11/9/2019)
Compact Disc (8/7/2018)
Compact Disc (8/7/2018)
MP3 CD (8/7/2018)
Description
The author of the acclaimed Proust and the Squid follows up with a lively, ambitious, and deeply informative book that considers the future of the reading brain and our capacity for critical thinking, empathy, and reflection as we become increasingly dependent on digital technologies.

A decade ago, Maryanne Wolf's Proust and the Squid revealed what we know about how the brain learns to read and how reading changes the way we think and feel. Since then, the ways we process written language have changed dramatically with many concerned about both their own changes and that of children. New research on the reading brain chronicles these changes in the brains of children and adults as they learn to read while immersed in a digitally dominated medium.
Drawing deeply on this research, this book comprises a series of letters Wolf writes to us—her beloved readers—to describe her concerns and her hopes about what is happening to the reading brain as it unavoidably changes to adapt to digital mediums. Wolf raises difficult questions, including:
Will children learn to incorporate the full range of "deep reading" processes that are at the core of the expert reading brain?
Will the mix of a seemingly infinite set of distractions for children's attention and their quick access to immediate, voluminous information alter their ability to think for themselves?
With information at their fingertips, will the next generation learn to build their own storehouse of knowledge, which could impede the ability to make analogies and draw inferences from what they know?
Will all these influences, in turn, change the formation in children and the use in adults of "slower" cognitive processes like critical thinking, personal reflection, imagination, and empathy that comprise deep reading and that influence both how we think and how we live our lives?
Will the chain of digital influences ultimately influence the use of the critical analytical and empathic capacities necessary for a democratic society?
How can we preserve deep reading processes in future iterations of the reading brain?
Who are the "good readers" of every epoch?
Concerns about attention span, critical reasoning, and over-reliance on technology are never just about children—Wolf herself has found that, though she is a reading expert, her ability to read deeply has been impacted as she has become, inevitably, increasingly dependent on screens.
Wolf draws on neuroscience, literature, education, technology, and philosophy and blends historical, literary, and scientific facts with down-to-earth examples and warm anecdotes to illuminate complex ideas that culminate in a proposal for a biliterate reading brain. Provocative and intriguing, Reader, Come Home is a roadmap that provides a cautionary but hopeful perspective on the impact of technology on our brains and our most essential intellectual capacities—and what this could mean for our future.
Praise For Reader, Come Home: The Reading Brain in a Digital World…
"Wolf offers a persuasive catalog of the cognitive and social good created by deep reading…. She's right that digital media doesn't automatically doom deep reading and can even enhance it. She's also correct that we have a lot to lose if we don't pay attention to what we're doing with technology and what it's doing to us."
— Washington Post

"[A] gentle manifesto…. [Wolf] affirms and celebrates the power of reading for the formation of our moral imaginations, and a lifetime of bookish devotion bubbles to the surface of her lovely prose in allusion and quotation."
— Washington Free Beacon

"Maryanne Wolf has done it again. She has written another seminal book destined to become a dog-eared, well-thumbed, often-referenced treasure on your bookshelf.... Reader Come Home conveys a cautionary message, but it also will rekindle your heart and help illuminate promising paths ahead."
— International Dyslexia Association

"[T]imely and important.... if you love reading and the ways it has enriched your life and our world, Reader, Come Home is essential, arriving at a crucial juncture in history."
— BookPage

"Wolf wields her pen with equal parts wisdom and wonder. The result is a joy to read and reread, a love letter to literature, literacy, and progress."
— Shelf Awareness

"Wolf is a lovely prose writer who draws not only on research but also on a broad range of literary references, historical examples, and personal anecdotes. The strongest parts of Reader, Come Home are her moving accounts of why reading matters, and her deeply detailed exploration of how the reading brain is being changed by screens…. Wolf makes a strong case for what we lose when we lose reading."
— San Francisco Chronicle

"In this profound and well-researched study of our changing reading patterns, Wolf presents lucid arguments for teaching our brain to become all-embracing in the age of electronic technology. If you call yourself a reader and want to keep on being one, this extraordinary book is for you."
— Alberto Manguel, author of A History of Reading

"An accessible, well-researched analysis of the impact of literacy."
— Kirkus

"[Reader, Come Home] is an elegant and insightful analysis of how deep reading is under threat, and of how this particular form of attention is being eroded by the digital universe in which we now live. For an English teacher, the book is essential reading. For me, it is one of the most important books of recent years. Wolf expresses with increasing forcefulness what is by now a common anxiety: that digital devices are challenging all of us (certainly not just children) in entirely new ways."
— Julian Girdham, teacher at the English Department of St. Columbia's College

"A tour de force."
— Claremont Review of Books
Harper, 9780062388780, 272pp.
Publication Date: August 7, 2018
About the Author
Maryanne Wolf, the John DiBiaggio Professor of Citizenship and Public Service at Tufts University, was the director of the Tufts Center for Reading and Language Research. She currently directs the Center for Dyslexia, Diverse Learners, and Social Justice at UCLA, and is working with the Dyslexia Center at the UCSF School of Medicine and with Curious Learning: A Global Literacy Project, which she co-founded. She is the recipient of multiple research and teaching honors, including the highest awards by the International Dyslexia Association and the Australian Learning Disabilities Association. She is the author of Proust and the Squid (HarperCollins), Tales of Literacy for the 21st Century (Oxford University Press), and more than 160 scientific publications.
or
Not Currently Available for Direct Purchase