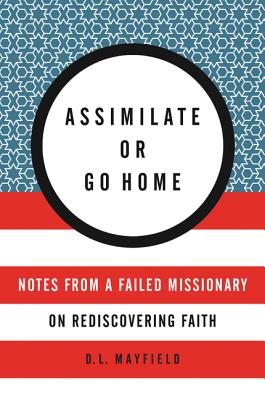 Assimilate or Go Home (Paperback)
Notes from a Failed Missionary on Rediscovering Faith
HarperOne, 9780062388803, 224pp.
Publication Date: August 16, 2016
* Individual store prices may vary.
Description
From childhood, D.L. Mayfield longed to be a missionary, so she was thrilled when the opportunity arose to work with a group of Somali Bantu refugees in her hometown of Portland, OR. As the days, months, and years went by, her hopeful enthusiasm began to wear off, her faith became challenged, and the real work of learning to love and serve her neighbors grew harder, deeper, and more complex. She writes: "The more I failed to communicate the love of God to my refugee friends, the more I experienced it for myself. The more overwhelmed I felt as I became involved in the myriads of problems facing my friends who experience poverty in America, the less pressure I felt to attain success or wealth or prestige. And the more my world started to expand at the edges of my periphery, the more it became clear that life was more beautiful and more terrible than I had been told."
In this collection of stunning and surprising essays, Mayfield invites readers to reconsider their concepts of justice, love, and reimagine being a citizen of this world and the upside-down kingdom of God.
About the Author
D. L. MAYFIELD has nearly a decade of experience working with refugee communities in the United States. Mayfield's work has been published in McSweeneys, Christianity Today, Relevant, Geez, Curator, Reject Apathy, and Conspire!. She lives in Portland, OR with her husband and two small children. Visit her at dlmayfield.com.
Praise For Assimilate or Go Home: Notes from a Failed Missionary on Rediscovering Faith…
"Mayfield's breakout book traces a journey from zealous youth to collegiate do-gooder to disillusioned doubter to chastened disciple. With her immersive storytelling… she reminds us that often enough, our trivial, messy ministries matter as kingdom work."
— Christianity Today

"Mayfield's new book arrives at a difficult moment in American conversations about refugees, the future of Christianity, and the role of religion in an increasingly secular society. [The book] challenges many preconceptions about evangelicalism, missionary work, and what it means to live a life of social justice and faith."
— Religion Dispatches

"I have loved watching D.L. Mayfield find her voice in the wild world of Christendom. On these pages it is clear that we are wounded healers, that the path to God is one of downward mobility, and that all the ground is level at the foot of the cross."
— Shane Claiborne, author, activist, and director of Red Letter Christians

"Assimilate or Go Home is inconvenient and necessary, hopeful and unflinching, humble and wry; it is as ferocious as love. During this age of the Church when we too often worship worldly obvious success, we need to receive D.L. Mayfield's ministry of subversive truth-telling."
— Sarah Bessey, author of Jesus Feminist and Out of Sorts: Making Peace with an Evolving Faith

"In this beautifully written, emotionally rich memoir… Mayfield's close observation of the journey of refugees trying to make a new life abroad while desperately missing the homes they were forced to abandon is required reading in an age of increased turmoil surrounding the status of refugees worldwide."
— Publishers Weekly

"D. L. Mayfield's voice aches like a psalmist's; it sings out like the prophets of old. This book is not the next hot new thing. It is ancient wisdom, distilled from the daily grind, rendered in the vernacular of American life."
— Jonathan Wilson-Hartgrove, author of Strangers at My Door

"What is the good news? That is the central, vital question in Mayfield's deeply felt essays. In a season of such great fear of "the other," her observations and exhortations are especially timely. Mayfield's heart is huge, her questions important. And at its best, her lovely prose pierced my soul."
— Jeff Chu, author of Does Jesus Really Love Me?

"In this beautiful, heartbreaking debut, Mayfield pulls back the curtain on her difficult life in the refugee community. A must-read for anyone who dreamt of changing the world for God…and instead discovered that life is much more charged with glory and brokenness than we ever knew."
— Addie Zierman, author of When We Were on Fire and Night Driving

"This winsome memoir captures the zeal and the vulnerability of Mayfield's experience living and working among a community of Somali Bantu refugees in Portland, OR."
— Relevant Magazine

"Mayfield beautifully chronicles her earnest efforts to befriend her refugee neighbors and introduce them to God-only to find that she herself meets God in new, profound ways. Assimilate or Go Home is among the most refreshing books I have read in years: funny, wise, and convicting."
— Matthew Soerens, U.S. Director of Church Mobilization at World Relief and co-author of Seeking Refuge: On the Shores of the Global Refugee Crisis

"I hope Christians everywhere can follow Mayfield, like falling through the rabbit hole, into the strange and hidden world of refugees. Her daring prose pulls us into the poetics, the adventure, the ecology and the anguish of being a true neighbor today."
— Chris Hoke, author of Wanted: A Spiritual Pursuit Through Jail, Among Outlaws, and Across Borders

"I cannot get enough of D.L. Mayfield's rich language, vivid storytelling, and nuanced perspective on faith, poverty, and the 'ministry of cake,' which has left me aching for the world she inhabits and the God she loves, and I'm better for it."
— Micha Boyett, author of Found: A Story of Questions, Grace, and Everyday Prayer

"Assimilate or Go Home is the least American book about Christianity I've read by an American evangelical. Like the gospels, it foregrounds the troubles of human frailty, of pain, of not-knowing. Here, Mayfield suggests, perhaps we can replace power with an imperfect attempt at love."
— Kyle Minor, author of Praying Drunk