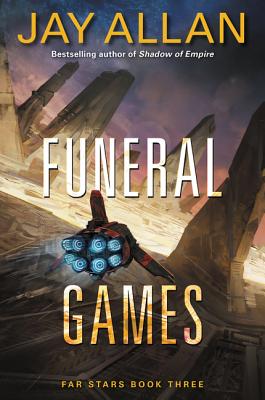 Funeral Games (Paperback)
Far Stars Book Three
Harper Voyager, 9780062388933, 464pp.
Publication Date: January 19, 2016
Other Editions of This Title:
Digital Audiobook (1/18/2016)
Compact Disc (1/19/2016)
Compact Disc (1/19/2016)
* Individual store prices may vary.
Description
The battle for the unification and rule of the Far Stars Confederation will be decided in Jay Allan's exhilarating third and final book in the swashbuckling space saga, The Far Stars, begun with Shadow of Empire and Enemy in the Dark.
The Far Stars stands on the edge of a precipice. The forces of Governor Vos have surged forth, conquering worlds and imposing the emperor's brutal rule over millions. Only one thing stands in the way of total victory: Marshal Augustin Lucerne and his newly created Confederation. Vos has a simple plan: assassinate the marshal, and manipulate his generals to fight over his legacy, destroying each other in the process.
But another threat lurks: Arkarin Blackhawk. The smuggler and mercenary has been the marshal's ally, working in the shadows and unraveling Vos' plans. The governor can only hope the mysterious adventurer continues to resist a formal position in the Confederation.
Or he can have Blackhawk assassinated, too.
Because with Blackhawk succeeding Lucerne, the black and gold imperial flags will be stained red with blood. For his is a dark and dangerous past, and if he is put at the helm of the Confederation armies, the brutal imperial general he once had been may rise once again.
The Far Stars are facing the final battle. The Imperials seem unstoppable. But if Blackhawk somehow survives—and can come to grips with the horror deep within him—he just might be able to save the Far Stars from the iron hand of empire.
About the Author
Jay Allan is a former investor and the author of the Crimson Worlds series and the first two books in the Far Stars series, Shadow of Empire and Enemy in the Dark. When not writing, he enjoys traveling, running, hiking, and reading. He loves hearing from readers and always answers e-mails. He currently lives in New York City.