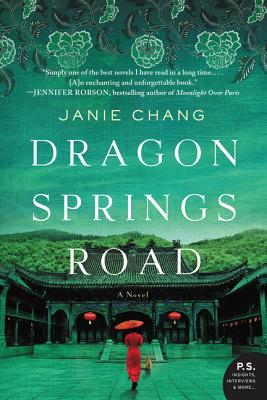 Dragon Springs Road
A Novel
Paperback

* Individual store prices may vary.
Other Editions of This Title:
Digital Audiobook (1/9/2017)
MP3 CD (1/10/2017)
Compact Disc (1/10/2017)
Compact Disc (1/10/2017)
Description
From the author of Three Souls comes a vividly imagined and haunting new novel set in early 20th century Shanghai—a story of friendship, heartbreak, and history that follows a young Eurasian orphan's search for her long-lost mother.
That night I dreamed that I had wandered out to Dragon Springs Road all on my own, when a dreadful knowledge seized me that my mother had gone away never to return . . .
In 1908, Jialing is only seven years old when she is abandoned in the courtyard of a once-lavish estate near Shanghai. Jialing is zazhong—Eurasian—and faces a lifetime of contempt from both Chinese and Europeans. Without her mother's protection, she can survive only if the estate's new owners, the Yang family, agree to take her in.
Jialing finds allies in Anjuin, the eldest Yang daughter, and Fox, an animal spirit who has lived in the haunted courtyard for centuries. But Jialing's life as the Yangs' bondservant changes unexpectedly when she befriends a young English girl who then mysteriously vanishes.
Always hopeful of finding her long-lost mother, Jialing grows into womanhood during the tumultuous early years of the Chinese republic, guided by Fox and by her own strength of spirit, away from the shadows of her past. But she finds herself drawn into a murder at the periphery of political intrigue, a relationship that jeopardizes her friendship with Anjuin and a forbidden affair that brings danger to the man she loves.
Praise For Dragon Springs Road: A Novel…
"Janie Chang's second novel is a remarkable read, brimming with magic and the grit of realism. . . . With this novel, Chang asserts herself as an exciting, relatable voice . . . that requires us to re-examine our relationships to place, identity, and ancestry. — Quill & Quire (starred review)
"[B]eautifully told . . . fascinating . . . a great choice for a book club." — Huffington Post
"Chang unfurls this intriguing story—set against the chaotic backdrop of China in the early twentieth century-with precision. Rich with detail and a fascinating interplay between the spiritual and earthly realms, Chang's second novel explores whether it is possible to overcome your past." — Booklist
"Lyrical and magical . . . Chang's lovingly crafted novel will resonate with readers long after the story is done." — RT Book Reviews
"Janie Chang has a keen eye for detail and infuses them throughout this magical story, with its masterfully rendered setting of the early Chinese republic, characters who bring to life the constrictions of those girls, and a mystical benevolent spirit. The result is enchanting." — Shilpi Somaya Gowda, author of Secret Daughter and The Golden Son
"Dragon Springs Road is simply one of the best novels I have read in a long time. With her lyrical, heartfelt portrait of a vanished world . . . Janie Chang has created an enchanting and unforgettable book. I recommend it unreservedly." — Jennifer Robson, bestselling author of Moonlight over Paris
William Morrow Paperbacks, 9780062388957, 400pp.
Publication Date: January 10, 2017
About the Author
Born in Taiwan, JANIE CHANG has lived in the Philippines, Iran, Thailand, New Zealand and Canada. She writes historical fiction with a personal connection, drawing from family history and ancestral stories. Chang has a degree in computer science and is a graduate of the Writer's Studio Program at Simon Fraser University. She is the author of Three Souls and Dragon Springs Road.
1. What was the longest time you were ever left alone as a child?
2. One of the central themes in Dragon Springs Road is that of identity and belonging. Which story elements echo this theme?
3. Dragon Springs Road is set during a time of great social and political upheaval. Discuss how grandmother Yang's reactions to change differ from those of her eldest grandson, Dajuin.
4. Fox spirits are popular in Chinese folklore. What culture(s) are represented in your family's background and what folktales do you know about supernatural creatures?
5. Missionaries in nineteenth-century and early-twentieth-century China faced many challenges. Have you ever met or known anyone who was a missionary in a foreign country?
6. From the tidbits of information Fox shares with Jialing, it's clear that Fox has her own agenda. If you were to tell the story from Fox's point of view, how would you describe the motivating factors behind her decisions?
7. Jialing is disadvantaged because of her mixed race, but other characters also suffer because of the customs and values of that era. Discuss these characters and how their situations contrast with our twenty-first-century expectations.
8. What would you do if you were given the opportunity to become a Fox?
or
Not Currently Available for Direct Purchase