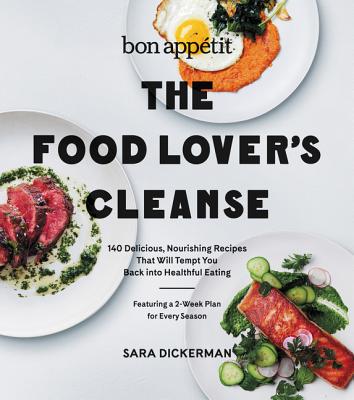 Bon Appetit
The Food Lover's Cleanse: 140 Delicious, Nourishing Recipes That Will Tempt You Back into Healthful Eating
Hardcover

* Individual store prices may vary.
Description
Reboot your eating habits with Bon Appétit's wildly popular online plan, now expanded for the whole year with four two-week seasonal plans and 140 recipes. With a foreword by Adam Rapoport.
What began as an interactive post-holiday plan that puts an emphasis on home cooking and whole foods, the Bon Appétit cleanse has now been expanded for the entire year. Inside you'll find four different two-week cleanse plans, one for each season, and 140 fabulous recipes that use fresh, flavorful, unprocessed ingredients. High in fruits, vegetables, and whole grains—with no refined flours, very limited dairy and saturated fats, little to no alcohol or coffee (and a small serving of dark chocolate!)—the program emphasizes eating mindfully, controlling portion size, and curbing grazing impulses. Empty calories are replaced with filling protein- or fiber-rich snacks.
Following the principle that delicious home-cooked meals are the best way to develop long-lasting healthy eating habits, the tasty recipes in The Bon Appétit Food Lover's Cleanse—most exclusive to the book—can be enjoyed throughout the year using a variety of seasonal ingredients. The food is enticing enough to convince you to give up everyday staples like white pasta, bread, and processed meats. With the Bon Appétit program, you'll discover bold and rich fare such as Warm Brussels Sprout Slaw with Mustard Seeds and Walnuts (winter); Lemongrass Shrimp with Mushrooms (spring); Zucchini Tacos with Cabbage and Queso Fresco (summer); and Oven-Roasted Chicken with Grapes (fall).
Designed to encourage good lifelong eating practices, The Bon Appétit Food Lover's Cleanse is essential for healthy, appetizing, and satisfying food you can feel good about every day of the year.
Praise For Bon Appetit: The Food Lover's Cleanse: 140 Delicious, Nourishing Recipes That Will Tempt You Back into Healthful Eating…
"Food writer Dickerman has worked with registered dietician Marissa Lippert to create an annual cleanse for Bon Appétit…Throughout the book, Dickerman preaches moderation and small, meaningful changes…Dickerman's approachable guide to whole foods-centric, occasionally meatless healthy eating can help readers curb their postholiday guilt and adopt sustainable life changes."
— Library Journal

"As exciting as unwrapping a holiday present…this one thrilled me to no end. The photographs are mouthwatering and capture the essence of beautiful, whole foods. Thumbing through the book made me crave nutritious dishes like Roasted Cauliflower with Thyme and Olives…and Braised Chicken with Squash and Prunes."
— Dayton Daily News

"Don't punish yourself with bland foods. Instead, page through Bon Appétit's beautiful and, yes, nutritious new book, filled with 140 recipes for cleansing more deliciously."
— Tasting Table
William Morrow Cookbooks, 9780062390233, 352pp.
Publication Date: December 22, 2015
About the Author
Sara Dickerman is the author of Secrets of Great Second Meals, Bon Appetit: The Food Lover's Cleanse, and Dried & True. She cooked in restaurants for many years, starting in California at Campanile and Chez Panisse before moving to Seattle. Her work has appeared in the New York Times, Saveur, Seattle magazine, Bon Appetit, Food & Wine, and Slate, for which she won a James Beard Award. She has also served as the restaurant critic for The Stranger and the food editor of Seattle magazine, and she has been a regular guest on her local NPR affiliate. She lives in Seattle with her husband and two children.
or
Not Currently Available for Direct Purchase