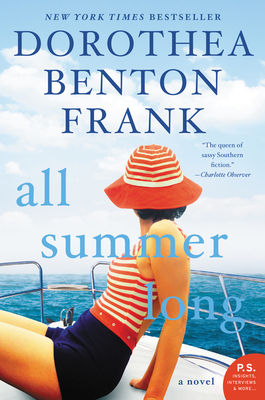 All Summer Long (Paperback)
A Novel
William Morrow Paperbacks, 9780062390769, 400pp.
Publication Date: March 7, 2017
Other Editions of This Title:
Digital Audiobook (5/30/2016)
Hardcover (5/31/2016)
Paperback, Large Print (6/21/2016)
CD-Audio (5/2/2017)
Compact Disc (5/31/2016)
* Individual store prices may vary.
Description
Filled with her trademark wit, poignant themes, and rich characters, the perennial New York Times bestselling author returns with a sensational novel that follows the travels of one couple though a tumultuous summer.
Dorothea Benton Frank's magical stories take us deep into the heart of her beloved Carolina Lowcountry. In her novels, this lush landscape comes alive in all its vibrancy and color. She ignites all of our senses with her vivid descriptions of landscape and atmosphere. In her novels you hear the ocean washing the shore on different islands so profoundly that you can nearly hear the sea gulls squawking, too.
This is a story of people whose lives are changing—a southern gentleman returning home to lead a more peaceful life and his talented New York wife who is not quite sure she is ready to make the transition. They are moving north to south, fast pace versus slow pace, downsizing. And while they are doing this, they are getting glimpses into other people's lives over the course of a summer, holidays that will amuse, shock and transform them.
This irresistible story is home to captivating characters as funny, complicated, and real as our best friends—husbands and wives, mothers and daughters, friends and family who wrestle with the complexities, pain, and joys familiar to us all.
Finally, we'll come to recognize the face of love, the kind that deepens and endures but only because one woman makes a tremendous leap of faith. That leap changes them all.
About the Author
New York Times bestseller Dorothea Benton Frank was born and raised on Sullivans Island, South Carolina. Until her passing in 2019, Dorothea and her husband split their time between New Jersey and South Carolina. A contemporary voice of the South, Dorothea Benton Frank was beloved by fans and friends alike since her debut novel Sullivans Island. Readers from coast to coast fell for the quick wit and the signature humor that permeated her many bestselling novels.
Praise For All Summer Long: A Novel…
Praise for All Summer Long: "FICTION RECOMMENDS: I'm always willing to go wherever in South Carolina's Lowcountry Dorothea Benton Frank takes me."
— Richmond Times-Dispatch

"[A] thought provoking read. [...] Drama, intrigue, and a bit of humor can be found within this well-developed and well-written story. [...] I recommend this new novel to readers everywhere. All Summer Long is a must read for all."
— San Francisco Book Review
1. One of the strongest themes in All Summer Long is whether or not money can buy you love, or at least happiness. Of the various couples in the book, how many do you think are truly happy? Which ones seem to be together for the lifestyle? Of all the characters, which one do you think cares the least about money?
2. Secrets are causing much strife and turmoil in several of the relationships in All Summer Long. Have you ever kept a big secret (the kind that keeps you up at night) from your partner? If so, what happened when the secret came to light? If not, what do you think would happen if you were concealing something and it came out?
3. With her financial troubles, it seems like now is not the time for Olivia to be moving away from New York City. She knows they can't afford for her to retire yet, and what she needs is more jobs, not fewer. Keeping this in mind, do you think Olivia should reconsider the agreement made 14 years earlier with Nick about moving to Charleston? Should she have asked for a few years delay and given herself time to pad their bank account?
4. How open are you and your partner about household finances? Do you manage them together, or is one of you the chief accountant and bill payer? If one of you kept a financial secret from the other, what impact would that have on your relationship when it eventually came to light?
5. Have you ever made a promise in the early days of a relationship that ultimately you weren't able to keep? Can you take back an oath made from good intentions if, down the road, circumstances have changed and that promise has become an obstacle?
6. How honest do you think Nick and Olivia's relationship is? Do they talk openly about all the issues affecting their marriage? Do they give each other their honest opinion? If your answer is no, why do you think that is? Do you see their level of truthfulness changing by the end of the novel one way or the other?
7. If you had suspicions that your partner was cheating, or thinking about cheating, how would you like to think you would confront the issue? Would you address those suspicions as soon as they arose, or would you wait a while? Have you and your partner ever discussed what infidelity would do to your relationship?
8. Maritza and Olivia have an odd relationship. Maritza considers Olivia to be a true friend, but Olivia sees their friendship as more of a business relationship, even though she knows it means more to Maritza. Is this disingenuous of Olivia? Have you ever been in this type of position where someone who has employed you has expected more of you personally?
9. There's an old adage that says "a tiger can't change its stripes." Do you think people can change, or, like the tiger, are they basically unchangeable?
10. If you had old friends, from before your marriage, who, for whatever reason, treated your partner in a demeaning way, how would you handle it? Would you find occasions to socialize with them without your partner, or would it be difficult to maintain the relationships? What if the opposite occurred, and old friends of your partner treated you disparagingly? How would you want it handled?