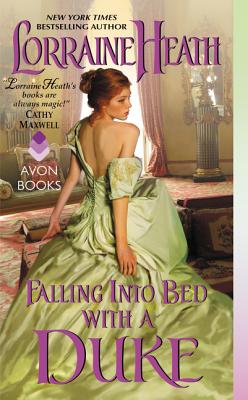 Falling Into Bed with a Duke (Paperback)
Avon, 9780062391018, 384pp.
Publication Date: October 27, 2015
* Individual store prices may vary.
Description
USA Today Bestseller
In the first in a dazzling new series, New York Times bestselling author Lorraine Heath introduces the Hellions of Havisham—three charismatic rogues destined to lose their hearts . . .
After six unsuccessful Seasons, Miss Minerva Dodger chooses spinsterhood over fortune-hungry suitors. But thanks to the Nightingale Club, she can at least enjoy one night of pleasure. At that notorious establishment, ladies don masks before choosing a lover. The sinfully handsome Duke of Ashebury is more than willing to satisfy the secretive lady's desires—and draws Minerva into an exquisite, increasingly intimate affair.
A man of remarkable talents, Ashe soon deduces that his bedmate is the unconventional Miss Dodger. Intrigued by her wit and daring, he sets out to woo her in earnest. Yet Minerva refuses to trust him. How to court a woman he has already thoroughly seduced? And how to prove that the passion unleashed in darkness is only the beginning of a lifetime's pleasure
Praise For Falling Into Bed with a Duke…
Heath steals your heart, then takes you on a journey that will leave you torn between tears and joy.

Heath is a consummate storyteller, whose characters leap from the pages. Their powerful emotions and intense passions translate exceptionally well to readers, allowing them to become deeply involved in the fascinating plot and leaving them breathless and wanting more.

Deep emotions, sensuality and pathos combine and the healing power of love triumphs in another Heath masterpiece

"The Duke of Weddington is perfect hero material. Historical readers will clamor for more."

"Master storyteller Heath perfectly threads together emotional power and deep romance. Taking her cue from Dickens' classic Oliver Twist, she reinvents the story so we see what might have happened to the older Oliver. Few writers engage readers' hearts and minds as beautifully as Heath certainly does." Top Pick

"Lorraine Heath has long been an author readers trust when they want to read a heart-warming historical, one that will entertain them and make them shed a tear or two. That's probably because the emotions in Heath's stories are genuine."

"Heath's second London's Greatest Lovers historical pairs a battle scarred Crimean War soldier with his compassionate nurse... Their romance ripens with intensity and realistic emotion that will leave even the most seasoned reader teary-eyed"

"Heath's characters are endearing and memorable in this tale that cranks up the heat and the angst. It's a moving story that readers won't want to put down."

"Heath steals your heart, then takes you on a journey that will leave you torn between tears and joy."

"...wonderfully entertaining... Heath adeptly juggles numerous new and familiar characters as she sweeps fans of her Regency novels into the Victorian era."

With her usual flair for richly nuanced characters and elegant writing, RITA Award-winning Heath launches her new Hellions of Havisham historical series with a tale that simply sizzles with sensuality.