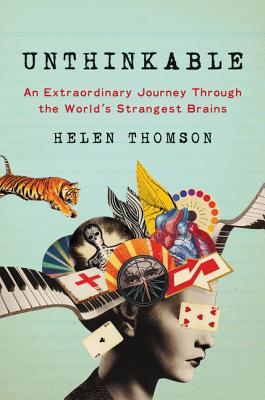 Unthinkable
An Extraordinary Journey Through the World's Strangest Brains
Hardcover

* Individual store prices may vary.
Other Editions of This Title:
Digital Audiobook (6/25/2018)
Paperback (6/4/2019)
Compact Disc (6/26/2018)
MP3 CD (6/26/2018)
Compact Disc (6/26/2018)
Description
An Amazon Best Nonfiction Book of the Month
Indiebound Bestseller
Award-winning science writer Helen Thomson unlocks the biggest mysteries of the human brain by examining nine extraordinary cases
Our brains are far stranger than we think. We take it for granted that we can remember, feel emotion, navigate, empathise and understand the world around us, but how would our lives change if these abilities were dramatically enhanced – or disappeared overnight?
Helen Thomson has spent years travelling the world, tracking down incredibly rare brain disorders. In Unthinkable she tells the stories of nine extraordinary people she encountered along the way. From the man who thinks he's a tiger to the doctor who feels the pain of others just by looking at them to a woman who hears music that's not there, their experiences illustrate how the brain can shape our lives in unexpected and, in some cases, brilliant and alarming ways.
Story by remarkable story, Unthinkable takes us on an unforgettable journey through the human brain. Discover how to forge memories that never disappear, how to grow an alien limb and how to make better decisions. Learn how to hallucinate and how to make yourself happier in a split second. Find out how to avoid getting lost, how to see more of your reality, even how exactly you can confirm you are alive. Think the unthinkable.
Praise For Unthinkable: An Extraordinary Journey Through the World's Strangest Brains…
"A great science writer knows what is interesting to the reader, and here Thomson shines. Her book is tailor-made for anyone who loves intellectual brain trivia. This book is a chef's tasting menu of fascinating things about your brain." — The Washington Post
"A window into neurological research that's not just about other people's brains, but also our own." — Popular Science
"Thomson has a gift for making the complex and strange understandable and relatable. Oliver Sacks is noted as an inspiration and, indeed, this book will appeal to his many fans." — Library Journal (starred review)
"May change your perception of what it means to be human." — Library Journal (starred review)
"A user-friendly tour of the brain and the curious things that go on inside of it." — Kirkus
"Splendid for Mary Roach fans." — Booklist
"This wonderfully clear, fluent, eye-opening book explores what happens when the mind misbehaves: distance is distorted, memory plays tricks, people hear in colour and see in music. Helen Thomson is the science teacher you wish you'd had at school . . . Unthinkable [is] fascinating." — The Times (London)
"Remarkable—an astonishing tour of the human brain in all its awesome power and bewildering variation. In beautiful prose, Thompson seamlessly dances between conversations with nine extraordinary people, and beautiful explanations of how the brain works. Unthinkable will enrich your brain, blow your mind, and warm your heart." — Ed Yong, author of I Contain Multitudes
"We are the sum of our brains—nothing more or less. Helen Thomson ably guides us through the fascinating world of what are indeed some of the strangest brains on earth, showing us what we can learn about ourselves.  Scientifically accurate and wholly accessible, this is an irresistible book." — Robert Sapolsky, author of Behave: The Biology of Humans at Our Best and Worst
"A book that will please fans of the late Oliver Sacks." — Publishers Weekly
'A stirring scientific journey, a celebration of human diversity and a call to rethink the "unthinkable."' — Nature
"With flair and empathy, the author sees her subjects in the context of their everyday lives, allowing us to marvel at their humanity . . . This is neuroscience for the general reader: accessible, well researched, thought-provoking." — Tatler
"From seeing auras ... to waking up 'dead' and being able to remember every single day of your life in vivid detail, award-winning science journalist Thomson investigates wondrously rare and strange brain disorders in this terrific debut . . . Theirs are mystery stories, spellbinding and true." — The Bookseller, Editor's Choice
Ecco, 9780062391162, 288pp.
Publication Date: June 26, 2018
About the Author
Helen Thomson is a writer and consultant with New Scientist magazine and was shortlisted as Best Science Journalist in the British Journalism Awards. She has won several other awards, including media fellowships at both Harvard and MIT and the Best Newcomer in the ABSW Science Writers Awards for Britain and Ireland in 2010. She has also written for The Guardian, The Washington Post, The Daily Mail and Nature. She lives in London.