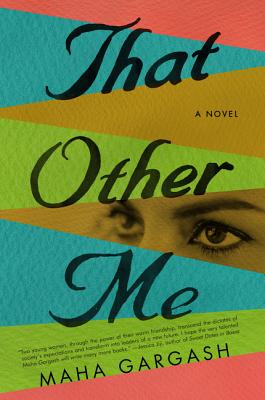 That Other Me
A Novel
Paperback

* Individual store prices may vary.
Description
From the #1 internationally bestselling author of The Sand Fish, Maha Gargash's second novel is set in mid-1990s Dubai and Cairo and tells the story of how secrets and betrayals consume three members—an authoritarian father, a rebellious abandoned daughter, and a vulnerable niece—of a prominent Emirati family.
Majed, the head of the eminent Naseemy family, is proud to have risen into the upper echelons of Emirati society. As one of the richest businessmen in Dubai, he's used to being catered to and respected—never mind that he acquired his wealth by cheating his brother out of his own company and depriving his niece, Mariam, of her rights.
Not one to dwell on the past—he sent Mariam to school in Egypt, what more could she want from him?—Majed spends his days berating his wife and staff and cavorting with friends at a private apartment. But he's suddenly plagued by nightmares that continue to haunt him during the day, and he feels his control further slipping away with the discovery that his niece and his daughter are defying his orders.
Mariam despises Majed, and although she blames him for her father's death, hers is a strictly-organized, dutiful existence. But when she falls for a brash, mischievous fellow student named Adel, he might just prove to be her downfall.
Largely abandoned by Majed as the daughter of a second, secret marriage, the vivacious Dalal has a lot to prove. The runner-up on "Nights of Dubai," an American Idol-type reality show for Arab talent, Dalal is committed to being a singer despite the fact that it's a disreputable career. When her efforts to become a celebrity finally begin to pay off, she attracts the attention of her father, who is determined to subdue Dalal to protect the family name. As Majed increasingly exerts his control over both Dalal and Mariam, both girls resist, with explosive consequences.
An exhilarating look at the little-known Khaleeji (Gulf-Arab) culture, That Other Me explores the ways social mores contribute to the collapse of one family.
Praise For That Other Me: A Novel…
"Through richly drawn characters who drive their shared destiny, Maha Gargash depicts a world of wealth while revealing the true meaning of value as two young women, through the power of their warm friendship, transcend the dictates of society's expectations and transform from outsiders into leaders of a new future."
— Jessica Jiji, author of SWEET DATES IN BASRA

"Light in tone, her reflections on culture and social norms will strike a familiar chord with Arab readers and will intrigue, even surprise, western readers."
— The National

"A compelling tapestry of familial strife and stresses…Gargash layers on the restrictions of Arab society, masterfully capturing the constricting expectations each person faces…the way they behave in response is one of the most revealing aspects of their characters. A nuanced look at Arab life and society."
— Booklist

"Gargash…paint[s] a complex portrait of a family, as its members struggle to maintain their ties with one another and to their traditions, while consequences of enormous wealth prove more threatening than modernity or Western influence."
— Publishers Weekly

"Opens a window into the complicated world of Emirati culture. The book shines brightest when focused on Mariam and Dalal as they come of age in two different worlds…The examination of changing norms in Middle Eastern culture, and the differences between Dubai and Cairo, is at times extremely engaging…fascinating."
— Kirkus

"Simply beautiful…The imagery in THAT OTHER ME is brilliant, constant and fresh…an enjoyable, mind-provoking and flowing read. I'll definitely be interested in reading more of Maha Gargash's work in the future."
— Nadaness in Motion blog
Harper Perennial, 9780062391384, 384pp.
Publication Date: January 26, 2016
About the Author
Maha Gargash, an Emirati born in Dubai to a prominent business family, has studied in Washington, D.C., and London. With her degree in radio/television, she joined Dubai Television to pursue her interest in documentaries. Through directing her television programs, which deal mainly with traditional Arab societies, she became involved in research and scriptwriting. Her first novel, The Sand Fish, was an international bestseller. 
or
Not Currently Available for Direct Purchase