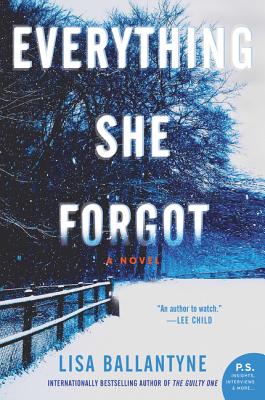 Everything She Forgot
A Novel
Paperback

* Individual store prices may vary.
Other Editions of This Title:
Digital Audiobook (10/5/2015)
Compact Disc (10/6/2015)
Compact Disc (10/6/2015)
Description
Some things aren't meant to be remembered . . .
They're calling it the worst pileup in London history. Margaret Holloway is driving home, but her mind is elsewhere—on a troubled student, her daughter's acting class, the next day's meeting—when she's rear-ended and trapped in the wreckage. Just as she begins to panic, a disfigured stranger pulls her from the car seconds before it's engulfed in flames. Then he simply disappears.
Though she escapes with minor injuries, Margaret feels that something's wrong. She's having trouble concentrating. Her emotions are running wild. More than that, flashbacks to the crash are also dredging up lost associations from her childhood, fragments of events that had been wiped from her memory. Whatever happened, she didn't merely forget—she chose to forget. And somehow, Margaret knows deep down that it has something to do with the man who saved her life.
As Margaret uncovers a mystery with chilling implications for her family and her very identity, Everything She Forgot winds through a riveting dual narrative and asks the question: How far would you go to hide the truth—from yourself?
Praise For Everything She Forgot: A Novel…
"Ballantyne weaves a fine tale of family drama, dark secrets, and the past's effect on the present. The threads seamlessly come together in a heart-wrenching, yet hopeful, finale." — Publishers Weekly
"Thought-provoking, brave, and challenging." — Rosamund Lupton, international bestselling author of Sister
"Ballantyne's effortless prose took me across the Atlantic and didn't let me return until its surprising and satisfying conclusion. A tight story that comes full circle and keeps you reading." — Bryan Reardon, author of Finding Jake
"A sweet novel of love, redemption, and loss that chronicles one family's struggle with a difficult past." — Kirkus Reviews
"A moving and sensitive mystery about childhood trauma and its resolution." — Booklist
Praise for The Guilty One: "Sophisticated, suspenseful, unsettling, and highly recommended: a terrific debut from an author to watch." — Lee Child, #1 New York Times bestselling author
William Morrow Paperbacks, 9780062391483, 432pp.
Publication Date: October 6, 2015
About the Author
Lisa Ballantyne is the author of the Edgar Award-nominated The Guilty One. She lived and worked in China for many years and started writing seriously while she was there. Ballantyne now lives in Glasgow, Scotland.
Memory plays a significant role in this book; in what ways does it inform identity? Do you
think even the things you don't remember can affect who you become?
Big George wants desperately to change his path, and yet can't seem to stay on the right side
of the law. Do you believe people can change, that they can escape the circumstances they
come from?
How do the events of the "road trip" affect George? How do they shape Moll's future?
Have you ever been in a bad accident? Did it change anything for you?
The novel involves a road trip from the most northern point of the UK to its southern tip, from
John o' Groats to Land's End. How does that relate to the journey that each of the characters
undertakes?
How does the book comment on the relationship between parents and children?
Which character did you sympathize most with, and why?
This novel is written almost as if it were a fairy tale or a fable. What do you think the author is
trying to say?
Everything She Forgot was published in the UK under the title Redemption Road. What would
you have called this book, and why?
Would you have given the story a different ending?
or
Not Currently Available for Direct Purchase