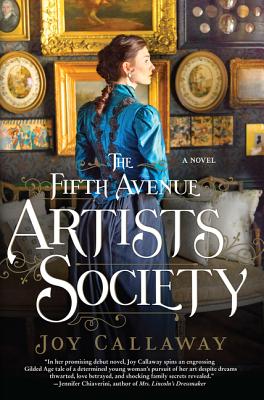 The Fifth Avenue Artists Society (Paperback)
A Novel
Harper Paperbacks, 9780062391612, 384pp.
Publication Date: May 31, 2016
Other Editions of This Title:
Digital Audiobook (5/30/2016)
Compact Disc (5/31/2016)
Compact Disc (5/31/2016)
MP3 CD (5/31/2016)
Hardcover, Large Print (10/19/2016)
* Individual store prices may vary.
Description
The Bronx, 1891. Virginia Loftin, the boldest of four artistic sisters in a family living in genteel poverty, knows what she wants most: to become a celebrated novelist despite her gender, and to marry Charlie, the boy next door and her first love.
When Charlie proposes instead to a woman from a wealthy family, Ginny is devastated; shutting out her family, she holes up and turns their story into fiction, obsessively rewriting a better ending. Though she works with newfound intensity, literary success eludes her—until she attends a salon hosted in her brother's writer friend John Hopper's Fifth Avenue mansion. Among painters, musicians, actors, and writers, Ginny returns to herself, even blooming under the handsome, enigmatic John's increasingly romantic attentions.
Just as she and her siblings have become swept up in the society, though, Charlie throws himself back into her path, and Ginny learns that the salon's bright lights may be obscuring some dark shadows. Torn between two worlds that aren't quite as she'd imagined them, Ginny will realize how high the stakes are for her family, her writing, and her chance at love.
About the Author
Joy Callaway lives in Charlotte, North Carolina, with her family. The Fifth Avenue Artists Society is her first novel.
Praise For The Fifth Avenue Artists Society: A Novel…
"The creative sisterhood of Little Women, the social scandal of Edith Wharton and the courtship mishaps of Jane Austen. . . . Callaway's characters - some of them inspired by her own family ancestry - are well-developed and memorable. The reader is easily drawn into the Loftin sisters' trials and triumphs. The Fifth Avenue Artists Society is a delightful, and at times touching, tale of Gilded Age society and creative ambition with an inspiring heroine."
— New York Daily News

"An engrossing snapshot of 1890s New York City…Filled with well-drawn characters and lush historical texture, this tale sweeps you into the midst of writers, artists, and musicians, some of whom wrestle darker muses than others. The era may be long gone, but the passions remain timeless."
— Jill Morrow, the author of Newport

"With the warm glow and heavy drapery of Gilded Age salons as its inviting backdrop, Joy Callaway's engaging period novel explores the timeless struggles women face in the creative and working world, and the price some are willing to pay to protect all they hold dear."
— Erika Robuck, National Bestselling Author of Hemingway's Girl

"'Such an elegant and charming novel. I thoroughly enjoyed it, and look forward to reading more from this talented new writer."
— Hazel Gaynor, author of A Memory of Violets

"In THE FIFTH AVENUE ARTISTS SOCIETY, Callaway channels 19th century New York society to perfection. The cadence of her prose is like a summer breeze, at once warm and invigorating, and the story of family loyalties, loss, and the artist's world absorbing. Highly recommended!"
— Heather Webb, author of Rodin's Lover

"In her promising debut novel, Joy Callaway spins an engrossing Gilded Age tale of a determined young woman's pursuit of her art despite dreams thwarted, love betrayed, and shocking family secrets revealed."
— Jennifer Chiaverini, author of Mrs. Lincoln's Dressmaker

"With THE FIFTH AVENUE ARTISTS SOCIETY, debut author Joy Callaway paints a marvelously detailed portrait of Gilded Age New York, and in Ginny Loftin, inspired in part by the author's own ancestor, she has created an affecting and appealing heroine. This is a delightful and memorable book."
— Jennifer Robson, International bestselling author of Moonlight Over Paris

"[A] powerful debut. . . . Callaway paints an all too real portrait of the power of love to both create and destroy.… Readers will never see the twists around every corner. Beautifully written and solidly executed, Callaway's novel will captivate historical and romance fans alike."
— Library Journal

"Drawing on her own family history, first-time novelist Callaway melds romance, intrigue, and the pursuit of art together to create this engaging late-nineteenth-century story. Readers will enjoy cameos by Edith Wharton and Oscar Wilde, two writers who influenced her dramatization of the dangers of social climbing."
— Booklist

"Joy Callaway brilliantly captures the plight of women during this time. . . .I'm always a fan of books about the Gilded Age, and The Fifth Avenue Artists Society is no exception. . . I very much enjoyed reading it.. . . If you're a fan of historical fiction, you'll like following the lives of the Loftin family. Four stars."
— LuxuryReading.com