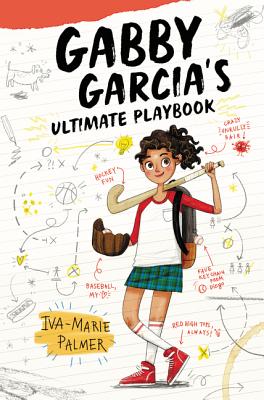 Gabby Garcia's Ultimate Playbook (Hardcover)
Katherine Tegen Books, 9780062391803, 304pp.
Publication Date: May 9, 2017
* Individual store prices may vary.
Description
Dear fans of Dork Diaries and Middle School: The Worst Years of My Life—meet your new favorite kid-next-door hero! Gabby Garcia an overly confident baseball-obsessed sport nut who's going to win your heart.
If life were a baseball game, all-star pitcher Gabby Garcia would be having her Best. Season. EVER! Until she's suddenly sent to another school and her winning streak is about to disappear—both on and off the field.


But Gabby never gives up! She has a PLAN to keep her champion status intact, and every step of is written out—PLAY by PLAY. How could it not work?
This new series written by Iva-Marie Palmer is filled with funny illustrations, sports facts, and blooper-reel moments that will have readers laughing and rooting for more.
About the Author
Iva-Marie Palmer is the author of the books in the Gabby Garcia's Ultimate Playbook series. A former journalist who oversubscribes to periodicals, she loves books, running, cooking and eating elaborate meals, classic screwball comedies, food sold off carts and trucks, old movie palaces, word games and crossword puzzles, adventures large and small, indulging her curiosity and overextending herself. She lives with her husband, two sons, and a seeming inability to take her sunglasses off her head when indoors.
Praise For Gabby Garcia's Ultimate Playbook…
"You're going to root, root, root for Gabby Garcia! A hilarious home-run."
— Sarah Mlynowski, New York Times Bestselling Author of the Whatever After series

"Big thumbs up for this endearing story of a winning-obsessed girl who learns to stop keeping score and enjoy the ups and downs of life."
— Suzanne Selfors, author of the Ever After High series

"Sassy and fun from the first inning to the last! Gabby Garcia is sure to win fans among young readers everywhere."
— Lenore Look, award-winning author of the Alvin Ho series and the Ruby Lu series

"Middle-grade readers will identify with Gabby's preteen angst, laugh at her mostly self-inflicted struggles, and cheer for her success. Hilarious and joyful."
— Kirkus Reviews

"Gabby's satisfying journey toward gaining a more team-focused attitude is narrated in a wry and witty voice that ought to win over many readers, sports fans or not."
— Publishers Weekly

One of the "10 Exciting New Middle Grade Books with Latinx Main Characters"!
— Brightly

"It's refreshing to see a female ballplayer protagonist in a middle grade novel."
— School Library Journal

"It's rare for a sports-themed book to hold broad appeal, but Iva-Marie Palmer deserves a trophy for serving up an engaging, relatable story about a Latina athlete that even gym-phobic kids can enjoy."
— Common Sense Media