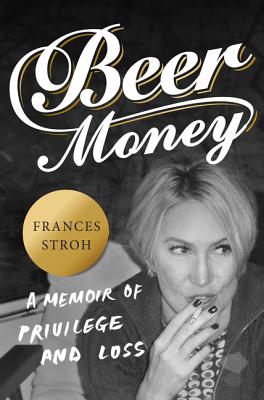 Beer Money (Hardcover)
A Memoir of Privilege and Loss
Harper, 9780062393159, 336pp.
Publication Date: May 3, 2016
Other Editions of This Title:
Paperback (5/30/2017)
Compact Disc (5/3/2016)
Compact Disc (5/3/2016)
MP3 CD (5/3/2016)
Pre-Recorded Audio Player (5/3/2016)
* Individual store prices may vary.
Description
In the tradition of Rich Cohen's Sweet and Low and Sean Wilsey's Oh the Glory of it All, a memoir of a city, an industry, and a dynasty in decline, and the story of a young artist's struggle to find her way out of the ruins.
Frances Stroh's earliest memories are ones of great privilege: shopping trips to London and New York, lunches served by black-tied waiters at the Regency Hotel, and a house filled with precious antiques, which she was forbidden to touch. Established in Detroit in 1850, by 1984 the Stroh Brewing Company had become the largest private beer fortune in America and a brand emblematic of the American dream itself; while Stroh was coming of age, the Stroh family fortune was estimated to be worth $700 million.
But behind the beautiful façade lay a crumbling foundation. Detroit's economy collapsed with the retreat of the automotive industry to the suburbs and abroad and likewise the Stroh family found their wealth and legacy disappearing. As their fortune dissolved in little over a decade, the family was torn apart internally by divorce and one family member's drug bust; disagreements over the management of the business; and disputes over the remaining money they possessed. Even as they turned against one another, looking for a scapegoat on whom to blame the unraveling of their family, they could not anticipate that even far greater tragedy lay in store.
Featuring beautiful evocative photos throughout, Stroh's memoir is elegantly spare in structure and mercilessly clear-eyed in its self-appraisal—at once a universally relatable family drama and a great American story.
About the Author
Frances Stroh  was born in Detroit and raised in Grosse Pointe, Michigan. She received her BA from Duke University and her MA from the Chelsea College of Arts in London as a Fulbright Scholar. She practiced as an installation artist, exhibiting in Los Angeles, San Francisco, and London, before turning to writing. She lives in San Francisco, California.
Praise For Beer Money: A Memoir of Privilege and Loss…
"Stroh's absorbing memoir suggests that most cocoons are permeable and that privilege is relative."
— New York Times Book Review

"With the piercing eye of a visual artist ... Stroh stitches together her and her family's stories in a series of verbal snapshots.... Stroh's compelling memoir vividly portrays the aching permanence of loss and the palpability of hope that accompanies starting over."
— Publishers Weekly

"Beer Money is one of those memoirs you neither put down nor forget. I'll remember Frances Stroh's family—and the beautifully candid, honest and often unforgettable voice she uses to describe them—for a long time. I was very moved by this book."
— George Hodgman, author of Bettyville

"How does a family dynasty die? In her image-rich memoir, 'Beer Money,' Frances Stroh asks the question with heroic honesty, from the inside."
— San Francisco Chronicle

"With an artist's eye for visual detail… her frank and engrossing memoir captures the long decline of the city of Detroit and her sadly dysfunctional family."
— BBC.com

"A compelling story of loss, but also of the resiliency needed to forgive the past and forge a new future. The Strohs may have lost the trappings of the American Dream, but Frances Stroh finds something of greater value: compassion for family despite—and because of—their missteps and flaws."
— Melissa Coleman, author of This Life Is in Your Hands

"I thought of Sean Wilsey's great memoir as I read, but what makes Stroh's book so particular are the class contradictions. In movie terms think Ralph Lauren meets Old Milwaukee. Oh, and it's also a very moving and powerful story of one young woman's coming of age."
— Tom Barbash, author of Stay Up With Me

"If the family owned and operated Stroh's Brewing Co. strived to preserve an image as highbrow folks who nevertheless understood the desires of everyday consumers, Frances Stroh... strips away the facade and reclaims truth."
— San Jose Mercury News

"Of course, the Strohs' story is fascinating in itself. But what makes this memoir special is Frances Stroh's clear, brave voice. Free of regret or judgment, she renders even her family's darkest moments with grace and love. A page-turner in the very best sense."
— Katie Crouch, author of Girls in Trucks and Abroad

"In Beer Money, Frances Stroh takes us on a fascinating—and often chilling—journey into the world of dark privilege. In prose that is both beautiful and unflinching, Stroh tells a riveting story about the fall of an American family, an American city, and possibly the American Dream itself."
— Janis Cooke Newman, author of A Master Plan for Rescue

"[Stroh] writes candidly and insightfully about the growing solicitude that grew inside her throughout her life. The assortment of family portraits displaying the dichotomy of smiling faces and secret hurts echoes that suffering in haunting fashion.... A sorrowful, eye-opening examination of familial dysfunction."
— Kirkus

"The quintessential American Dream is a heartwarming rags-to-riches tale, but a good riches-to-rags story can be just as captivating…. Stroh shucked her strangling legacy. With Beer Money, she is on her way to a fresh new writing career—perhaps a riches-to-rags-to-riches story in the making."
— Shelf Awareness

"Fluently written ... Should have appeal beyond strong regional interest."
— Booklist