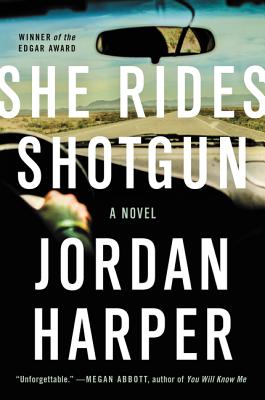 She Rides Shotgun
A Novel
Paperback

* Individual store prices may vary.
Other Editions of This Title:
Digital Audiobook (6/5/2017)
MP3 CD (6/6/2017)
Compact Disc (6/6/2017)
Compact Disc (6/6/2017)
Description
*WINNER OF A 2018 EDGAR AWARD FOR BEST DEBUT NOVEL*
*WINNER OF AN ALEX AWARD FROM THE ALA*
NAMED A BEST BOOK OF 2017 BY St. Louis Post-Dispatch • Booklist
A propulsive, gritty novel about a girl marked for death who must fight and steal to stay alive, learning from the most frightening man she knows—her father.
Eleven-year-old Polly McClusky is shy, too old for the teddy bear she carries with her everywhere, when she is unexpectedly reunited with her father, Nate, fresh out of jail and driving a stolen car. He takes her from the front of her school into a world of robbery, violence, and the constant threat of death. And he does it to save her life.
Nate made dangerous enemies in prison—a gang called Aryan Steel has put out a bounty on his head, counting on its members on the outside to finish him off. They've already murdered his ex-wife, Polly's mother. And Polly is their next target.
Nate and Polly's lives soon become a series of narrow misses, of evading the bad guys and the police, of sleepless nights in motels. Out on the lam, Polly is forced to grow up early: with barely any time to mourn her mother, she must learn how to take a punch and pull off a drug-house heist. She finds herself transforming from a shy little girl into a true fighter. Nate, in turn, learns what it's like to love fiercely and unconditionally—a love he's never quite felt before. But can their powerful bond transcend the dangerous existence he's carved out for them? Will they ever be able to live an honest life, free of fear?
She Rides Shotgun is a gripping and emotionally wrenching novel that upends even our most long-held expectations about heroes, villains, and victims. Nate takes Polly to save her life, but in the end it may very well be Polly who saves him.
Praise For She Rides Shotgun: A Novel…
"Fascinating...tightly written...readers will find this book hard — hard to put down." — St. Louis Post-Dispatch
"Polly will charm readers instantly. She's fresh and winning...A gritty, dark thriller packed with action. — Dallas Morning News
"Urgent and beautiful. The writing is as sharp as broken glass but it's the characters who will stay with you, bloody hearts pinned on their sleeves and struggling for redemption and towards each other." — Lauren Beukes, author of The Shining Girls
"In Polly McClusky, the eleven-year-old girl at the heart of his darkly irresistible debut novel She Rides Shotgun, Jordan Harper gives us a hero for our times. With shades of Mattie Ross but an intelligence and fervor all her own, she is unforgettable." — Megan Abbott, author of You Will Know Me
"Confident, brutal, but always human, Jordan Harper's She Rides Shotgun is a violent parable of family and sacrifice. The best debut novel that I've read this year." — -Johnny Shaw, Anthony Award-winning author of Big Maria
"She Rides Shotgun has more kicks than any crime fiction out there, sure, but it's also got a heart that'll keep you up nights, slapping your head and pacing. Don't try to tell me this is a debut novel; I won't hear anything but Jordan Harper's a master." — Benjamin Whitmer, author of Cry Father
"From its bravura prologue to its immensely satisfying ending, this first novel comes out with guns blazing and shoots the chambers dry. It's both a dark, original take on the chase novel and a strangely touching portrait of a father-daughter relationship framed in barbed wire." — Booklist (starred review)
"The characters' loyalty, love, and struggle for redemption grip the reader and don't let go." — Kirkus Reviews (starred review)
"Visceral... Expert pacing and well-developed characters lift this above the thriller pack." — Publishers Weekly (starred review)
"An exquisitely violent father-daughter story, burns bright and fast. I kept waiting for the inevitable slow-down, but it never came. An extremely impressive debut." — Peter Swanson, author of The Kind Worth Killing
"Quite simply one of the best debuts I've ever read. Beautifully and lyrically written, it's like a perfect song you hear for the first time and feel like you've always known it. It's an instant classic and if I read a better novel this year I will be amazed." — Simon Toyne, author of Sanctus
"A electrifying thriller, a shattering family tragedy, and a pitch-black coming of age story...The language is searing, the action relentless, the beauty wrenched from ugliness truly astounding—this book will grab you by the throat and hang on tight until you've greedily swallowed every last word." — Robin Wasserman, author of Girls on Fire
"An impeccable crime novel with a giant heart, massive doses of hatred, vengeance, pain, and violence, and some of the sharpest, tightest prose you'll encounter in 2017." — LitReactor
"She Rides Shotgun is a True Grit sort of saga, but on hot-wired horsepower instead of horseback. With Harper's storytelling chops, it's a rolling hell-bent adventure with all the snappy dialogue and action of the best noir fiction." — Shelf Awareness
Ecco, 9780062394415, 272pp.
Publication Date: March 13, 2018
About the Author
Jordan Harper was born and educated in Missouri. He has been a music journalist, film critic, and TV writer. He lives in Los Angeles.