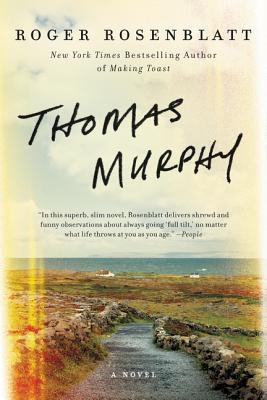 Thomas Murphy
A Novel
Paperback

* Individual store prices may vary.
Other Editions of This Title:
Hardcover (1/19/2016)
Compact Disc (10/4/2016)
MP3 CD (10/4/2016)
MP3 CD (1/19/2016)
Compact Disc (1/19/2016)
Compact Disc (1/19/2016)
Description
The acclaimed, award-winning essayist and memoirist returns to fiction with this reflective, bittersweet tale that introduces the irrepressible aging poet Thomas Murphy—a paean to the mystery, tragedy and wonder of life.
Trying his best to weasel out of an appointment with the neurologist his only child, Máire, has cornered him into, the poet Thomas Murphy—singer of the oldies, friend of the down-and-out, card sharp, raconteur, piano bar player, bon vivant, tough and honest and all-around good guy—contemplates his sunset years. Máire worries that Murph is losing his memory. Murph wonders what to do with the rest of his life. The older mind is at issue, and Murph's jumps from fact to memory to fancy, conjuring the islands that have shaped him—Inishmaan, a rocky gumdrop off the Irish coast where he was born, and New York, his longtime home. He muses on the living, his daughter and precocious grandson William, and on the dead, his dear wife Oona, and Greenberg, his best friend. Now, into Murphy's world comes the lovely Sarah, a blind woman less than half his age, who sees into his heart, as he sees into hers. Brought together under the most unlikely circumstance, Murph and Sarah begin in friendship and wind up in impossible possible love.
An Irishman, a dreamer, a poet, Murph, like Whitman, sings lustily of himself and of everyone. Through his often-extravagant behavior and observations, both hilarious and profound, we see the world in all its strange glory, equally beautiful and ridiculous. With memory at the center of his thoughts, he contemplates its power and accuracy and meaning. Our life begins in dreams, but does not stay with them, Murph reminds us. What use shall we make of the past? Ultimately, he asks, are relationships our noblest reason for living?
Behold the charming, wistful, vibrant, aging Thomas Murphy, whose story celebrates the ageless confusion that is this dreadful, gorgeous life.
Praise For Thomas Murphy: A Novel…
"Murph's rambling monologue reveals discernment and feeling, as a favorite George Eliot quote puts it, especially in riffs on poetry, regret, cooking, and the upside of forgetting.... Murph proves a memorable hero as he faces his last years as though he won't crash if he goes full tilt."
— Publishers Weekly

"[P]ure poetry... a brief but lovely rumination on one man's irresistible impulse to savor life's riches, even as losses mount and the ravages of age take their relentless toll…With a character as distinctive as this clear-eyed poet by our side, it's a rewarding journey."
— BookPage

"Rosenblatt, essayist, memoirist and fiction writer, has created a memorable character with a magnetic personality. There is a wondrous fluidity to his prose. Thomas Murphy is a eulogy to a man who has followed his own rules and who has learned to live with his deepest regrets."
— Washington Post

'Thomas Murphy is a joyous ode to language as it gropes to give voice to the ineffable."
— Newsday

"This is the sort of novel you mark up with pleasurable abandon, so that you can read passages aloud later to someone else... Thomas Murphy is so well written, it was difficult not to."
— East Hampton Star

"Rosenblatt has always demonstrated an affection for the play of words on the page, and in Murphy he's created the perfect character to showcase that facility for language... a rewarding journey."
— BookPage

"In this superb, slim novel, Rosenblatt delivers shrewd and funny observations about always going'full tilt,' no matter what life throws at you as you age."
— People

"Rosenblatt's accomplishment is to draw the reader so completely into Murphy's mind and heart and memory, so thoroughly into the poet's amused (and sometimes bemused) consciousness…the writing soars and you are grateful for the fine writer who puts poetry in Murphy's mouth."
— New York Times Book Review

"Even when the poems aren't coming, Murphy is a delight to listen to."
— Wall Street Journal

"Aging poet Thomas Murphy, whose memory isn't what it used to be, looks back on his colorful life."
— USA Today, New and Noteworthy

"There are no dips or lags in tempo in this novel... Thomas Murphy is a eulogy to a man who has followed his own rules and who has learned to live with his deepest regrets."
— Seattle Times
Ecco, 9780062394576, 224pp.
Publication Date: October 4, 2016
About the Author
Roger Rosenblatt  is the author of six off-Broadway plays and eighteen books, including Lapham Rising, Making Toast, Kayak Morning and The Boy Detective. He is the recipient of the 2015 Kenyon Review Award for Literary Achievement.