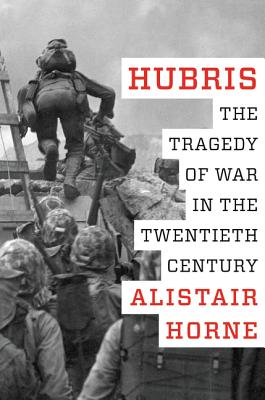 Hubris
The Tragedy of War in the Twentieth Century
Hardcover

* Individual store prices may vary.
Other Editions of This Title:
Digital Audiobook (11/16/2015)
Paperback (11/22/2016)
Compact Disc (11/17/2015)
Compact Disc (11/17/2015)
Description
"EMINENTLY PROVOCATIVE AND READABLE."—THE WALL STREET JOURNAL
Sir Alistair Horne has been a close observer of war and history for more than fifty years and in this wise and masterly work, he revisits six battles of the past century and examines the strategies, leadership, preparation, and geopolitical goals of aggressors and defenders to reveal the one trait that links them all: hubris.
In Greek tragedy, hubris is excessive human pride that challenges the gods and ultimately leads to total destruction of the offender. From the 1905 Battle of Tsushima in the Russo-Japanese War, to Hitler's 1941 bid to capture Moscow, to MacArthur's disastrous advance in Korea, to the French downfall at Dien Bien Phu, Horne shows how each of these battles was won or lost due to excessive hubris on one side or the other. In a sweeping narrative written with his trademark erudition and wit, Horne provides a meticulously detailed analysis of the ground maneuvers employed by the opposing armies in each battle. He also explores the strategic and psychological mindset of the military leaders involved to demonstrate how devastating combinations of human ambition and arrogance led to overreach. Making clear the danger of hubris in warfare, his insights hold resonant lessons for civilian and military leaders navigating today's complex global landscape.
A dramatic, colorful, stylishly-written history, Hubris is a much-needed reflection on war from a master of his field.
Praise For Hubris: The Tragedy of War in the Twentieth Century…
"Eminently provocative and readable. Mr. Horne brilliantly reconstructs this long-forgotten battle [the 1939 Battle of Nomonhan]….It's as if he has discovered a hidden spring for which mighty rivers of blood were to flow."
— Wall Street Journal

"Stark and compelling… Horne has a flair for wrenching detail…Rather than simply listing statistics, he makes the toll of arrogance and historical amnesia vivid through specific, harrowing stories."
— Boston Globe

"For more than half a century, Alistair Horne has written important books about the relationship between strategy, diplomacy, and statecraft. His latest volume continues that extraordinary effort. Herein he has brilliantly analyzed six battles of the twentieth century whose dimensions changed the course of history."
— Henry Kissinger, author of World Order and On China

"...Sir Alistair makes [his case] with erudition and eloquence....This is a book that any political leader contemplating military action should read."
— The Economist

"A well written, deeply researched, and persuasively argued book."
— Publishers Weekly

"Students of military tactics and general readers will take pleasure in the new insights into these selected battles expressed by this knowledgeable and accessible writer."
— Library Journal

"I can think of no one better to tackle the daunting subject of hubris and the punishments that so often follow than Alistair Horne. He brings the necessary wisdom, vast knowledge of the past, and understanding of human nature to show the effects of hubris in modern warfare."
— Margaret MacMillan, author of The War That Ended Peace and Paris 1919

"Like a good Bordeaux, and unlike a good mathematician, a good historian improves with age. This is Alistair Horne's twenty-fifth book, and it is filled with the insights that can only come from a lifetime of studying war."
— Niall Ferguson, Laurence A. Tisch Professor of History at Harvard University; Senior Fellow at the Hoover Institution, Stanford University; and author of The Pity of War and The War of the World
Harper, 9780062397805, 400pp.
Publication Date: November 17, 2015
About the Author
Sir Alistair Horne is the author of over twenty books on history and politics. They include A Savage War of Peace: Algeria 1954-1962 (winner of the Wolfson Prize); The Price of Glory: Verdun 1916 (winner of the Hawthornden Prize); How Far from Austerlitz?: Napoleon 1805-1815 ; and Seven Ages of Paris . In 1969, he founded the Alistair Horne Fellowship to help young historians at St. Antony's College, Oxford. He was awarded the French Legion d'honneur in 1993 and received a knighthood in 2003 for his work on French history. Horne and his artist wife, Sheelin, live in Oxfordshire.