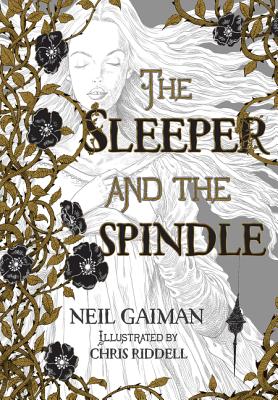 The Sleeper and the Spindle (Hardcover)
HarperCollins, 9780062398246, 64pp.
Publication Date: September 22, 2015
* Individual store prices may vary.
Description
In a beautiful collaboration, New York Times bestselling and Newbery and Carnegie Medal-winning author Neil Gaiman and Kate Greenaway-winning illustrator Chris Riddell have created a thrillingly reimagined fairy tale, "told in a way only Gaiman can" and featuring "stunning metallic artwork" (GeekInsider.com).
The result is a beautiful and coveted edition of The Sleeper and the Spindle that the Guardian calls "a refreshing, much-needed twist on a classic story."
In this captivating and darkly funny tale, Neil Gaiman and Chris Riddell have twisted together the familiar and the new as well as the beautiful and the wicked to tell a brilliant version of Snow White's (sort of) and Sleeping Beauty's (almost) stories.
This story was originally published (without illustrations) in Rags & Bones (Little, Brown, 2013). This is the first time it is being published as an illustrated, stand-alone edition, and the book is a beautiful work of art.
About the Author
Neil Gaiman is the New York Times bestselling author of the novels Neverwhere, Stardust, American Gods, Coraline, Anansi Boys, The Graveyard Book, Good Omens (with Terry Pratchett), The Ocean at the End of the Lane, and The Truth Is a Cave in the Black Mountains; the Sandman series of graphic novels; and the story collections Smoke and Mirrors, Fragile Things, and Trigger Warning. He is the winner of numerous literary honors, including the Hugo, Bram Stoker, and World Fantasy awards, and the Newbery and Carnegie Medals. Originally from England, he now lives in the United States. He is Professor in the Arts at Bard College.
Chris Riddell is an acclaimed British artist who lives in Brighton, England. He has written and illustrated many books of his own, including Ottoline and the Yellow Cat and Ottoline Goes to School, and has illustrated, for Bloomsbury UK, The Graveyard Book; Coraline; and Fortunately, the Milk; as well as The Sleeper and the Spindle.
Praise For The Sleeper and the Spindle…
"Gaiman and Riddell's greatest [collaboration] to date."
— Tor.com

"Told in a way only Gaiman can" and featuring "stunning metallic artwork."
— GeekInsider

"A refreshing, much-needed twist on a classic story."
— The Guardian

"Spellbindingly illustrated."
— Gaby Wood, Saturday Telegraph

"Magical, sumptuous, transporting."
— The Big Issue

"Unforgettable, unpredictable and utterly enchanting for anyone between the ages of seven and seventy."
— Amanda Craig, The New Statesman

"A genuine treat."
— Publishers Weekly (starred review)

"A spectacular art object...certainly a treasure."
— Kirkus Reviews (starred review)

"Riddell's spectacularly intricate ink drawings, gilded with gold, bring Gaiman's inventive story to life...This highly recommended visually stunning twist on two classic fairy tales will be well received by fans of graphic novels and fantasy stories."
— School Library Journal (starred review)

"A wholly original reimagining...Riddell's artwork is the reason a library should own this title in their collection. His details are exquisite."
— Voice of Youth Advocates (VOYA)

"A striking volume...thrums with malevolence and confounds our expectations...[the pictures] seem to writhe creepily on the page."
— Wall Street Journal

"Unabashedly feminist...So sonically tuned that it breathes on its own from the very first line. Adding to the wonder are Chris Riddell's dazzling illustrations."
— New York Times Book Review