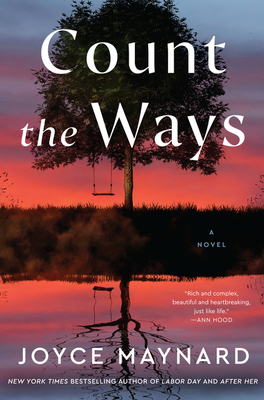 Count the Ways
A Novel
Hardcover

* Individual store prices may vary.
Other Editions of This Title:
Digital Audiobook (7/12/2021)
Paperback, Large Print (7/13/2021)
Compact Disc (7/13/2021)
MP3 CD (7/13/2021)
Description
In her most ambitious novel to date, New York Times bestselling author Joyce Maynard returns to the themes that are the hallmarks of her most acclaimed work in a mesmerizing story of a family—from the hopeful early days of young marriage to parenthood, divorce, and the costly aftermath that ripples through all their lives
Eleanor and Cam meet at a crafts fair in Vermont in the early 1970s. She's an artist and writer, he makes wooden bowls. Within four years they are parents to three children, two daughters and a red-headed son who fills his pockets with rocks, plays the violin and talks to God. To Eleanor, their New Hampshire farm provides everything she always wanted—summer nights watching Cam's softball games, snow days by the fire and the annual tradition of making paper boats and cork people to launch in the brook every spring. If Eleanor and Cam don't make love as often as they used to, they have something that matters more. Their family.
Then comes a terrible accident, caused by Cam's negligence. Unable to forgive him, Eleanor is consumed by bitterness, losing herself in her life as a mother, while Cam finds solace with a new young partner. 
Over the decades that follow, the five members of this fractured family make surprising discoveries and decisions that occasionally bring them together, and often tear them apart. Tracing the course of their lives—through the gender transition of one child and another's choice to completely break with her mother—Joyce Maynard captures a family forced to confront essential, painful truths of its past, and find redemption in its darkest hours.
A story of holding on and learning to let go, Count the Ways is an achingly beautiful, poignant, and deeply compassionate novel of home, parenthood, love, and forgiveness.
Praise For Count the Ways: A Novel…
"Joyce Maynard is the queen of the family saga, and Count the Ways is the best! Instantly addicting, the story of Eleanor, Cam, and their children pulls you in and wraps itself around you like an heirloom quilt made of familiarity, intimacy, and the orchestral complexity of loving the people closest to us. This is the novel you'll be longing to return to at the end of every day and one you will re-read for years to come."
— Jenna Blum, New York Times bestselling author of Those Who Save Us and The Lost Family

"Count the Ways is the book you will want to curl up in a chair and read from beginning to end. It's rich and complex, beautiful and heartbreaking, just like life. Reading about this flawed and lovely family will make you want to hug your own flawed and lovely family tight. Joyce Maynard celebrates the messy, wonderful thing that is love."
— Ann Hood, author of The Knitting Circle and The Book That Matters Most

"How did Maynard know that this is exactly the book we all need now? This exhilaratingly brilliant novel isn't just an indelible story of the falling dominoes of a family struggling through crisis and through generations, it's also about the times we live through. . . . This gorgeous story reminds us that love is always, always worth it."
— Caroline Leavitt, New York Times bestselling author of Pictures of You and With or Without You     

"Count the Ways is an extraordinarily generous invitation into a woman's intimate life, from the loneliness of her youth to the earned wisdom of middle age. In this richly imagined novel, Maynard never flinches as she portrays both quiet successes and heartbreaking failures at love, marriage, and motherhood. This is the work of one of our great storytellers."
— Meredith Hall, New York Times bestselling author of Beneficence

"Sensitively plumbing the complexity of human emotions, of love and forgiveness, [Maynard] draws readers into a deep, aching attachment to her characters, creating an ultimately hopeful tale just right for this moment."
— Booklist (starred review)

"Readers will sink into Maynard's masterful portrait of one woman's life in this decades-spanning family saga.—Readers will sink into Maynard's masterful portrait of one woman's life in this decades-spanning family saga."
— Library Journal (starred review)

"The novel bites off a lot—a Brett Kavanaugh–inspired storyline, a domestic abuse situation, a trans child, Eleanor's career—and manages to resolve them all. . . Maynard creates a world rich and real enough to hold the pain she fills it with."
— Kirkus Reviews (starred review)

"Cut[s] across moments of national and personal upheaval to examine the complex web of family against the backdrop of history."
— New York Times Book Review

"My to-do list had umpteen items on it, but I let them all go to hell as I tore through Joyce Maynard's latest page-turner. . . . To-do list? What to-do list? Under the Influence is a riveting read."
— New York Times bestselling author Wally Lamb on Under the Influence

"Joyce Maynard has, again, managed to tap flawlessly into the voice of a teenage girl: part hope, part fiction, and all heart. After Her is page-turning mystery, wrapped in a beautifully rendered story of sisterhood; and reading it is a journey through one's own memory of what it meant to be thirteen, when the world was equally terrifying and fascinating. Books this compelling just don't come around very often."
— Jodi Picoult, #1 New York Times bestselling author on After Her
William Morrow, 9780062398277, 464pp.
Publication Date: July 13, 2021
About the Author
Joyce Maynard is the author of nine previous novels and five books of nonfiction, as well as the syndicated column, "Domestic Affairs." Her bestselling memoir, At Home in the World, has been translated into sixteen languages. Her novels To Die For and Labor Day were both adapted for film. Maynard currently makes her home in New Haven, Connecticut.