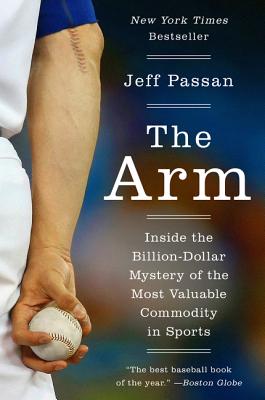 The Arm
Inside the Billion-Dollar Mystery of the Most Valuable Commodity in Sports
Paperback

* Individual store prices may vary.
Other Editions of This Title:
Digital Audiobook (4/4/2016)
Hardcover (4/5/2016)
MP3 CD (4/5/2016)
Compact Disc (4/5/2016)
Compact Disc (4/5/2016)
Description
Yahoo's lead baseball columnist offers an in-depth look at the most valuable commodity in sports—the pitching arm—and how its vulnerability to injury is hurting players and the game, from Little League to the majors.
Every year, Major League Baseball spends more than $1.5 billion on pitchers—five times more than the salary of every NFL quarterback combined. Pitchers are the game's lifeblood. Their import is exceeded only by their fragility. One tiny band of tissue in the elbow, the ulnar collateral ligament, is snapping at unprecedented rates, leaving current big league players vulnerable and the coming generation of baseball-playing children dreading the three scariest words in the sport: Tommy John surgery.
Jeff Passan traveled the world for three years to explore in-depth the past, present, and future of the arm, and how its evolution left baseball struggling to wrangle its Tommy John surgery epidemic. He examined what compelled the Chicago Cubs to spend $155 million on one arm. He snagged a rare interview with Sandy Koufax, whose career was cut short by injury at thirty, and visited Japan to understand how another baseball-mad country treats its prized arms. And he followed two major league pitchers, Daniel Hudson and Todd Coffey, throughout their returns from Tommy John surgery. He exposes how the baseball establishment long ignored the rise in arm injuries and reveals how misplaced incentives across the sport stifle potential changes.
Injuries to the UCL start as early as Little League. Without a drastic cultural shift, baseball will continue to lose hundreds of millions of dollars annually to damaged pitchers, and another generation of children will suffer the same problems that vex current players. Informative and hard-hitting, The Arm is essential reading for everyone who loves the game, wants to keep their children healthy, or relishes a look into how a large, complex institution can fail so spectacularly.
Praise For The Arm: Inside the Billion-Dollar Mystery of the Most Valuable Commodity in Sports…
"A timely and comprehensive look at all aspects of a baseball problem that in recent years appears to approach a crisis."
— Bob Costas

"This is a stunning exposé of the hidden story behind the most frequent operation performed on the most important players in this most important game in our country."
— Ken Burns

"The Arm makes it official—Jeff Passan is the best young baseball writer in America. This searing, meticulously reported account of the orthopedic revolution that began with Tommy John is must reading for every manager, general manager, pitcher and, most especially, every parent whose child has 100 mph dreams."
— Jane Leavy, New York Times best-selling author of The Last Boy: Mickey Mantle and the End of America's Childhood

"The best baseball book of the year… Jeff Passan spent several years in clubhouses and operating rooms to report The Arm. It's a close, exceptionally well-written look into the game's epidemic of ruptured elbow ligaments, and the hard fact that medical science still has no real answers for it."
— Boston Globe

"One of the most important books on baseball of the decade, a superbly researched and detailed look at the current 'epidemic' of arm injuries in the sport."
— Publishers Weekly (starred review)

" . . .A must-read for any sports dad or anxious Mets fan. A rating."
— Entertainment Weekly

"Jeff Passan's The Arm is the real deal-a book that's both readable as hell and that has something meaningful to say about the way the game works...This human element lends the book its propulsive quality, but every part is fascinating. The Arm is a must-read."
— BookPage Magazine

"This is the most important baseball book in years, not just for major league pitchers like me who had Tommy John surgery but for every parent who wants a child with a healthy arm. This is an epidemic that can be fixed, and The Arm is a great first step."
— John Smoltz, former Cy Young Award winner

'Give[s] readers an insider's perspective on the threat hanging over every player who takes the mound."
— Booklist
Harper Paperbacks, 9780062400376, 384pp.
Publication Date: April 4, 2017
About the Author
Jeff Passan is a baseball columnist at Yahoo Sports, where he has worked for the past decade. He is the coauthor of the critically acclaimed Death to the BCS. He lives in Kansas with his wife and sons.