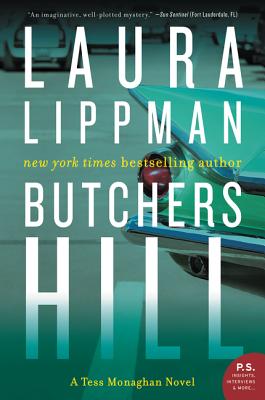 Butchers Hill (Paperback)
A Tess Monaghan Novel
William Morrow Paperbacks, 9780062400628, 368pp.
Publication Date: June 9, 2015
* Individual store prices may vary.
Description
New York Times bestselling author Laura Lippman's Tess Monaghan takes on the case of a notorious former vigilante—and finds herself embroiled in a case with far-reaching consequences where the truth is as dangerous as the lies she uncovers. . . .
PI Tess Monaghan doesn't expect her first case in her new private investigation practice in Baltimore's neighborhood of Butchers Hill to come in the form of Luther Beale—an ex-con who was sent to prison for shooting Donnie Moore, a boy who vandalized his car five years earlier. The former vigilante, who became known as the Butcher of Butchers Hill, wants Tess to find Treasure and Destiny Teeter, Salamon Hawkings, and Eldon Kane—the other kids who witnessed his crime—so he can finally make amends. His motives seem genuine to Tess who thinks he's an old man who made a terrible, tragic mistake. Yet others don't see it that way and think Luther is simply evil and should have never been released from prison.
But not long after Tess begins her search, Treasure and Destiny Teeter are found murdered. Could Luther have been responsible for their deaths? Is that the real reason why he wanted Tess to find them? But just when her doubts about her client surface, Luther makes a shocking revelation that puts everything into question. As Tess soon learns, the more she digs, the more complicated this case becomes as she must decide whether her client was capable of killing Treasure and Destiny and if he's telling her the complete truth about Donnie Moore's shooting.
But Tess doesn't have a lot of time for a killer who's waiting to strike again—a killer whose sights are now set on Tess.
About the Author
Since LAURA LIPPMAN's debut, she has won multiple awards and critical acclaim for provocative, timely crime novels set in her beloved hometown of Baltimore. Laura has been nominated for more than fifty awards for crime fiction and won almost twenty, including the Edgar. Her books have been translated into more than twenty languages. Now a perennial New York Times bestselling author, she lives in Baltimore and New Orleans with her family.