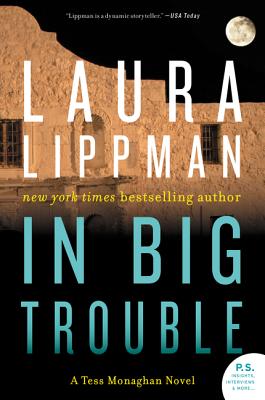 In Big Trouble (Paperback)
A Tess Monaghan Novel
William Morrow Paperbacks, 9780062400642, 416pp.
Publication Date: June 9, 2015
* Individual store prices may vary.
Description
New York Times bestselling author Laura Lippman spins a spellbinding novel of suspense in which PI Tess Monaghan must turn to the past to solve a murder in the present. . . .
PI Tess Monaghan thought she'd seen the last of her ex-boyfriend Ed Crow when they ended their relationship. But when she receives a newspaper clipping with a photo of Crow and the headline "IN BIG TROUBLE," she's reluctantly pulled into looking for him and heads to Austin, Texas—the last place he was seen. Searching the house where Crow was staying, Tess stumbles on more than she bargained for when she finds the body of an ex-convict whose face has been blown off with a rifle.
Now with the local sheriff breathing down her neck for answers, Tess knows she has to find Crow—and fast—before the cops locate him. As she attempts to track him down and meets Emmie Sterne, the singer in Crow's band, Tess immediately senses something's off with the blonde, blue-eyed stunner. Tess has no doubts that Crow is innocent—but the company he's been keeping is questionable even if she is easy on the eyes.
Determined to find Crow and make sure he isn't in any danger, Tess investigates and soon discovers she hardly knows the man she thought she knew. But more troubling, she realizes she still has feelings for him. And when another corpse surfaces, Tess must find out the connection between the two murders and Emmie's dark past . . . and if a killer lurks behind that pretty face.
About the Author
Since LAURA LIPPMAN's debut, she has won multiple awards and critical acclaim for provocative, timely crime novels set in her beloved hometown of Baltimore. Laura has been nominated for more than fifty awards for crime fiction and won almost twenty, including the Edgar. Her books have been translated into more than twenty languages. Now a perennial New York Times bestselling author, she lives in Baltimore and New Orleans with her family.