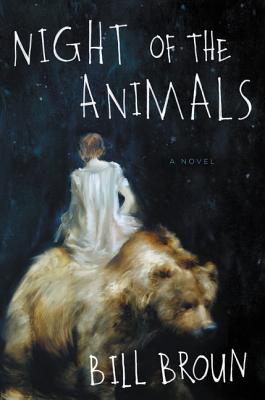 Night of the Animals
A Novel
Hardcover

* Individual store prices may vary.
Other Editions of This Title:
Digital Audiobook (7/4/2016)
Paperback (4/25/2017)
MP3 CD (7/5/2016)
Compact Disc (7/5/2016)
Compact Disc (7/5/2016)
Description
Named a Best Book of 2016 by Slate
"A story as wildly moving and singular as an animal's eyes in the dark." -- The New York Times
In this imaginative debut, the tale of Noah's Ark is brilliantly recast as a story of fate and family, set in a near-future London.
Over the course of a single night in 2052, a homeless man named Cuthbert Handley sets out on an astonishing quest: to release the animals of the London Zoo. When he was a young boy, Cuthbert's grandmother had told him he inherited a magical ability to communicate with the animal world—a gift she called the Wonderments. Ever since his older brother's death in childhood, Cuthbert has heard voices. These maddening whispers must be the Wonderments, he believes, and recently they have promised to reunite him with his lost brother and bring about the coming of a Lord of Animals . . . if he fulfills this curious request.
Cuthbert flickers in and out of awareness throughout his desperate pursuit. But his grand plan is not the only thing that threatens to disturb the collective unease of the city. Around him is greater turmoil, as the rest of the world anxiously anticipates the rise of a suicide cult set on destroying the world's animals along with themselves.
Meanwhile, Cuthbert doggedly roams the zoo, cutting open the enclosures, while pressing the animals for information about his brother. Just as this unlikely yet loveable hero begins to release the animals, the cult's members flood the city's streets. Has Cuthbert succeeded in harnessing the power of the Wonderments, or has he only added to the chaos—and sealed these innocent animals' fates?
Night of the Animals is an enchanting and inventive tale that explores the boundaries of reality, the ghosts of love and trauma, and the power of redemption.
Praise For Night of the Animals: A Novel…
"Night of The Animals is the most beautiful, strange new novel I have read in years, and its obese, mentally ill, elderly protagonist is among the most engaging of heroes. The existence of this book in the present moment is a wonderment." — Mary Gaitskill
"[A] dark and magical futuristic rendering of the story of the Ark... with a glittering varnish of myth and invention. The result is a novel of startling originality; it is important, mesmerizing and touching." — Jim Crace, author of Quarantine and The Harvest
"Bill Broun's Night of the Animals is troubling in all the right ways: a vividly imagined dystopia and an ecological parable that seems all too possible and all too real. It's compulsively readable-a novel that earns your close attention, from beginning to end." — Jess Row, author of Your Face in Mine
"An Orwellian debut explodes ancient lore and contemporary technology to create a prescient, terrifying dystopia... highly immersive narrative. The language of the novel crackles with energy…The worlds' religions-paganism, Christianity, Sikhism, Judaism, Islam, Yoruba-fuse together in a luminous supernatural force... An impressive, richly imagined, deeply urgent story" — Kirkus Reviews (starred review)
"In vivid prose that breathes and trembles like a living thing, Bill Broun brings into being a future that is just fantastical enough to tell the truth. Night of the Animals will captivate you, surprise you, and remind you of the strange, precarious thing it is to be human." — Alexandra Kleeman, author of You Too Can Have a Body Like Mine
"A story as wildly moving and singular as an animal's eyes in the dark." — New York Times
"Night of the Animals is by turns visionary, ironic, satirical and deeply remorseful. The felled woodlands, the erased species, a new Great Extinction--all happen within one long lifetime. It's a rich addition to the literature of lament, viewed with sympathy and longing." — Wall Street Journal
"In prose that employs a variety of British dialects, Broun composes a story that's engaging not only for its strange plot, but for its inventive use of language, too." — Huffington Post, 22 Summer Books You Won't Want to Miss
"[T]his story…lingers long after the final page." — Houston Chronicle
"[A] wildly imagined futuristic dystopia (or is it?)" — New York magazine, Approval Matrix (Highbrow/Brilliant)
"Heartfelt and original." — Chicago Tribune
"Smartly written." — Washington Post
"A wonderful doorstop of a book…Broun packs his novel with futuristic invention, Chablis-dry humor and a thick, dreamy nostalgia…a story as wildly moving and singular as an animal's eyes in the dark." — The New York Times Book Review
"A sci-fi fantasy in which the tale of Noah's Ark is recast in modern-day London." — Omaha.com, Five Books You Should Read in July
"Floating aimlessly, in and out of Cuthbert's questionable rationale and disengaged touch with reality, Broun follows the adventures of one man who is both tormented and encouraged by ghosts of his past, and of a mysterious ideology surrounding the spirit of the imprisoned animals that seeks to be free." — The Hoya (Georgetown University)
"Through precise and eloquent prose and a hint of political satire, Broun creates a near future filled with bioelectric technology and characters with patois as diverse as their desires. Broun's novel is strange, witty, and engrossing, skipping through madness and into the realm of myth." — Publishers Weekly (starred review)
"Imagine the Genesis story of Noah carried forward into the future by Philip K. Dick: that might well serve as the basic premise behind Bill Broun's debut novel, Night of the Animals." — Kirkus Reviews
"Imaginative, fast-paced, thoughtful, and awash in laser-like imagery, debut novelist Broun's phantasmagorical fable vibrantly blends myth and satire to paint both a cautionary warning about present behavior and a futuristic vision of what the unbridled abuse of nature might unveil." — Booklist (starred review)
"Broun's debut is a fascinating work set in a detailed dystopian future...This highly recommended, original tour de force creates a richly imagined realm that evokes Margaret Atwood's The Handmaid's Tale and the Terry Gilliam movie Brazil while maintaining a sense of wonder." — Library Journal (starred review)
"It's an Orwellian, mystical affair with a peppering of environmental morality, but more than anything it's a wild, weird ride." — Masculine Times
"Part of the pleasure of this book comes from its tricky, ever-changing structure...Night of the Animals is elegiac and lyrical, but that doesn't mean it can't have a hell of a lot of fun going wild at the same time." — Vox.com
Ecco, 9780062400796, 560pp.
Publication Date: July 5, 2016
About the Author
BILL BROUN has worked as a newspaper and magazine journalist in both the US and the UK. He was appointed a resident fellow at Yale University in 2002, where he lectured in English and journalism, and currently serves as Associate Professor of English at East Stroudsburg University. Born in Los Angeles to an English father and an American mother, he now lives in Hellertown, Pennsylvania.
Coverage from NPR
or
Not Currently Available for Direct Purchase