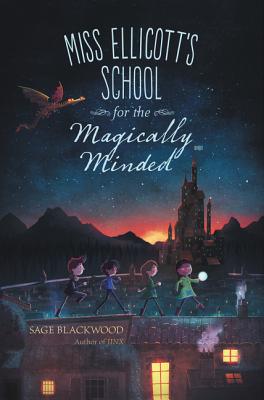 Miss Ellicott's School for the Magically Minded
Hardcover

* Individual store prices may vary.
Other Editions of This Title:
Paperback (4/16/2019)
Description
From the author of the acclaimed Jinx trilogy comes a spellbinding fantasy, perfect for fans of the School for Good and Evil series, about a young heroine fighting to save a world that would dare to tame her.
Chantel would much rather focus on her magic than on curtsying, which is why she often finds herself in trouble at Miss Ellicott's School for Magical Maidens. But when Miss Ellicott mysteriously disappears along with all the other sorceresses in the city, Chantel's behavior becomes the least of her problems.
Without any magic protecting the city, it is up to Chantel and her friends to save the Kingdom. On a dangerous mission, Chantel will discover a crossbow-wielding boy, a dragon, and a new, fiery magic that burns inside her—but can she find the sorceresses and transform Lightning Pass into the city it was meant to be?
Praise For Miss Ellicott's School for the Magically Minded…
Praise for MISS ELLICOTT'S SCHOOL FOR THE MAGICALLY MINDED: "Chantel is a magical heroine to be celebrated, deportment notwithstanding." — Kirkus Reviews
"This fantastical adventure is a sheer delight, featuring a smart, kind, and brave heroine." — Booklist (starred review)
"This book features a strong plot and well-developed characters. Readers who enjoyed Blackwood's earlier works will not be disappointed. Hand this to fans of Diana Wynne Jones and Shannon Hale. This clever fantasy is a strong purchase for most middle grade collections." — School Library Journal
"This extraordinary fantasy...has everything a reader might desire: thrilling suspense, a courageous and smart heroine, an elaborately constructed plot, a vivid setting and a moral grounding and nuance reminiscent of Kristen Cashore's marvelous "Graceling" books for teen readers." — Buffalo News
"'Magical maiden' Chantel's biggest challenge in her education to become a proper and correct sorceress is 'deportment.' A magical-school story with welcome diversity (Chantel is black), unexpected reveals, and thrilling surprises." — The Horn Book
Praise for JINX'S FIRE: "Blackwood offers a story of enchanting texture and depth, and series fans will be elated to have another outing with the sweetly sardonic hero, whose conscience is almost as troublesome as his grasp of spells. Fans of Cornelia Funke should add this to their stacks." — ALA Booklist
Praise for JINX'S FIRE: "A solid conclusion to a trilogy...threaded with proper amounts of heroism, humor and ingenious twists of character." — Kirkus Reviews
Praise for JINX'S MAGIC: "This series deserves a permanent place in the children's fantasy pantheon, with Narnia and Earthsea." — Booklist (starred review)
"The familiar premise—a magical school where girls train to become proper young ladies—gains some startlingly Dickensian elements in Blackwood's deft hands...[The] shift in perspective opens up readers' perspective as well—one more act of storytelling prestidigitation in a story rife with unexpected reveals and thrilling surprises." — Horn Book Magazine
Praise for JINX'S MAGIC: "The unique setting, smart pace, likable characters, and sprightly voice hold the narrative together while keeping Jinx's fans eager for more." — Horn Book Magazine
Praise for JINX'S MAGIC: "As Blackwood extends Jinx's experiences to other lands, she adds layers of complexity that hint at future developments. The next installment can't come along soon enough." — School Library Journal
Praise for JINX: "In this expertly paced, beautifully written fantasy, Blackwood elevates familiar fantasy elements with exquisitely credible characters who inhabit a world filled with well-drawn magic and whimsy." — Booklist (starred review)
Praise for JINX: "Blackwood fills her tale with drama and delightfully funny dialogue." — Publishers Weekly (starred review)
Praise for JINX: "Readers will thrill to journey with Jinx. — School Library Journal (starred review)
Praise for JINX: "[Blackwood] puts her central three [characters] through a string of suspenseful, scary situations before delivering a properly balanced closing set of resolutions, revelations and road signs to future episodes." — Kirkus Reviews (starred review)
Praise for JINX: "Flowing dialogue, easy interactions between the characters, a mixed Diana Wynne Jones/Lloyd Alexander vibe, and a setting both familiar and original make the novel immediately inviting and compelling." — Horn Book Magazine
Katherine Tegen Books, 9780062402639, 368pp.
Publication Date: March 21, 2017
About the Author
Sage Blackwood was born in Chicago and grew up in New York State. She graduated from Antioch College and the University at Albany and taught ESL for many years. Her first fantasy novel, Jinx, was selected as a Best Book of the Year by Kirkus Reviews, ALA Booklist, School Library Journal, and Amazon.com, and was purchased by President Obama.