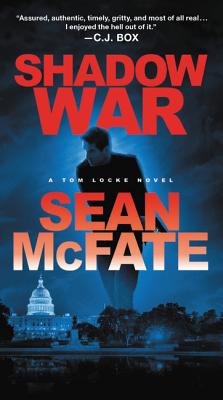 Shadow War (Mass Market)
A Tom Locke Novel (Tom Locke Series #1)
William Morrow, 9780062403711, 432pp.
Publication Date: April 25, 2017
Other Editions of This Title:
Digital Audiobook (5/9/2016)
Hardcover (5/10/2016)
Compact Disc (5/10/2016)
MP3 CD (5/10/2016)
Compact Disc (5/10/2016)
* Individual store prices may vary.
Description
"A bold, riveting thriller…fascinating characters and ground-level espionage and combat sure to please fans of Brad Thor, Tom Clancy, and Daniel Silva."
— Mark Greaney, #1 New York Times bestselling author of Back Blast
Tom Locke is an elite warrior working for Apollo Outcomes, a very successful private contracting firm. He is tapped for a top-secret black op in Ukraine, and has one week to rescue an oligarch's family and pull off a spectacular assault.
What Locke doesn't know is that Brad Winters, his ambitious and enigmatic boss, is engaged in a high-stakes geopolitical chess game with influential powerbrokers in capitals around the world. One misstep could cost them everything. And that misstep may already have been committed by Locke's former love, war correspondent Alie MacFarlane, who impulsively makes a move that risks both their lives.
Now Locke must move quickly to stay ahead of a looming betrayal that could lead to catastrophe…and tip the balance of power toward Putin's Russia.
"[A] smart, exciting first novel and series launch…. Readers will look forward to seeing a lot more of Locke."
— Publishers Weekly (starred review)
About the Author
Sean McFate is a professor of strategy at the National Defense University and Georgetown University's School of Foreign Service. He is also a Senior Fellow at the Atlantic Council, a think tank. He served as a paratrooper in the US Army's 82nd Airborne Division and then worked for a major private military corporation, where he ran operations similar to those in this book. He is the author of The Modern Mercenary: Private Armies and What They Mean for World Order, and holds a BA from Brown University, a MA from Harvard's Kennedy School of Government, and a PhD in international relations from the London School of Economics and Political Science (LSE). He lives with his wife in Washington, DC.
Bret Witter has co-authored eight New York Times bestsellers, including the #1 bestseller The Monuments Men. He lives with his family in Decatur, Georgia.
Praise For Shadow War: A Tom Locke Novel (Tom Locke Series #1)…
"[A] smart, exciting first novel and series launch…. Readers will look forward to seeing a lot more of Locke."
— Publishers Weekly (starred review)

"Shadow War has pace like a catapult, sudden and fierce, and it will hit readers straight between the eyes."
— Ted Bell, New York Times Bestselling author of Patriot

"Wars produce warriors. Some, like special operator-turned mercenary Tom Locke, find it a curious calling that pulls them into the darkest of nights and most dangerous of places. Shadow War brings all of it to life in fascinating detail."
— General Stanley A. McChrystal

"For Black Ops and lots of military action, join Tom Locke for an exciting, wild ride."
— Catherine Coulter, author of Nemesis

"Step aside, faux thriller writers and armchair warrior storytellers. Ex-mercenary Sean McFate has produced a first novel that's assured, authentic, timely, gritty, and most of all real... I enjoyed the hell out of it."
— C.J. Box, New York Times Best-selling Author of BADLANDS and OFF THE GRID

"With well-drawn and fascinating characters and ground level espionage and combat sure to please fans of Brad Thor, Tom Clancy, and Daniel Silva, Shadow War is simply one of the most entertaining and intriguing books I've read in quite some time."
— Mark Greaney, #1 NYT Bestselling author of BACK BLAST

"Intelligent, funny, gritty, Ferrari-paced - at times even electric. Shadow War is in the running for best debut of 2016!"
— Ben Coes, New York Times Bestselling author of Eye for an Eye

"An American James Bond meets the twists and turns of "Homeland."
— Adm James Stavridis, USN (Ret), Supreme Allied Commander at NATO

"A gripping journey inside the world of modern warfare and espionage, and those who enjoy a good military thriller will be hoping that more Tom Locke adventures will follow quickly."
— Booklist

"McFate knows the world of his first thriller intimately… The novel provides plenty of drama and a realistic view of political intrigue, and McFate really shines with lines that ring with authenticity. . . . A promising debut from an author who clearly knows the realities of the mercenary's trade."
— Kirkus Reviews

"[A] terrific debut… Resonance and depth [are] certain to make Shadow War the book others… seek to replicate. A tour de force of form and function for a new geopolitical reality."
— Providence Journal

"A full-tilt thriller… Full of tense moments, survival situations, gun fire, explosions, and even a romance (even if it is short lived)…. I'm definitely looking forward to the next installment of the Tom Locke saga."
— BlackDogSpeaks.com on Shadow War
or
Not Currently Available for Direct Purchase