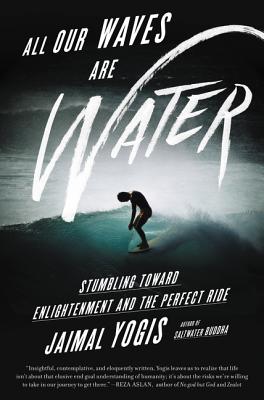 All Our Waves Are Water
Stumbling Toward Enlightenment and the Perfect Ride
Hardcover

* Individual store prices may vary.
Other Editions of This Title:
Paperback (7/24/2018)
Description
In this meditative memoir—a compelling fusion of Barbarian Days and the journals of Thomas Merton—the author of Saltwater Buddha reflects on his "failing toward enlightenment," his continued search to find meaning and a greater understanding of grace in the world's oceans as well as everyday life.
Born to a family of seekers, Jaimal Yogis left home at sixteen to surf in Hawaii and join a monastery—an adventure he chronicled in Saltwater Buddha. Now, in his early twenties, his heart is broken and he's lost his way. Hitting the road again, he lands in a monastery in Dharamsala, where he meets Sonam, a displaced Tibetan. 
To help his friend, Jaimal makes a cockamamie attempt to reunite him with his family in Tibet by way of America. Though he does not succeed, witnessing Sonam's spirit in the face of failure offers Jaimal a deeper understanding of faith. When the two friends part, he cannot fathom the unlikely circumstances that will reunite them. 
All Our Waves Are Water follows Jaimal's trek from the Himalayas to Indonesia; to a Franciscan Friary in New York City to the dusty streets of Jerusalem; and finally to San Francisco's Ocean Beach. Along his journey, Jaimal prays and surfs; mourning a lost love and seeking something that keeps eluding him.
The poet Rumi wrote, "We are not a drop in the ocean. We are the ocean in a drop." All Our Waves Are Water is Jaimal's "attempt to understand the ocean in a drop, to find that one moon shining in the water everywhere"—to find the mystery that unites us.
Praise For All Our Waves Are Water: Stumbling Toward Enlightenment and the Perfect Ride…
"[A] disarming memoir [that] seeks the stillness inside the chaos, the union inside duality."
—   BBC (from "Ten Best Beach Reads of 2017")

"Evocative and unpretentious...wry but engaged...articulate and genuinely funny."
— San Francisco Chronicle

"Captivating.... Yogis finds wisdom everywhere [and] shows that the search for enlightenment, with its storms, lulls, and occasional thrills, is not much different from the search for the perfect wave."
— Publishers Weekly (starred review)

"All Our Waves Are Water seeks profound lessons in the ocean."
— New York Times Book Review

"Engaging... As he draws wisdom from Tibetan monks, fellow surfers, and a beloved journalism professor, Yogis infuses All Our Waves with a rich mix of spiritual quest and down-to-earth adventurism."
— San Jose Mercury News

"Insightful, contemplative, and eloquently written, Yogis leaves us to realize that life isn't about that elusive end goal of understanding humanity; it's about the risks we're willing to take in our journey to get there."
— Reza Aslan, author of No god but God and Zealot

"Jaimal Yogis writes in a fun, engaging style, and the ideas he conveys are timeless, All Our Waves Are Water is a great pleasure."
— Sharon Salzberg, New York Times bestselling author of Lovingkindness and Real Happiness

"I'll follow Jaimal Yogis into any ocean, walk whichever road with him, and read everything he writes. It always leads to growth."
— Wallace J. Nichols, New York Times bestselling author of Blue Mind

"Spiritual questing, serious surfing, a little hip-hop, and a significant dose of deep, honest humanity—another perfect Jaimal Yogis book!"
— Steven Kotler, author of West Of Jesusand The Rise of Superman

"Jamal Yogis has done it again: reminded us that our humanity depends on our connection to nature and how much we are willing to risk. It's good to know that there is another brother like him out there in the mountains and on the waves."
— Peter Heller, author of Kook: What Surfing Taught Me about Love, Life, and Catching the Perfect Wave and Celine

"Yogis seems to have reached as close to enlightenment as anyone ever gets... He mixes science with faith and has a great sense of humor about everything along the way."
— Surfer Magazine

"Thrust forward by a seeker's hunger to know the force that animates everything and his place inside it, Yogis takes us on a stoked and transparent ride. His eccentric and irresistible characters' voices linger like sages. And he does something else astonishing—he brings the holy close."
— Sarah Seidelmann, author of Swimming with Elephants

"Jaimal's journey speaks to all our sojourns through loss, self-discovery, and earnest attempts to awaken. It's a privileged view into the life of a true seeker, a contemporary bodhisattva living and loving in the world; it's an ode to water, to the primal and playful art of surfing."
— Arnie Kozak, author of Mindfulness A to Z and 108 Metaphors for Mindfulness

"Yogis takes us on a humorous, insightful, vulnerable, and ultimately relatable journey to inner peace. This is a spiritual book about a real person dealing with real world issues, one that can benefit us all in understanding how to surf the waves of everyday life with compassion and contentment."
— MeiMei Fox, New York Times bestselling author of Fortytude and Bend, Not Break

"In this deeply wise memoir of an already remarkable life, Jaimal Yogis takes us on a good ride through India, surfing, ancient wisdom and modern physics, and many practical insights about the waves of life. Authentic, direct, and powerful, this is a beautiful book."
— Rick Hanson, Ph.D., author of Buddha's Brain: The Practical Neuroscience of Happiness, Love, and Wisdom

"Jaimal takes us on a raw, real and sublime ride through essays of his life journey around the world to understand the ocean in a drop through the story of his teachers in human and wave form to find what unites us."
— Shiva Rea, surfing yogini and author of Tending the Heart Fire: Living in Rhythm with the Pulse of Life

"For fellow seekers, Buddha-nature on a surfboard."
— Kirkus

"With stirring honesty... [Yogis] skillfully chronicles a journey that took him from India and Jerusalem to the sandy beaches of Indonesia and Mexico... Surfers are sure to enjoy the author's ode to the perfect ride, but it's the personal reflections that will draw readers."
— Booklist

"With equal doses of humor, self-deprecation and well-rendered storytelling, Yogis does a great job making these heady themes accessible and entertaining through personal experiences."
— North Bay Bohemian

"You don't have to be a surfer to appreciate Yogis' description of looking for the light at the end of a curling tunnel of water as a metaphor for his quest for inner peace."
— Honolulu Star Advertiser
Harper Wave, 9780062405173, 272pp.
Publication Date: July 4, 2017
About the Author
Jaimal Yogis is an award-winning writer, outdoorsman, and frequent teacher. He is the author of the memoir Saltwater Buddha, which has been made into a feature documentary film, and The Fear Project: What Our Most Primal Emotion Taught Me About Survival, Success, Surfing, and Love. A graduate of Columbia Journalism School, he has written for ESPN: The Magazine, the Washington Post, the Chicago Tribune, San Francisco magazine, Surfer's Journal, and many other publications. He lives in San Francisco with his wife, Amy, and their three sons.
or
Not Currently Available for Direct Purchase