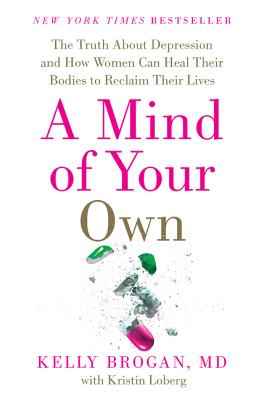 A Mind of Your Own
The Truth About Depression and How Women Can Heal Their Bodies to Reclaim Their Lives
Hardcover

* Individual store prices may vary.
Other Editions of This Title:
Digital Audiobook (3/14/2016)
Compact Disc (3/15/2016)
Compact Disc (3/15/2016)
Description
New York Times bestseller
International bestseller
Named one of the top health and wellness books for 2016 by MindBodyGreen
Depression is not a disease. It is a symptom.
Recent years have seen a shocking increase in antidepressant use the world over, with 1 in 4 women starting their day with medication. These drugs have steadily become the panacea for everything from grief, irritability, panic attacks, to insomnia, PMS, and stress.  But the truth is, what women really need can't be found at a pharmacy.
According to Dr. Kelly Brogan, antidepressants not only overpromise and underdeliver, but their use may permanently disable the body's self-healing potential. We need a new paradigm: The best way to heal the mind is to heal the whole body.
In this groundbreaking, science-based and holistic approach, Dr. Brogan shatters the mythology conventional medicine has built around the causes and treatment of depression. Based on her expert interpretation of published medical findings, combined with years of experience from her clinical practice, Dr. Brogan illuminates the true cause of depression: it is not simply a chemical imbalance, but a lifestyle crisis that demands a reset. It is a signal that the interconnected systems in the body are out of balance – from blood sugar, to gut health, to thyroid function– and inflammation is at the root.
A Mind of Your Own offers an achievable, step-by-step 30-day action plan—including powerful dietary interventions, targeted nutrient support, detoxification, sleep, and stress reframing techniques—women can use to heal their bodies, alleviate inflammation, and feel like themselves again without a single prescription.
Bold, brave, and revolutionary, A Mind of Your Own takes readers on a journey of self-empowerment for radical transformation that goes far beyond symptom relief.
Praise For A Mind of Your Own: The Truth About Depression and How Women Can Heal Their Bodies to Reclaim Their Lives…
"A Mind of Your Own is must reading for everyone who has bought into the idea that drugs are the best answer to anxiety and depression. With the research to prove it Dr. Kelly Brogan lays out a path to help you reclaim your mind and your brain health."
— Christiane Northrup, MD, New York Times bestselling author of Women's Bodies, Women's Wisdom and Goddesses Never Age

"A Mind of Your Own leverages the most forward-minded clinical research combined with a healthy dose of compassionate holism to bring forth a revolution in treating mood disorders. Dr. Brogan's program is a soundly welcomed bright light in a world otherwise focused solely on pharmaceuticals."
— David Perlmutter, MD, author of #1 New York Times bestseller Grain Brain and Brain Maker

"Bold, brilliant, and brimming with practical ideas and tools to end depression and anxiety without drugs, A Mind of Your Own is a tour de force that will change how you approach your health and mental wellbeing."
— Sara Gottfried MD, author of The Hormone Reset Diet and The Hormone Cure

"Here's a new prescription for thinking about depression and how to treat it: Heal the Body, and the Mind Will Follow. Brogan provides a clear review of the science behind that prescription, and how to fill it, challenging readers to open their minds to new possibilities in mental health."
— Robert Whitaker, author of Mad in America and Anatomy of an Epidemic

"A Mind of Your Own is a perfect affirmation for how a person can take charge of her own mental health using Dr. Brogan's program. Anyone reading this book will come away with a scientifically-based, safe, and effective approach to mental health without the use of drugs."
— Jeffrey Bland, Ph.D, FACN, author of The Disease Delusion
Harper Wave, 9780062405579, 352pp.
Publication Date: March 15, 2016
About the Author
Kelly Brogan, M.D., studied cognitive neuroscience at MIT before receiving her M.D. from Weill Cornell Medical College. Board certified in psychiatry, psychosomatic medicine, and integrative holistic medicine, she is one of the only doctors in the nation with these qualifications. She practices in Manhattan and is a mother of two young daughters.
Kristin Loberg has written multiple New York Times and Wall Street Journal bestsellers, including Dr. Kelly Brogan's A Mind of Your Own, Dr. David B. Agus's The Lucky Years, and Dr. David Perlmutter's Grain Brain.
Book Videos