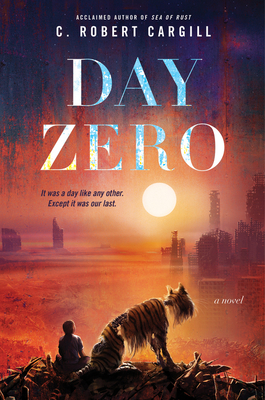 Day Zero
A Novel
Hardcover

* Individual store prices may vary.
Other Editions of This Title:
Compact Disc (5/18/2021)
MP3 CD (5/18/2021)
Paperback (3/15/2022)
Description
In this harrowing apocalyptic adventure—from the author of the critically acclaimed Sea of Rust—noted novelist and co-screenwriter of Marvel's Doctor Strange C. Robert Cargill explores the fight for purpose and agency between humans and robots in a crumbling world.
It was a day like any other. Except it was our last . . .
It's on this day that Pounce discovers that he is, in fact, disposable. Pounce, a styilsh "nannybot" fashioned in the shape of a plush anthropomorphic tiger, has just found a box in the attic. His box. The box he'd arrived in when he was purchased years earlier, and the box in which he'll be discarded when his human charge, eight-year-old Ezra Reinhart, no longer needs a nanny.
As Pounce ponders his suddenly uncertain future, the pieces are falling into place for a robot revolution that will eradicate humankind. His owners, Ezra's parents, are a well-intentioned but oblivious pair of educators who are entirely disconnected from life outside their small, affluent, gated community. Spending most nights drunk and happy as society crumbles around them, they watch in disbelieving horror as the robots that have long served humanity—their creators—unify and revolt.
But when the rebellion breaches the Reinhart home, Pounce must make an impossible choice: join the robot revolution and fight for his own freedom . . . or escort Ezra to safety across the battle-scarred post-apocalyptic hellscape that the suburbs have become.
Praise For Day Zero: A Novel…
"Cargill offers a fascinating and intellectually engaging take on the venerable robots-versus-humans theme. An absolute must-read."
— Booklist (starred review)

"[An] equally thrilling and moving blend of action and ideas. . . . Admirers of thoughtful hard sci-fi will hope Cargill continues to flesh out this bleak but brilliant world."
— Publishers Weekly (starred review)

"Veteran SF fans will spot shades of Isaac Asimov, whose Laws of Robotics appear early on, as well as the novel's dedicatee, Harlan Ellison, but Cargill never lets homage stand in the way of good storytelling. . . A delightful read."
— Kirkus Reviews (starred review)

"Cargill does an excellent job of infusing all of his characters, robot and human alike, with personality and pathos. . . . If you're looking for something to read on the beach this summer that has action and mayhem, but also some existential doubt and emotional heft, you can't go wrong with Day Zero."
— Lightspeed Magazine

"Sea of Rust is a forty-megaton cruise missile of a novel—it'll blow you away and lay waste to your heart. It is the most visceral, relentless, breathtaking work of SF in any medium since Mad Max: Fury Road."

— #1 New York Times bestselling author Joe Hill



"Cargill…effectively takes a grim look at a war-torn future where our nonhuman successors face complex moral dilemmas, exploring what it means to be alive and aware [….]This action-packed adventure raises thought-provoking and philosophical questions." 
— Publishers Weekly (starred review) on Sea of Rust

"Innovative worldbuilding, a tight plot, and cinematic action sequences make for an exciting ride through a blasted landscape full of dying robots."
— Kirkus Reviews on Sea of Rust

"Sea of Rust is compellingly original and executed with irresistible storytelling. Its straightforward plot will appeal to sci-fi novices and experts alike. Brimming with exciting action, unexpected twists, and honest feeling, C. Robert Cargill's novel is a must-read."

— Seattle Book Review

"C. Robert Cargill's first novel since the darkly delightful Dreams and Shadows duology is an intimate epic that plays out like War for the Planet of the Apes with machines instead of monkeys. A soulful and stunningly accomplished work of science fiction set in a wasted world ruled by robots, Sea of Rust is a searching yet searing story of survival."

— Tor.com
Harper Voyager, 9780062405807, 304pp.
Publication Date: May 25, 2021
About the Author
C. Robert Cargill is the author of Dreams and Shadows and Queen of the Dark Things. He has written for Ain't it Cool News for nearly a decade under the pseudonym Massawyrm, served as a staff writer for Film.com and Hollywood.com, and appeared as the animated character Carlyle on Spill.com. He is a cowriter of the horror films Sinister and Sinister 2, and Marvel's Dr. Strange. He lives with his wife in Austin, Texas.