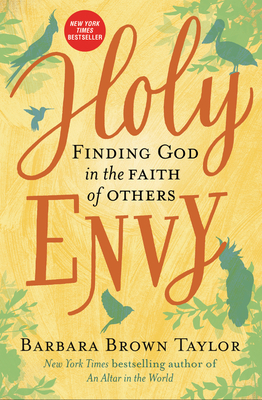 Holy Envy
Finding God in the Faith of Others
Hardcover

* Individual store prices may vary.
Other Editions of This Title:
Digital Audiobook (3/11/2019)
Paperback, Large Print (3/12/2019)
Paperback (3/24/2020)
Compact Disc (3/12/2019)
MP3 CD (3/12/2019)
Description
New York Times Bestseller
The renowned and beloved New York Times bestselling author of An Altar in the World and Learning to Walk in the Dark recounts her moving discoveries of finding the sacred in unexpected places while teaching the world's religions to undergraduates in rural Georgia, revealing how God delights in confounding our expectations.
Barbara Brown Taylor continues her spiritual journey begun in Leaving Church of finding out what the world looks like after taking off her clergy collar. In Holy Envy, she contemplates the myriad ways other people and traditions encounter the Transcendent, both by digging deeper into those traditions herself and by seeing them through her students' eyes as she sets off with them on field trips to monasteries, temples, and mosques. 
Troubled and inspired by what she learns, Taylor returns to her own tradition for guidance, finding new meaning in old teachings that have too often been used to exclude religious strangers instead of embracing the divine challenges they present. Re-imagining some central stories from the religion she knows best, she takes heart in how often God chooses outsiders to teach insiders how out-of-bounds God really is.
Throughout Holy Envy, Taylor weaves together stories from the classroom with reflections on how her own spiritual journey has been complicated and renewed by connecting with people of other traditions—even those whose truths are quite different from hers.  The one constant in her odyssey is the sense that God is the one calling her to disown her version of God—a change that ultimately enriches her faith in other human beings and in God.
Praise For Holy Envy: Finding God in the Faith of Others…
"At a time when many people are entrenched behind the walls of familiar traditions, this book is a literal godsend."
— Retailing Insight

"This indispensable book guides us through America's rapidly diversifying religious landscape, highlighting resonances between different religions, narrating moments of spiritual inspiration, and always emphasizing moments of human connection."
— Eboo Patel, author of Out of Many Faiths

"Engrossing, delightful...In short, it is a timely and important book."
— Psychological Perspectives

"I've long wanted a book like this to be written. And Barbara Brown Taylor is the perfect guide to finding God in other faiths. Her new book reminds us that God is bigger than any one religion. Prepare to come to know God in a new way."
— James Martin, SJ, author of Jesus: A Pilgrimage

"There are few people writing today who I esteem more highly than Barbara Brown Taylor. In an age in which religion sometimes seems weaponized, furthering the distance between us, I can't think of a more important offering than this beautiful book."
— Shauna Niequist, New York Times best-selling author of Present Over Perfect 

"In showing up for the complex beauty of all the world's great wisdom traditions, Barbara finds her way home to her own faith. Among the finest memoirs I have ever read of the life of a teacher."
— Mirabai Starr, author of God of Love

"Taylor nudges her students away from spiritual appropriation and comparison , moving them instead toward challenging discernment of their faith and the faith of others. Taylor, like the best faith leaders, is a great storyteller. . . . Highly recommended."
— Booklist (starred review)

"In Holy Envy, once again, Barbara Brown Taylor does not disappoint with this capacious engagement of our religious and spiritual neighbors. The book is like a breath of fresh air that scatters the dust off the surface of my faith, and I am rejuvenated and hopeful."
— Mihee Kim-Kort, author of Outside the Lines

"In simple and sharp prose, Taylor, a former Episcopal priest who teaches religion at Piedmont College in Athens, Ga., explores how teaching an introductory religion course has influenced her own views on faith and Christianity...[a] fluid book."
— Publishers Weekly

"Taylor acknowledges that none of us has a corner on the transcendent, that we each have something to give and receive while remaining true to our faith. She reminds us that religion is more than beliefs, that it involves our deepest selves and is the fabric of our shared lives."
— Library Journal

"Taylor asks us to see these other ways of approaching a mysterious divine, to embrace 'the God just beyond our understanding.' . . . she writes with an authenticity and self-awareness that few non-fiction books possess."
— Spectrum magazine

"Heartfelt, thoughtful, and beautifully written, Taylor's book will give readers who are undertaking their own spiritual journeys a sense of purpose and perspective."
— BookPage

"Taylor is by any measure a glorious writer. . . . Her willingness to explore new worlds of meaning and her high respect for all faiths offer a noble example."
— Spirituality and Health
HarperOne, 9780062406569, 256pp.
Publication Date: March 12, 2019
About the Author
Barbara Brown Taylor is the author of thirteen books, including the New York Times bestseller An Altar in the World and Leaving Church, which received an Author of the Year award from the Georgia Writers Association. Taylor is the Butman Professor of Religion at Piedmont College, where she has taught since 1998. She lives on a working farm in rural northeast Georgia with her husband, Ed.
Coverage from NPR