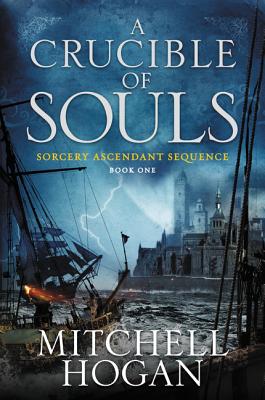 A Crucible of Souls
Book One of the Sorcery Ascendant Sequence
Paperback

* Individual store prices may vary.
Description
Winner of the 2013 Aurealis Award for Best Fantasy!
Mitchell Hogan, an imaginative new talent, makes his debut with the acclaimed first installment in the epic Sorcery Ascendant Sequence, A Crucible of Souls, a mesmerizing tale of high fantasy that combines magic, malevolence, and mystery.
The authors definitive edition
When young Caldan's parents are brutally slain, the boy is raised by monks who initiate him into the arcane mysteries of sorcery.
Growing up plagued by questions about his past, Caldan vows to discover who his parents were, and why they were violently killed. The search will take him beyond the walls of the monastery, into the unfamiliar and dangerous chaos of city life. With nothing to his name but a pair of mysterious heirlooms and a handful of coins, he must prove his talent to become apprenticed to a guild of sorcerers.
But the world outside the monastery is a darker place than he ever imagined, and his treasured sorcery has disturbing depths he does not fully understand. As a shadowed evil manipulates the unwary and forbidden powers are unleashed, Caldan is plunged into an age-old conflict that will bring the world to the edge of destruction.
Soon, he must choose a side, and face the true cost of uncovering his past.
Harper Voyager, 9780062407245, 512pp.
Publication Date: September 22, 2015
About the Author
When he was eleven, Mitchell Hogan was given The Hobbit and The Lord of the Rings trilogy to read, and a love of fantasy novels was born. He spent the next ten years reading, rolling dice, and playing computer games, with some school and university thrown in. Along the way he accumulated numerous bookcases' worth of fantasy and sci-fi novels, and he doesn't look to stop anytime soon. For a decade he put off his dream of writing, then he quit his job and wrote A Crucible of Souls, Book One in the Sorcery Ascendant Sequence. He now writes full-time and is eternally grateful to the readers who took a chance on an unknown self-published author. He lives in Sydney, Australia, with his wife, Angela, and daughter, Isabelle. 
or
Not Currently Available for Direct Purchase