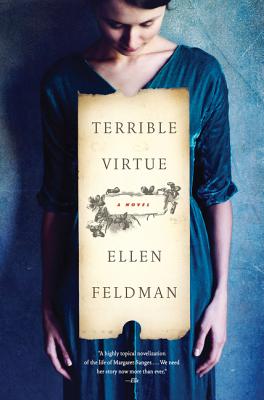 Terrible Virtue
A Novel
Paperback

* Individual store prices may vary.
Other Editions of This Title:
Digital Audiobook (3/21/2016)
Hardcover (3/22/2016)
Description
In the spirit of The Paris Wife and Loving Frank, the provocative and compelling story of one of the most fascinating and influential figures of the twentieth century: Margaret Sanger, the founder of Planned Parenthood—an indomitable woman who, more than any other, and at great personal cost, shaped the sexual landscape we inhabit today.
The daughter of a hard-drinking, smooth-tongued free thinker and a mother worn down by thirteen children, Margaret Sanger vowed her life would be different. Trained as a nurse, she fought for social justice beside labor organizers, anarchists, socialists, and other progressives, eventually channeling her energy to one singular cause: legalizing contraception. It was a battle that would pit her against puritanical, patriarchal lawmakers, send her to prison again and again, force her to flee to England, and ultimately change the lives of women across the country and around the world.
This complex enigmatic revolutionary was at once vain and charismatic, generous and ruthless, sexually impulsive and coolly calculating—a competitive, self-centered woman who championed all women, a conflicted mother who suffered the worst tragedy a parent can experience. From opening the first illegal birth control clinic in America in 1916 through the founding of Planned Parenthood to the arrival of the Pill in the 1960s, Margaret Sanger sacrificed two husbands, three children, and scores of lovers in her fight for sexual equality and freedom.
With cameos by such legendary figures as Emma Goldman, John Reed, Big Bill Haywood, H. G. Wells, and the love of Margaret's life, Havelock Ellis, this richly imagined portrait of a larger-than-life woman is at once sympathetic to her suffering and unsparing of her faults. Deeply insightful, Terrible Virtue is Margaret Sanger's story as she herself might have told it.
Praise For Terrible Virtue: A Novel…
"Terrible Virtue is captivating, powerful, headlong and inventive—just like its subject. A beautifully wrought, compulsively readable novel. Ellen Feldman can do anything." — Stacy Schiff, author of The Witches: Salem, 1692
"[A] highly topical novelization of the life of Margaret Sanger…. We need her story now more than ever." — Elle
"Feldman compellingly portrays the difficult choices confronting women living in a man's world.... This immersive, moving, and thought-provoking book is worthy of the intense discussions it's sure to spark." — Booklist, starred review
"How does a minimally educated, working class woman redirect the moral compass of an entire generation? Feldman shows us how in her masterful novel, Terrible Virtue. Passionate, driven, the Margaret Sanger of Feldman's imagination is every bit as complex as the world she was determined to enlighten." — Mary Beth Keane, author of Fever: A Novel of Typhoid Mary
"A fascinating exploration of Margaret Sanger as a visionary tour de force who left a stream of public victories and private casualties in her wake. Birth control, sex, family, work, individual need, free love, the greater good—it's all here, historically grounded but as relevant today as it was then." — Elizabeth Graver, author of The End of the Point
"Compelling…. An excellent choice for book groups." — Library Journal
"Margaret Sanger blazes to life in this riveting, powerful novel. Read Terrible Virtue once to learn about the woman whose work ultimately shaped Western culture, then read it again for Ellen Feldman's masterful storytelling. Fascinating and unforgettable." — Lynn Cullen, author of Twain's End
"Margaret Sanger was passionate about birth control, freedom, a surprising number of men and her daughter. Ellen Feldman lets us see all these sides of one of America's most complicated heroines, a woman who knew too well the hard choice between work and family. An irresistible and utterly timely novel." — Margot Livesey, author of The Flight of Gemma Hardy
"A powerful, haunting, deeply ambitious novel about love and war, impeccably executed, impossible to put down." — Stacy Schiff, author of Cleopatra: A Life, on Next to Love
"A riveting drama...inspired and inspiring.... Ruby is a gem of a character, and belongs with the best of William Faulkner's, or Alice Walker's, women." — San Francisco Chronicle on The Unwitting
"A compelling story…of mystery, political intrigue, and forgiveness. Much of the fun comes from the literary cameos (think: Mary McCarthy, Richard Wright and Robert Lowell), but it's the novel's haunting portrait of a marriage that make this Cold War novel so resonant for readers of any time period." — Oprah's Book of the Week on The Unwitting
"Bold and original….the originality of voice and thought [is] evident on every page… part love story, part mystery and part political thriller I would heartily recommend." — All Things Considered, NPR, on The Unwitting
"A lustrous evocation of a stormy period in our past; highly recommended for lovers of World War II fiction." — Library Journal, starred review, on Next to Love
"An intimate look at how we can be dismantled and rebuilt by changing times." — O, The Oprah Magazine on Next to Love
"An honest American experience of the aftermath of World War II rendered in sharp detail and full of pathos, Next to Love tells us what we hate to acknowledge-that personal battles don't end with the armistice. There is the touch of Everywoman here." — Susan Vreeland, author of Girl with a Pearl Earring, on Next to Love
"Powerful….Feldman gets her history right and....the fictional characters are rendered in artful service to the novel's larger project" — Atlanta Journal Constitution on Scottsboro
"Spellbinding fiction.... Rich imagination, memorable characters and elegant but restrained prose.... brings an American disgrace to life with eloquence, intelligence and passion." — Richmond Times Dispatch on Scottsboro
"A novel that is based on archival records, court records, and first-person accounts but that succeeds overwhelmingly as a work of imagination...distilled with great subtlety and wit, into a story worth retelling and remembering." — Boston Globe on Scottsboro
Harper Perennial, 9780062407566, 288pp.
Publication Date: March 21, 2017
About the Author
Ellen Feldman is the author of five previous novels, including Scottsboro, which was shortlisted for the Orange Prize for Fiction, and Next to Love. A 2009 Guggenheim Fellow, she lives in New York City.