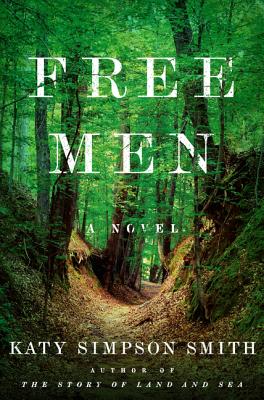 Free Men
A Novel
Hardcover

* Individual store prices may vary.
Other Editions of This Title:
Digital Audiobook (2/15/2016)
Paperback (2/14/2017)
Paperback, Large Print (2/16/2016)
Description
From the author of the highly acclaimed The Story of Land and Sea comes a captivating novel, set in the late eighteenth-century American South, that follows a singular group of companions—an escaped slave, a white orphan, and a Creek Indian—who are being tracked down for murder.
In 1788, three men converge in the southern woods of what is now Alabama. Cat, an emotionally scarred white man from South Carolina, is on the run after abandoning his home. Bob is a talkative black man fleeing slavery on a Pensacola sugar plantation, Istillicha, edged out of his Creek town's leadership, is bound by honor to seek retribution.
In the few days they spend together, the makeshift trio commits a shocking murder that soon has the forces of the law bearing down upon them. Sent to pick up their trail, a probing French tracker named Le Clerc must decide which has a greater claim: swift justice, or his own curiosity about how three such disparate, desperate men could act in unison.
Katy Simpson Smith skillfully brings into focus men whose lives are both catastrophic and full of hope—and illuminates the lives of the women they left behind. Far from being anomalies, Cat, Bob, and Istillicha are the beating heart of the new America that Le Clerc struggles to comprehend. In these territories caught between European, American, and Native nations, a wilderness exists where four men grapple with the importance of family, the stain of guilt, and the competing forces of power, love, race, and freedom—questions that continue to haunt us today.
Praise For Free Men: A Novel…
"We are lucky to be in a position to follow an amazing author at the start of her publishing career…Smith applies her close attention to historical subjects, a feel for evocative language and the undertone of a woman's longing and adds to that structured suspense and epic ambition." — Asheville Citizen-Times
"FREE MEN marries exhaustive research into the time period with effortless prose and insight into her characters that makes a story from several centuries ago feel immediate." — Huffington Post
"…glimpses into a vanished but fully realized world, one which has completely engaged us by [the] novel's satisfying end." — Minneapolis Star Tribune
"Smith's searching second novel probes connection and isolation, forgiveness and guilt…this novel evokes the complexity of a fledgling America in precise, poetic language…it is rich with insights about history and the human heart." — Publishers Weekly
"Katy Smith made an auspicious entrance with The Story of Land and Sea. Now, in Free Men, she confirms her status as a truly distinctive and lyrical voice and in my judgment, the most sophisticated historical novelist of her generation. — Joseph J. Ellis, author most recently of The Quartet: Orchestrating the Second American Revolution, 1783-1789
"With this collage of experiences twisted together and soaked in blood, Smith cuts to the bone of our national character. Then, as now, for all its violence and desperation, it's noble and inspiring, too." — Washington Post
"…[a] quietly graceful and lushly-written novel…. — Chapter16.org
"…a brilliant, wild ride…. Not only does Smith step boldly into the terrain of the classics of the American canon, her novel feels like one of those classics. Smith has succeeded in writing a novel of American masculinity that deserves comparison with Cormac McCarthy, Jim Harrison and Herman Melville." — Jackson Clarion-Ledger
"Illuminating…An uncommon story of three men on the run as well as a complex tale about freedom of the individual and justice in society. There's much to ponder after reading the last page." — Library Journal
"Katy Simpson Smith's FREE MEN channels a world radically different and utterly similar to our own, and renders viscerally that quintessential American impulse to get yourself a new life." — Jim Shepard, author of THE BOOK OF ARON
"I was immediately seduced by the quality of the prose, its meditative tone and haunting imagery—a poet's imagery, thrilling in its uncanny detail—and richness. This is a deep, pondered world, a pleasure to experience and behold." — Amanda Coplin, New York Times bestselling author of THE ORCHARDIST
"FREE MEN will have you gasping for breath…This is literature at its finest: a novel about another time that—rather than alienate—instead clarifies and brings into view our own time…this is a story about flawed but earnest men and the flawed but earnest women left behind." — Hannah Pittard, author of THE FATES WILL FIND THEIR WAY
Harper, 9780062407597, 368pp.
Publication Date: February 16, 2016
About the Author
Katy Simpson Smith is the author of a study of early American motherhood, We Have Raised All of You: Motherhood in the South, 1750-1835, and a novel, The Story of Land and Sea. She lives in New Orleans.
or
Not Currently Available for Direct Purchase